'Eko' Comes alive at the TPH Souk – An Interdenominational Family Day Out | 28th March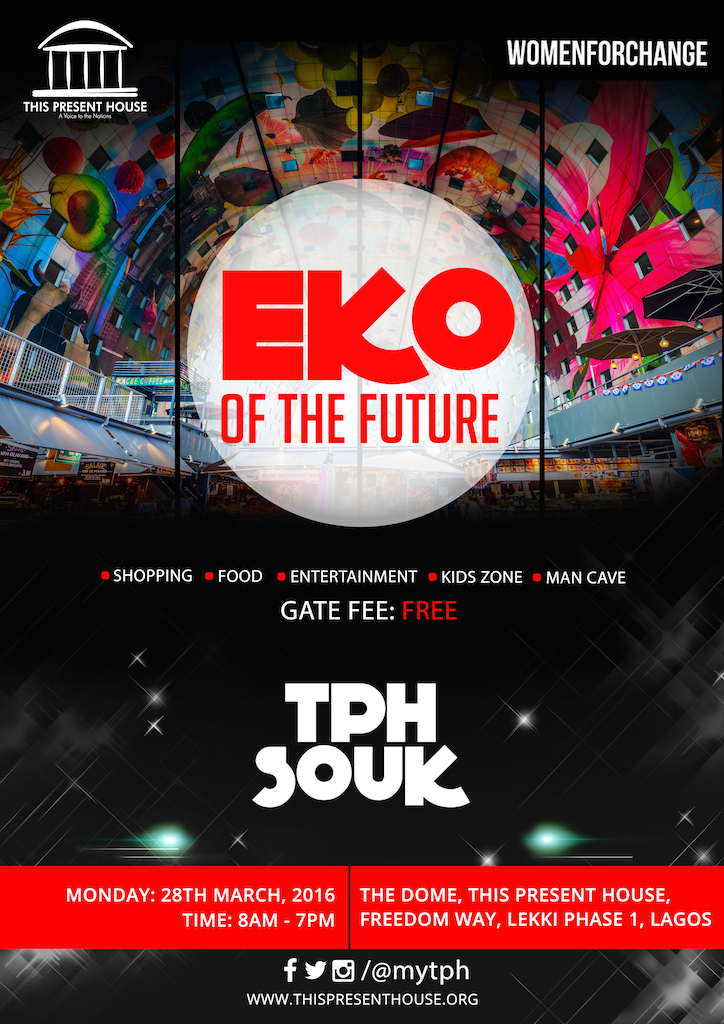 All is set for the Women for Change-organised business and socio-cultural fair titled the "TPH Souk" taking place at the Dome in Lekki, Lagos on Easter Monday 28th March 2016.
With the theme, "EKO of the Future", the TPH Souk seeks to reflect the enthusiasm of the bustling metropolitan city called Lagos. The literal meaning of "Souk", in its Middle-Eastern origin, is "marketplace.
The TPH Souk will therefore be modeled in part as a marketplace where people can buy and sell their goods. The "Eko of the Future " theme seeks to demonstrate where the vibrant and Flourishing City of Lagos is heading, and it is therefore expected that the TPH Souk will represent this dynamism and also be a an avenue for the expression of the "spirit of enterprise."
Around 3,000 guests are expected throughout the full day of activities at the TPH Souk, where small and growing businesses will be afforded the opportunity to showcase their goods and services as well as network with likeminded people. The TPH Souk will also provide much excitement with a host of activities planned for for the entire family during the Easter Monday Holiday.
The children will have their own dedicated play area, while the men needn't worry about missing the football as there will be a men's only room, where the gents can catch up on sports, play computer games or just generally have a breather from what will be an exciting day of entertainment, fashion shopping and networking. A full production fashion show featuring mens and womenswear will take centre stage during the day, while the food quarter will bring together an array of culinary delights from all over the metropolis!
The TPH Souk will take place on Monday 28th March from 12pm at The Dome, Freedom Way, Lekki phase 1, Lagos from 8am – 6pm.
Date: Monday 28th March 2016
Venue: The Dome, Freedom Way, Lekki Phase 1, Lagos
Date: 8am – 6pm