Hi BNers,
Here's your weekly update on all the events happening this weekend!
**
New African Woman Forum and Awards
The New African Woman magazine will host its first-ever New African Woman Forum (NAWF) in London. The Forum will be accompanied by the New African Woman Awards gala dinner, which will celebrate and recognise women's leadership and excellence on the continent.
Date: Thursday, March 10th, 2016
Time: 10 AM
---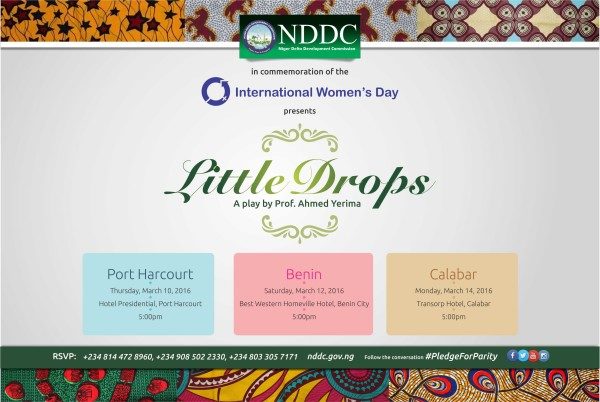 Little Drops
The Niger Delta Development Commission in commemoration of the 2016 International Women's Day has launched a series of performances of the stage play titled 'Little Drops', written by Professor Ahmed Yerima.
Date: Thursday, March 10th 2016
Time: 5 PM
Venue: Presidential Hotel, Port-Harcourt
Registration: Click here
---
Wimbiz Meet A Wiscar
As part of marking the 2016 International Women's Day, WISCAR invites you to attend the first Meet-a-WISCAR Session in the 2016 WIN-with-WISCAR Mentoring Programme.
Date: Thursday March 10th, 2016
Time: 5:30 PM
Venue: Elion House, 7/8 Agbeke Rotinwa Str, Dolphin Extension, Ikoyi
Contact: 08066452894
---
Paint The Night Africa
Come Froyo, Sip and Dip. Plus a company of 5 gets 1 free complimentary pass.
Date: Thursday March 10th 2016
Time: 6 PM – 8:30 PM
Venue: Sweet Kiwi, Lekki
Contact: Email [email protected] referencing PTNAkiwi for a paint pass
---
Sound Check
Join one of Nigeria's top Rock artiste Dabyna and his band this Thursday and get a special promotion of 25% off on everything at Spice Route.
Date: Thursday March 10th 2016
Time: 8 PM
Venue: 36 Adeola Odeku Street, Victoria Island, Lagos
Contact: 01 9037777, 08080208080
---
Time To Meet
Omenka Gallery together with Alliance Francaise presents and exhibition which features the recent works of Cameroonian artist Joel Mpah Dooh. This will be his first solo exhibition in Nigeria.
Date: Saturday, March 12th – Sunday, April 3rd 2016
Venue: 24, Ikoyi (Modupe Alakija) Crescent, Ikoyi, Lagos.
See more details here.
---
Active Tourism Olumo Rock Edition
Expect a day of fun, exercise, tourism, games, healthy food, gifts and meeting new adventurous people as Active Tourism visits Olumo Rock, Abeokuta.
Date: Saturday March 12th 2016
Venue: Olumo Rock, Abeokuta
Registration: Click here
---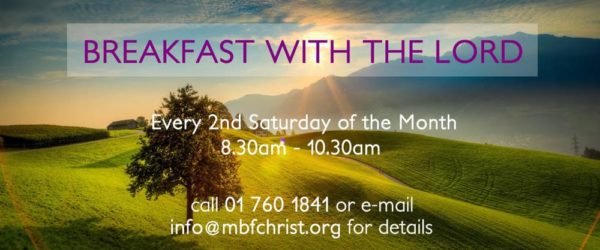 Breakfast With The Lord
Bringing business people and practices to Christ.
Date: Saturday March 12th 2016
Time: 8.30 AM – 10.30 AM
Venue: Tom Associates Training Center, 5/7 Alade Lawal Street, opposite Anthony Police Station,
By Idi-iroko Bus Stop, Ikorodu Road, Lagos.
Registration: email [email protected] or call 01 760 1841
---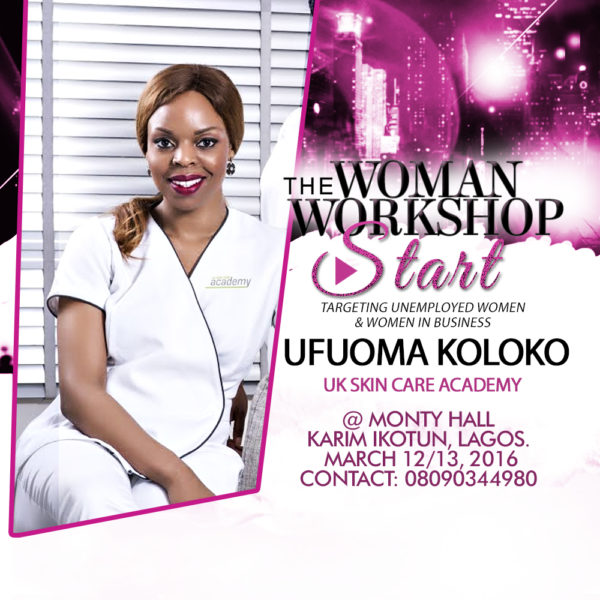 The Woman Show
The idea of the woman originally supports women in business and encourages women to do something whether in politics, education, entertainment and beauty/lifestyle.
Date: Saturday and Sunday,March 12th and 13th 2016
Time: 10 AM – 4 PM
Venue: Monty Hall, Karim Ikotun, Lagos
---
#MKNSEMINAR: "Inside the Mind of a Successful Video Director"
The MKNSeminar, which is the first of its kind, is expected to hold a crowd of 1,000 people and they have announced top directors like Director X, Sesan and Moe Musa.
Date: Saturday March 12th 2016
Time: 11 AM
Venue: The Summit, NERDC Road, Ikeja, Lagos
Ticket: Regular (Early Birds) – N12,000 | Late Registration – N15,000 | At the Door – N20,000 | VIP – N30,000
---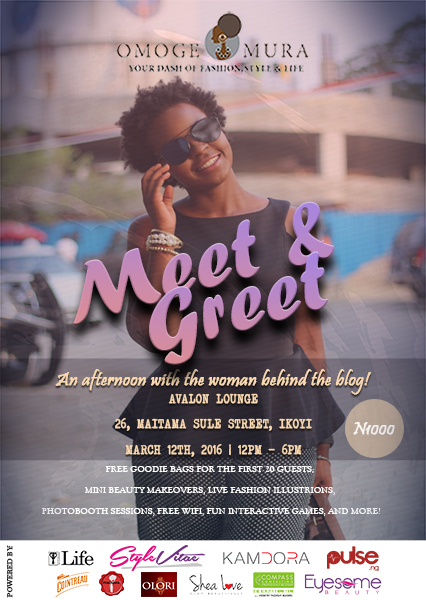 The OmogeMuRa Meet and Greet
The event will include a little talk on how Deola started OmogeMuRa and how she balances it with her job and other projects. The event will also include mini beauty makeovers, photo-booth sessions, giveaways and general networking and socializing.
Date: Saturday March 12th 2016
Time: 12 PM
Venue: Avalon Lounge, 26 Maitama Sule Street, Ikoyi, Lagos.
Ticket: N1000
Registration: https://www.eventbrite.com/e/omogemura-meet-and-greet-with-deola-adebiyi-tickets-22327940471?aff=ebrowse
---
PechaKuchaNight Lagos
Pecha Kucha which means "chit-chat" in Japanese is a place for designers to meet, network, and show their work in public. Each presenter is allowed 20 images, shown for 20 seconds each – giving them 6 minutes 40 seconds of fame before the next presenter is up. Entry is free. Plus drinks and refreshments provided.
Date: Saturday March 12th 2016
Time: 6 PM – 9 PM
Venue: British Council, 20 Thompson Avenue, Ikoyi
---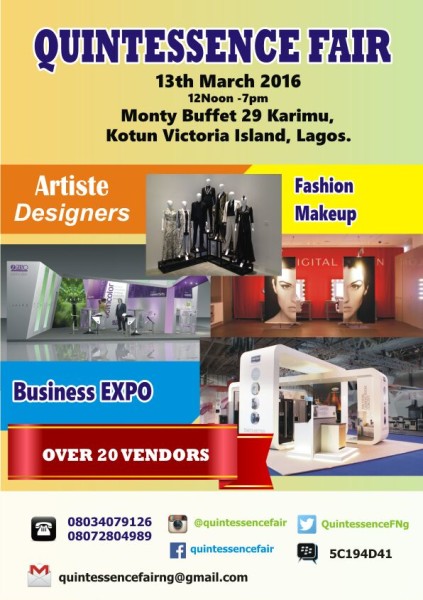 Quintessence Fair
Join Nigerian Soul Singer Ruby Gyang in this lifestyle trading event to shop, party, and mingle for less. Entry is FREE.
Date: Sunday March 13th 2016
Time: 12 PM – 7 PM
Venue: 29, Monty Buffet, Karimu Kotun, Victoria Island, Lagos
Contact: 08025090683, 08072804989 | BBM: 5C194D41 | Email: [email protected]
---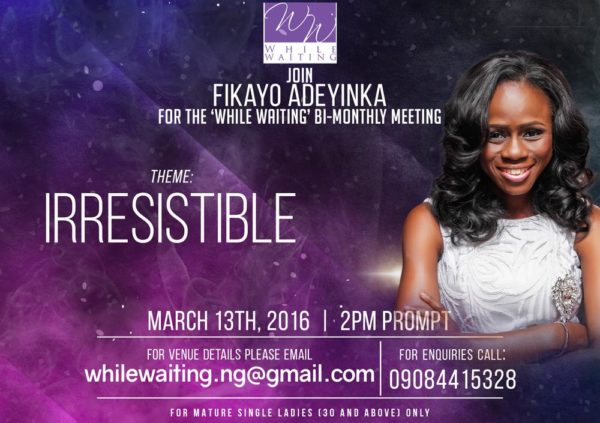 While Waiting
A fun and vibrant network of mature single Christian ladies set to redefine the waiting period by living as God intended.
Date: Sunday March 13th 2016
Time: 2 PM
Email: [email protected]  Phone: 09084415328
---
TRIBE
T.R.I.B.E (Testing Realities Invariably Binding Everyone) is a Photography, Poetry and Interactive Art Exhibition. There will be 6 nights of engaging poetry workshops, drama, debates, Yoga and much more.
Date: Tuesday – Sunday, March 15th – 20th
Time: 6 PM – 9PM
Venue: Espacio Gallery, Bethnal Green, London
Registration: Send an email to [email protected]
____________________________________________________________________________________
BellaNaija.com is not responsible for the organization or further promotion of these events, neither do we have a stake in their sales or popularity. Inclusion in "Events This Weekend" is Free. Contact – adsales (at) bellanaija.com on or before Wednesday every week if you will like your event to be included. Note that BN reserves the right to choose which events are featured. "Pay to attend" parties attract a fee.