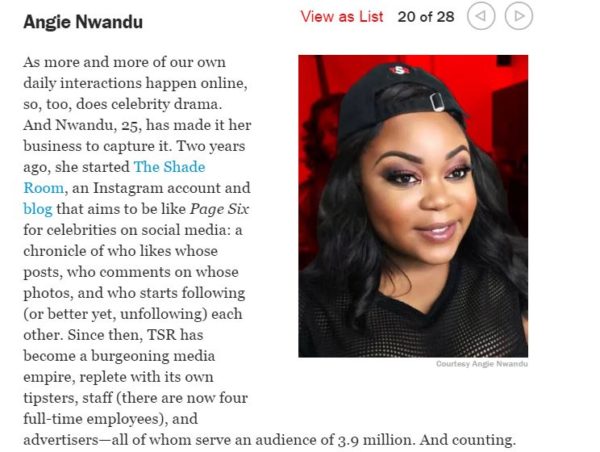 For the second annual roundup of the most influential people on the Internet, TIME Magazine has profiled people that they believe are making a global impact on social media and people that have the ability to drive news.
The list includes the interesting 87-year old Helen Van Winkle (aka BaddieWinkle) from Tennessee boasts of about 1.8million instagram followers on her @baddiewinkle account which she started about two years ago to cope with the passing of her husband and son. Her followership has since grown and the octogenarian now attracts fashion campaigns and get invites to A-list events. Making the list of most influential people on the planet, Helen proves that there's no time too late to be relevant.
Another interesting addition to the list is 25-year-old Nigerian-born American blogger Angie Nwandu of TheShadeRoom. According to TIME, "As more and more of our own daily interactions happen online, so, too, does celebrity drama. And Nwandu, 25, has made it her business to capture it. Two years ago, she started The Shade Room, an Instagram account and blog that aims to be like Page Six for celebrities on social media: a chronicle of who likes whose posts, who comments on whose photos, and who starts following (or better yet, unfollowing) each other. Since then, TSR has become a burgeoning media empire, replete with its own tipsters, staff (there are now four full-time employees), and advertisers—all of whom serve an audience of 3.9 million. And counting."
See the full list below.
Kanye West
Joy Cho
James Corden
Laci Green
Josh Holz and Daniel Lara
DJ Khaled
Johnetta Elzie and DeRay Mckesson
K Rowling
Felix Arvid Ulf Kjellberg (a.k.a PewDiePie)
Donald Trump
Lele Pons
Cristiano Ronaldo
Caitlyn Jenner
Essena O'Neil
Nerendra Modi
Elsie Andrew
Ken M
Lily Singh (a.k.a Superwoman)
Matt Drudge
Angie Nwandu
Andrew Bachelor (a.k.a King Bach)
Kayla Itsines
Peter Bouckart
Kim Kardashian West
Josh Ostrovsjy (a.k.a The Fat Jew)
Drake
Tess Holliday
Helen van Winkle (a.k.a Baddiewinkle)
See what TIME has to say about each person here