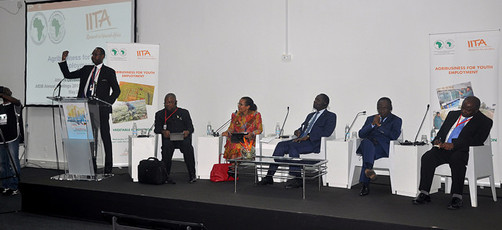 The African Development Bank (AfDB) in collaboration with the International Institute of Tropical Agriculture (IITA)'s ENABLE (Empowering Novel Agri-Business-Led Employment) Youth Program Design Workshop will take place this week.
The Davos-style workshop will feature panellists such as:
Dr. Sipho Moyo, Chief of Staff & Director of Cabinet, AfDB
Solomon Dalung, Hon. Minister of Youth and Sports, Nigeria
Dr. Nteranya Sanginga, Director General, IITA
Abimbola Adebakin, Chief Operating Officer, Tony Elumelu Foundation
Zouera Youssoufou, MD/CEO Dangote Foundation
Ministers of Agriculture and Ministers of Youth from 10 African countries
The objective of the ENABLE Youth Program Design Workshop is to build a well-grounded evidence-based understanding of the ENABLE Youth Program Concept among key stakeholders from interested governments across the continent, international development partners, agribusiness companies, finance institutions, women and youth groups. During the two-day workshop, participants will share their experiences and lessons learnt in promoting youth employment in agriculture on the continent. This will permit a fine-tuning of the ENABLE Youth program design through incorporation of proven Africa-wide best practices.
The workshop will take place in Abuja, Nigeria, on 21-22 April 2016 at the Transcorp Hilton Hotel, Federal Capital Territory, Abuja, Nigeria, with wide stakeholder representation of about 200 participants from more than 30 countries.
These Governments across Africa have expressed keen interest to work with the AfDB in collaboration with IITA and other relevant partners to develop and roll-out country-specific ENABLE youth programs designed to sustainably tackle youth unemployment and promote food security. Watch this space and join us in this landmark initiative to get Africa Feeding Africa, as we unleash the vast potentials of Africa's youth.