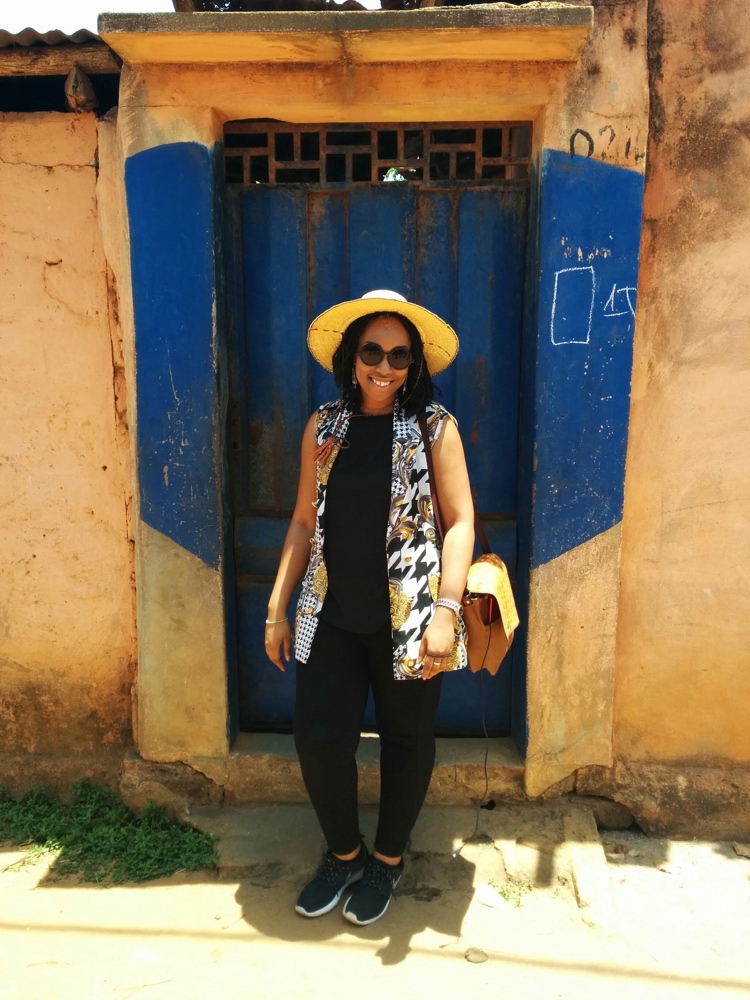 Hi everyone!
It's me, Eki, and I'm back from Cotonou, Benin Republic and I can't wait to share my experience with you. Google made things so easy with their applications and the Google Nexus 5 phone. The pictures came out so clear I didn't even have to use my camera for anything.
There's a lot of information and pictures in this post so brace yourselves! Hope you enjoy.
***
Thursday, 7th April
Got to the Quadrant Company for 7:30am with an 8am call time but we didn't leave until about 10:30am. We all introduced ourselves and were given travel packs, a box of snacks – yum! – and a bag of travel essentials.
The buses we used had been renovated by LAGBUS. They were very comfortable and convenient with provision for "nature's business calls" and spacious legroom. It also had 2 restrooms, a big fridge for our drinks and a kitchenette at the back equipped with a sink, microwave and a smaller fridge.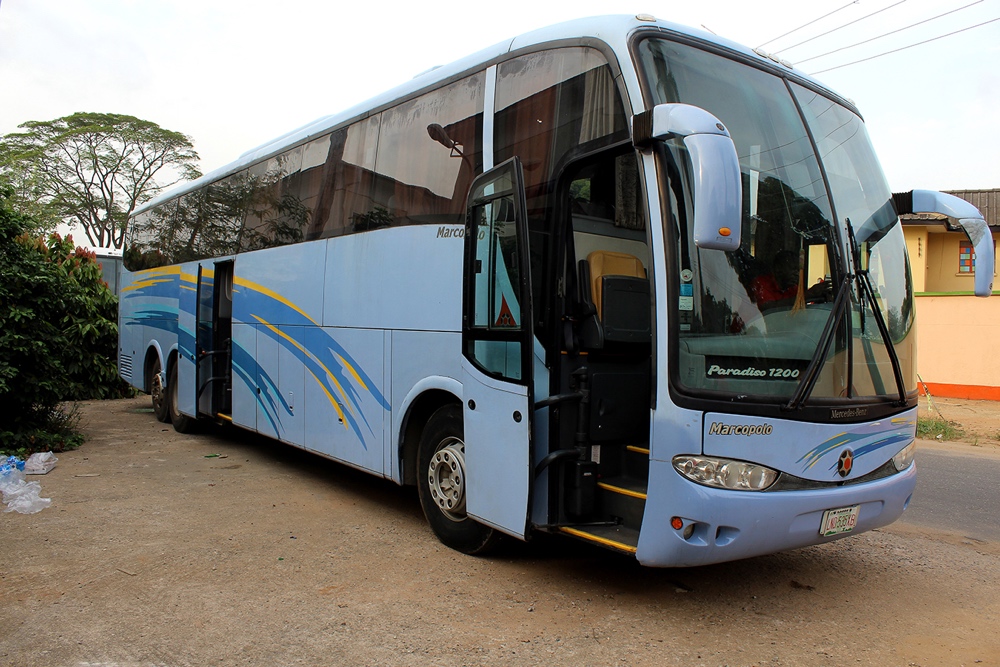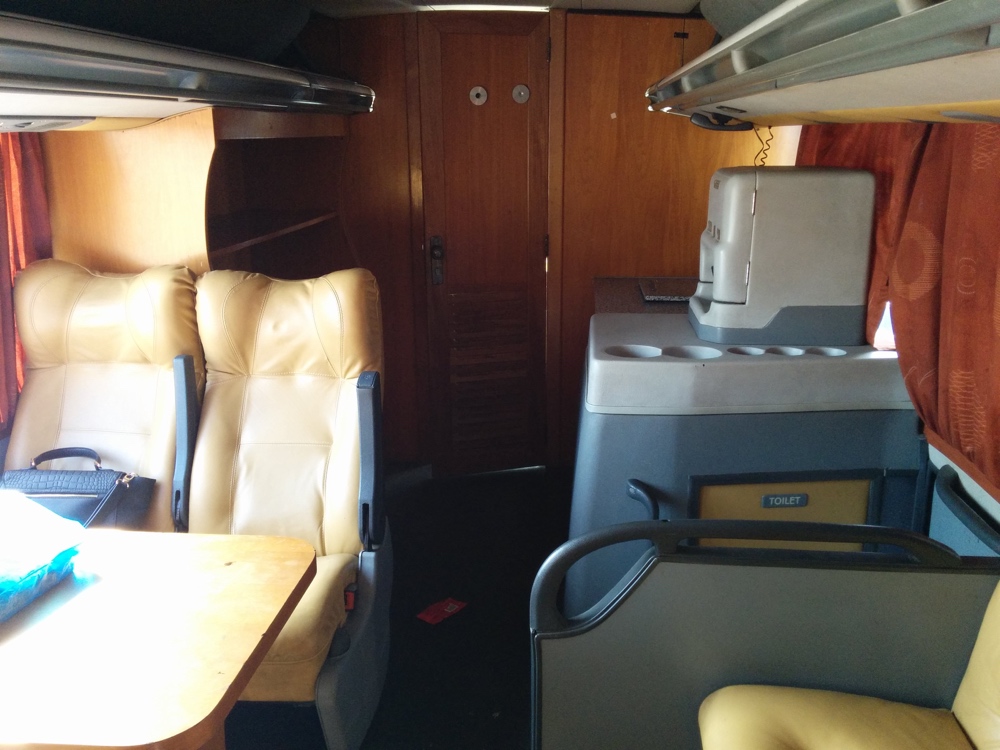 When we got to the border after about 3 hours of driving, we had to wait an extra 3 hours just to properly cross the border into Cotonou. There was a misunderstanding about taking pictures – oops – we weren't aware that we couldn't take pictures while at the border – my camera almost got destroyed trying to take pictures of the beautiful scenery, but we resolved the issue with the officers by deleting our photos.
We got into Benin safely at about 4pm. We got to the 4-star Sun Beach Hotel, checked in and settled comfortably into our rooms. I was impressed with the hotel, the rooms were lovely but my favourite part was the view from my room.
Kunmi Ariyo an event planner who helped put the trip together, also gave us hats which we found in our rooms to help protect us from the sun while we went around town and it was also an easy way to identify our group whenever we went, to avoid getting lost. GoogleNG really took care of us – we were also given a care basket with snacks, water and drinks just incase we ever got hungry at night or didn't enjoy the food.
We had dinner by 8pm at La Teranga, an outdoor restaurant.
Friday, April 8th
By 7:50am we had breakfast. The menu was oats, croissants, boiled egg, ham with fruit, coffee or hot chocolate and a yam and egg alternative.
At 9:00am we got a briefing and demo at the hotel conference room by our GoogleNG correspondent and PR Manager Google West Africa, Taiwo Kola-Ogunlade who explained all we needed to know about using the Google apps to make our experience in Cotonou a lot easier than it would be without them. We were all given Nexus 5 Android phones on loan for the trip. The Nexus phone is Android in its original form as invented by Google. On other Android phones, these features can be watered down or slow to update but Google is always up to date with the Nexus. The Nexus 5 phones came with all the Google apps we would need.
Google Now gives you quick information on the go. The voice feature makes it easier for you to speak and get a quick response as opposed to typing and the phone understood my accent perfectly, "OK Google!"
Google Translate is so cool! It doesn't just translate any language you type in but it also reads and translates written languages like menus when you go out to eat, signboards you may not understand and everything else in between. You can also write the language – but just in case you can't type it out with your keypad, Google's got you covered on that.
How to never get lost in a foreign country? Google Maps! It tracks your journey with the Timeline feature and helps you find places around you like restaurants, hotels, ATMs, you name it! The accelerometer and gyrometer in the phone helps act as a compass for better directions.
Google Chrome is the best internet browser I know, period. It's super fast and easy to use with a built in Google search so you don't have to go to Google.com to search for anything. Plus, Google knows everything so searching for answers is no problem.
Google App/Search is similar to searching on Google.com on this is an app, which makes things faster. The voice feature is available on all apps and the search app which makes everything 100 times easier than typing. Typing is so old school… JK.
Moving on…
We were also put into groups for a cooking task we'd have to do later, the Google apps came in very handy for this task. In addition to that we had to do a creative picture task with group effort and also take individual creative pictures for a chance to with a Nexus 7 tablet.
The first place we visited right after the briefing was The Sacred Forest of The King in Ouida, where King Kpasse was king.
It was said that King Kpasse vanished in this same forest and was never seen again, this is how he died. In this forest we were shown the different deities of the voodoo culture in Benin, gods like Legba (god of fertility), Hhebiossu (god of thunder similar to Sango), Sakpata (god of small pox, a sickness was made into a god when they didn't understand it and it claimed many lives), Legede (a god that grants wishes whom no one can hide from when it's time to repay, because he see all things with his double face) and Dan (god of wealth who comes in many forms but is known as the snake god, a god you must repay once he makes you rich and if not then you risk the possibility of getting even poorer than you were in the past), Aziza (god of artist inspiration, gives ideas to artists, architects etc.)
We were told that the babalawo/ifa priest of the king is always troubled because of the timing of the king's death. When he knows the timing and tells the king, the king could have him killed but if he doesn't tell him it's a betrayal to the king and this decision is what troubles him. Damned if he does, damned if he doesn't.
Kpokpo is the name given to a freshly initiated girl into the voodoo culture. At the center of the forest is a huge tree called Kola Jigantia. It's fruits are inedible but its leaves have healing/purifying powers.
Next we were taken to Chacha's house. Francisco Felix de Souza known as Chacha was a slave trader and former director of the Portuguese force.
Soon after we went to The Place of Memorial where slaves were shipped off.
If you look closely at the second video, you'll see the wall art tells a story of how Africans left Benin into slavery. First they were checked for their "quality" (*sigh*) teeth, skin, eyesight etc. Then chained and taken to The Tree of Forgetfulness where they would walk around it (men 9 times, women 7 times based on number of ribs) to forget Africa and members of their family they would be with on the ship, after which they would get on the ship and leave for various countries.
After getting there, the chains were removed and according to the illustration on the well, they were introduced to traffic lights, guitars, computers and games, represented on the wall.
The last wall has the representation of the white men who were slave owners and would buy Africans.
At about 2:30pm we left the place of no return and went on to have lunch at Casa del Papa, a famous resort. The beach there was wonderful!!!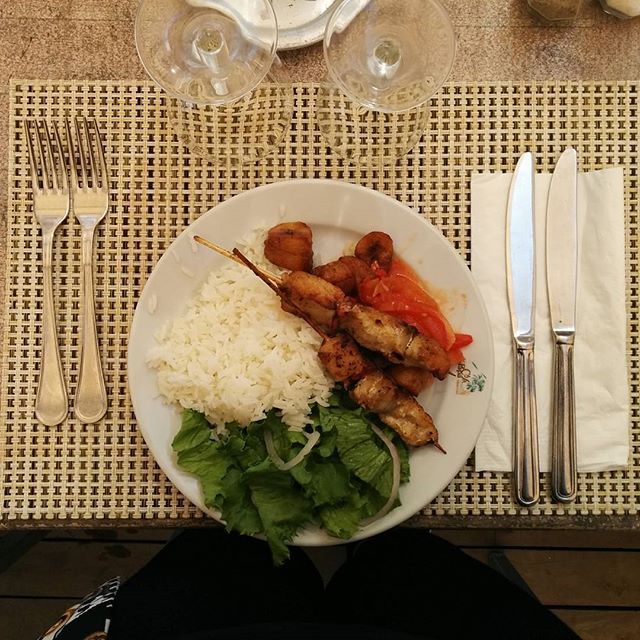 If you read my last introduction post about wanting to go to the beach, you'll understand how this was the answer to my prayer! And the funny thing is, we went to the SAME beach I posted a picture of here!
At the beach I came up with an idea for a creative picture my group and I could do for our task and the idea turned out great.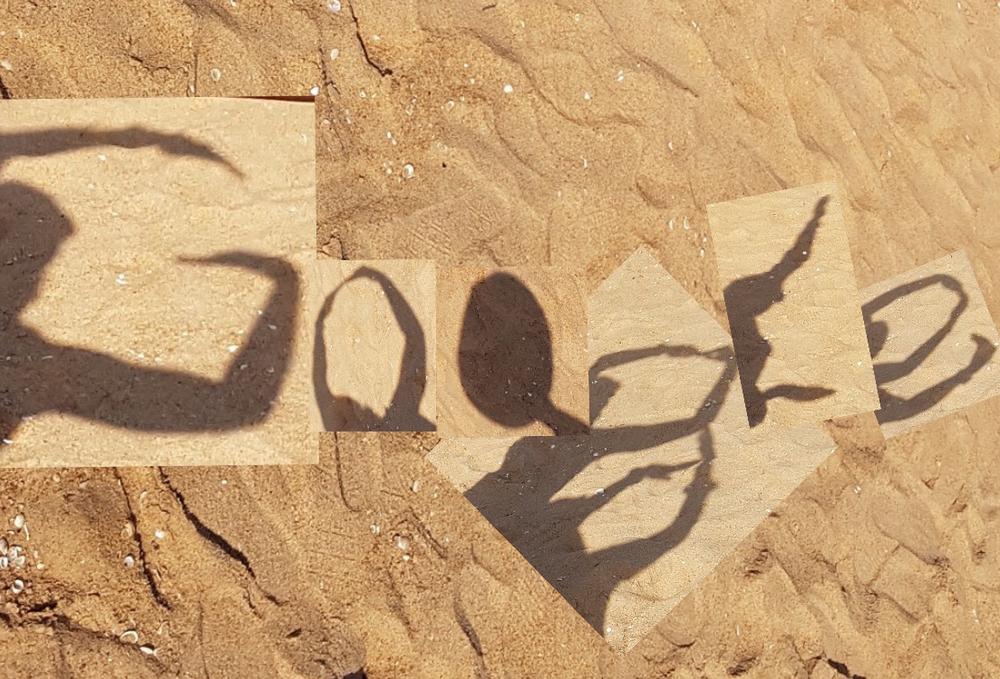 At about 4:50, we set out to The Handicraft Center where I bought ankara fabric and we were taught how to make beaded necklaces and bracelets.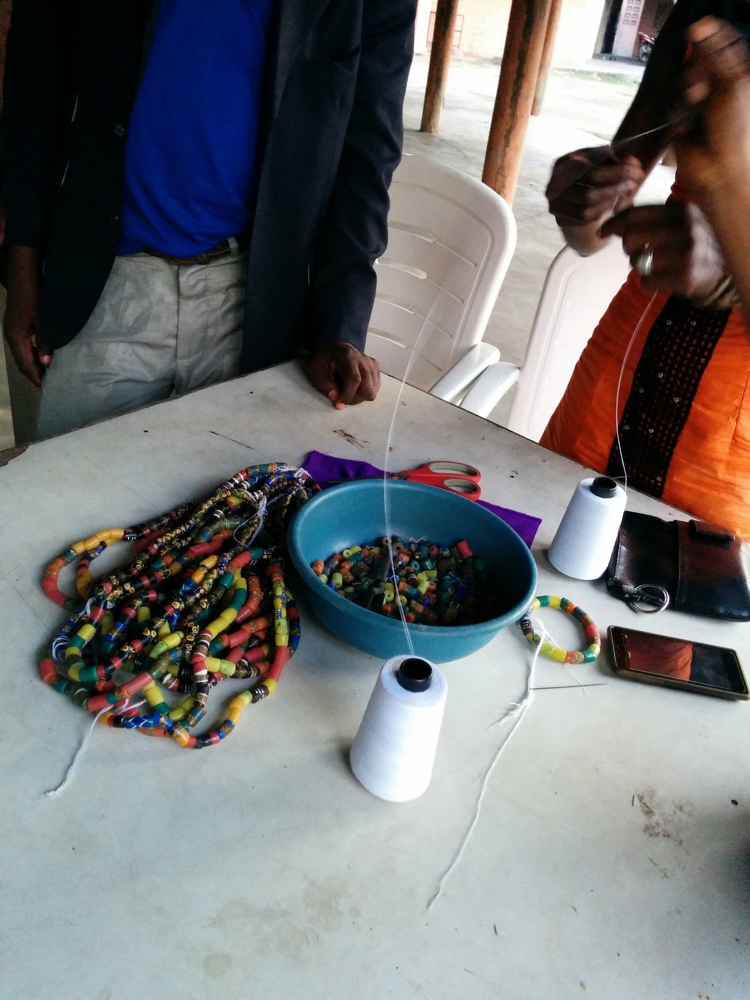 I also bought ankara fabric.
By 8:23pm, we were having dinner at Benin Marina Hotel buffet with live music from a skilled guitarist playing all the songs we knew. We were back the Sun Beach hotel by 10:00pm.
Saturday, April 9th
After breakfast at 7am, we left the hotel at 9am and set out to Ganvie Lake Village which is also known as "The Venice of Africa" on Lake Nokoué in Benin, a river that leads to Badagry in Nigeria.
At 9:50am, we arrived Ganvie lake village. This village is home to Ganvie people who moved there to run away from all the tribal wars they were faced with. We were told a crocodile came to guide them to a new place where they built houses on stilts, making new homes where they knew they could be safe, hence the meaning of the name Ganvie which means "here we are safe". However between then and now, the village has moved further down the river and the first settlement is now used as a burial ground.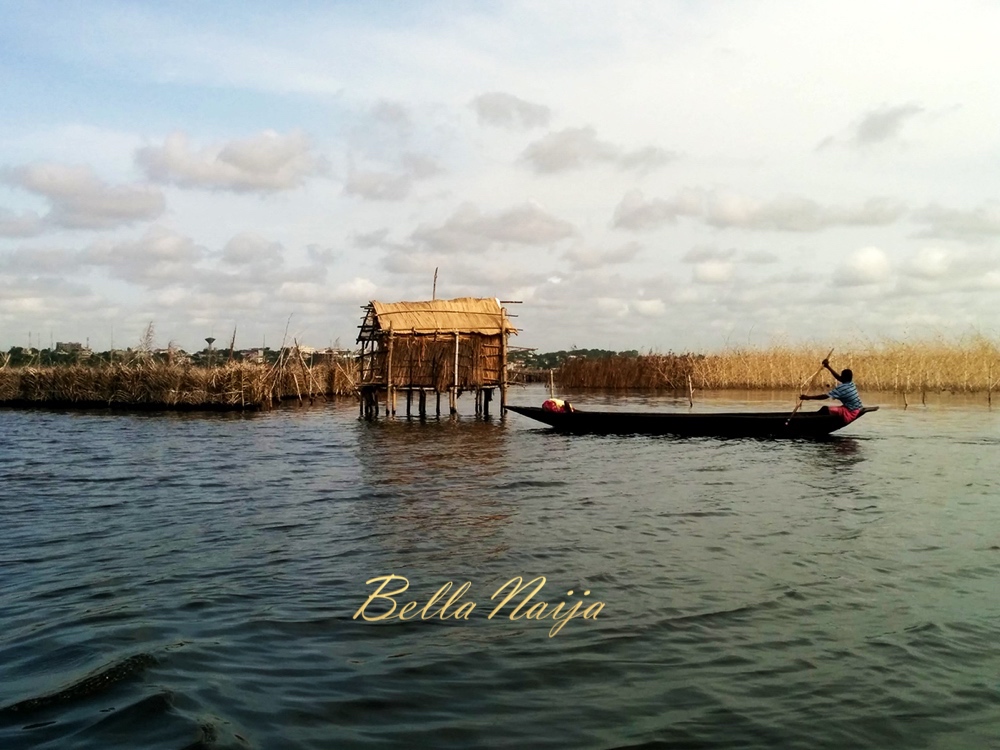 Approaching Ganvie village, we saw their primary school and we were welcomed by a group of singing women dressed in ankara wrappers and pretty beads round their necks, holding shekeres and singing a song that sounded like it could actually be Yoruba. I'm not Yoruba and I barely speak the language fluently but my BellaNaijarians, what's the meaning of 'Iya lo de'?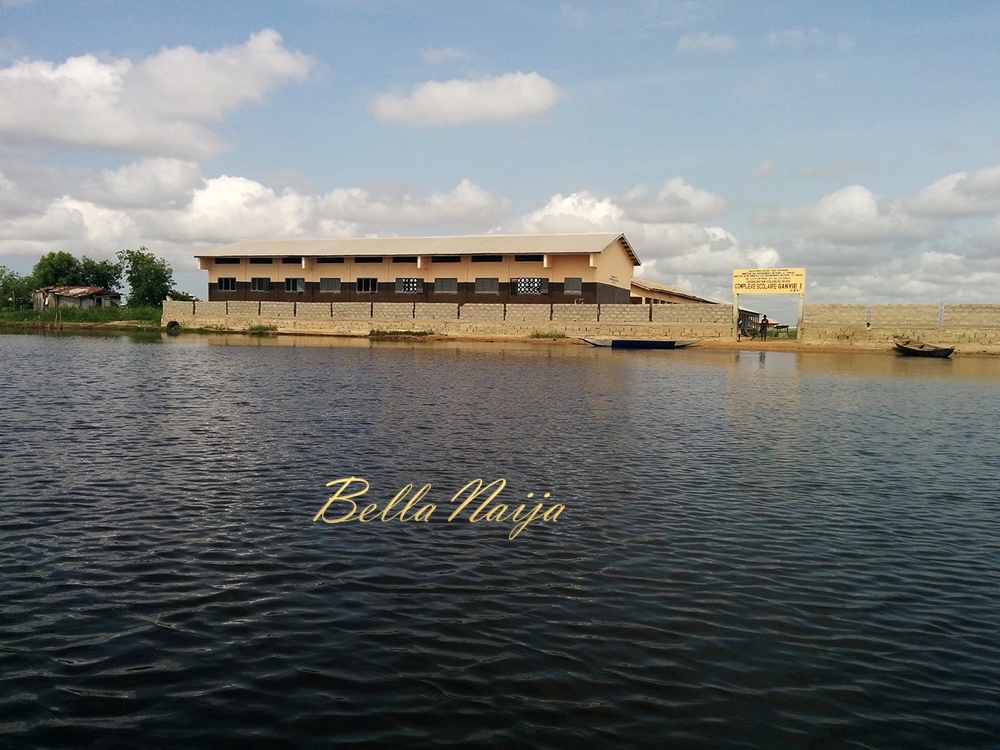 I was able to buy some necklaces from a shop there at good prices, can't wait to rock these with my new ankara dresses 🙂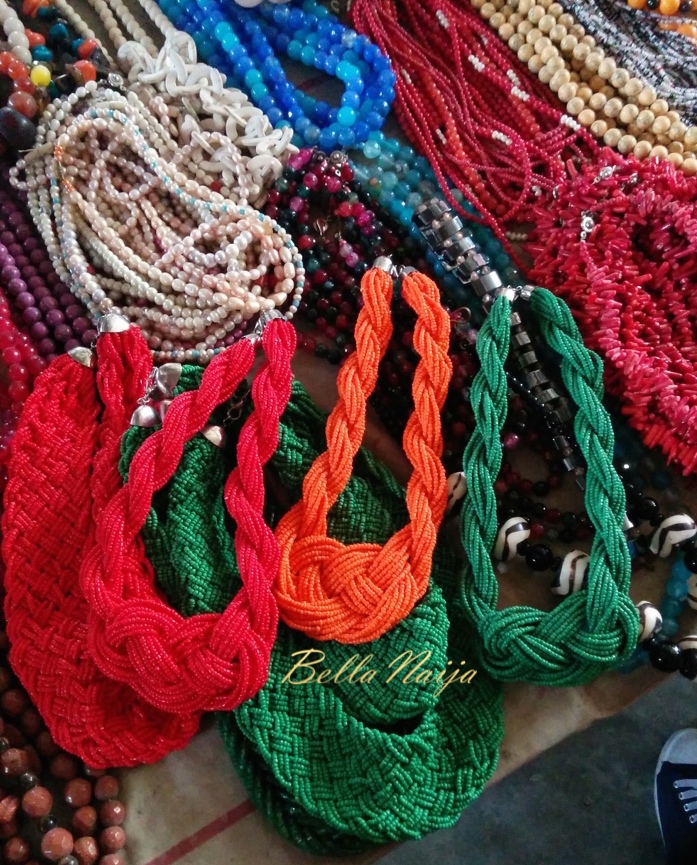 On our way back we passed the market in Ganvie and I was able to get pictures of that as well.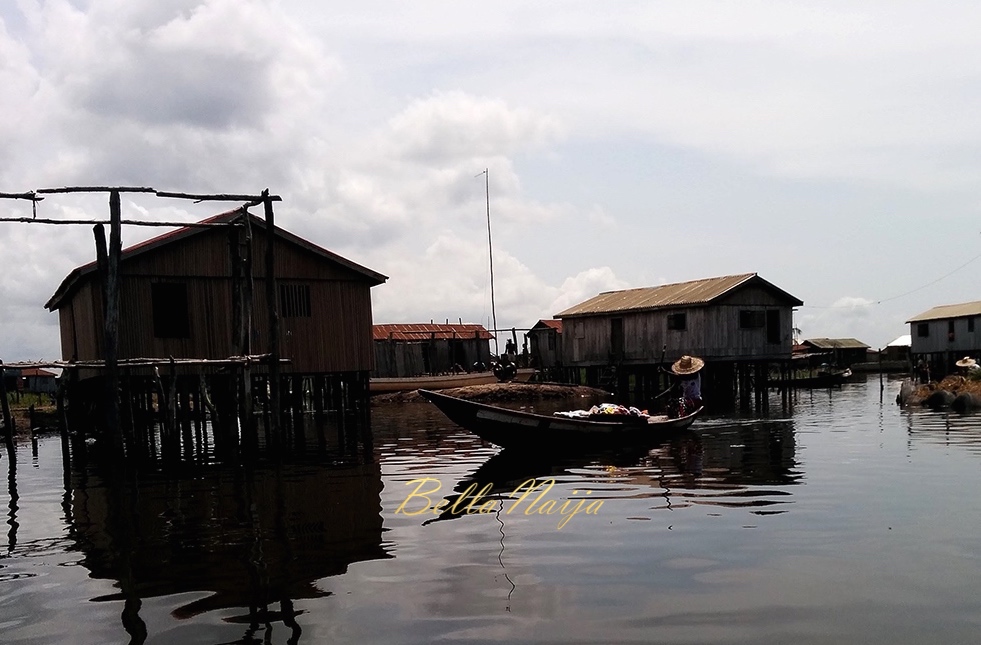 At 3pm after a 3 hour drive we arrived the kings's palace in Porto Novo where King Tofa and 25 other kings lived before the rise of socialism and equality, ideals that counter the monarchy. The name Porto Novo comes from the Portuguese because they believed the place was similar to the city of Porto.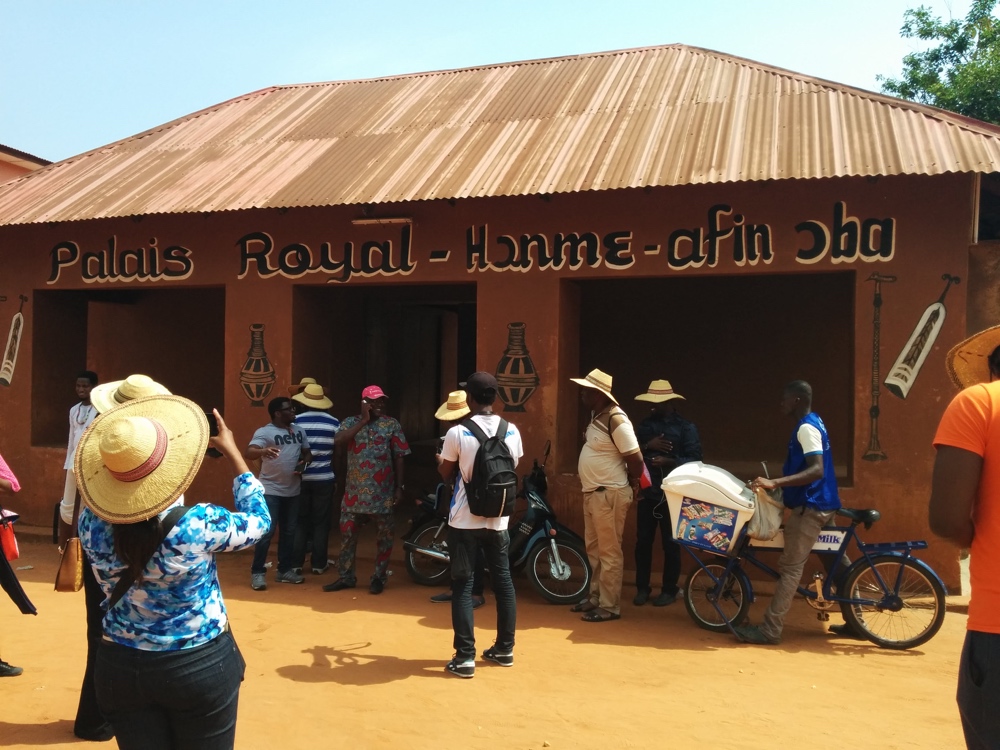 We entered the palace and we were given the grand tour and history of the place. Unfortunately we were not allowed to take pictures but we were shown places like the king's court, queen's court, tribunal court, people's court and chambre noir, which means black room. So what is a black room, you ask? A black room is a room that is black! JK. This room is where death lives, kings who had lost their face in shame came into this room and either never came out or died after three days of coming out. The last king who was to become a commoner because of equality and socialism died after three days of coming out of this room because he couldn't bare to be anything less than a king.
At about 4:15pm, we had lunch at Le Palace restaurant to fuel up for the task ahead.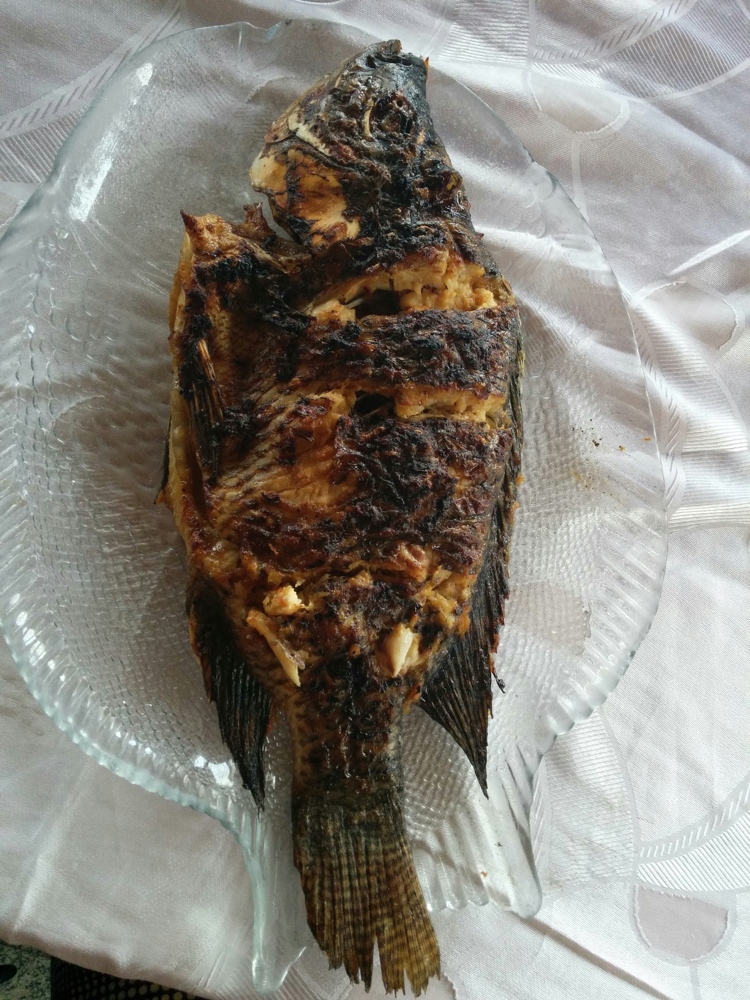 We were put into groups earlier and each group was given a task to go to the market with the help of our Google apps, buy all ingredients from a list given to us by a restaurant chef to cook a 2 course meal to be judged by the chef and the trip coordinators.
Unfortunately there wasn't enough time to cook, after the market & supermarket errands which ended around 8pm. Shopping at the local market and supermarket was made easy thanks to Google Translate. We were able to translate the ingredients on the list and communicate with the sellers at the market.
We went to the restaurant for dinner and instead of cooking we had a quiz session where I got to win two paintings thanks to my Google applications. Google Maps for questions like how long will it take for me to get to Murtala Mohammed Airport from where I am while driving and Google Now for questions like what time is it right now in Nairobi.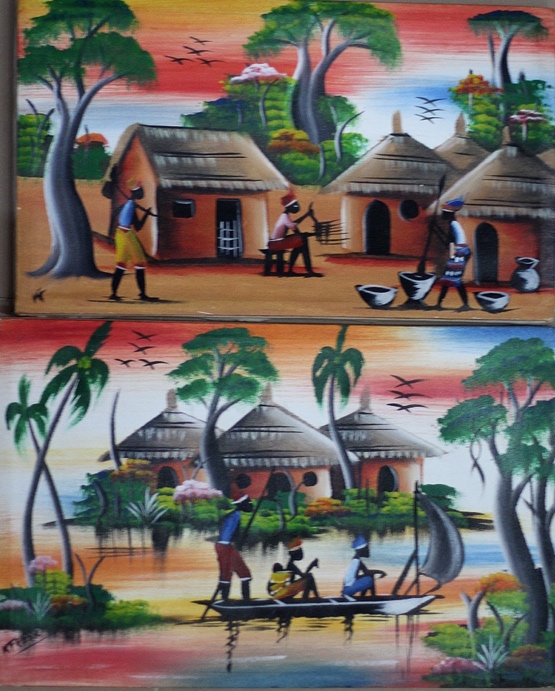 The winner for the Nexus 7 and group picture was announced and my group didn't win – unfortunately we weren't aware there was a timeline so we didn't enter the competition early enough to win but everyone thought our picture was a great effort.
By 10:10pm, we had dinner and made our way back to the hotel.
Sunday, April 10th
By 6am I was up, rounding up my packing and getting ready to leave Benin. On the last day I was able to catch the sunrise before leaving my hotel room home for the last 3 nights, I knew I'd miss the view and regret not catching the sunrise or sunset with a picture.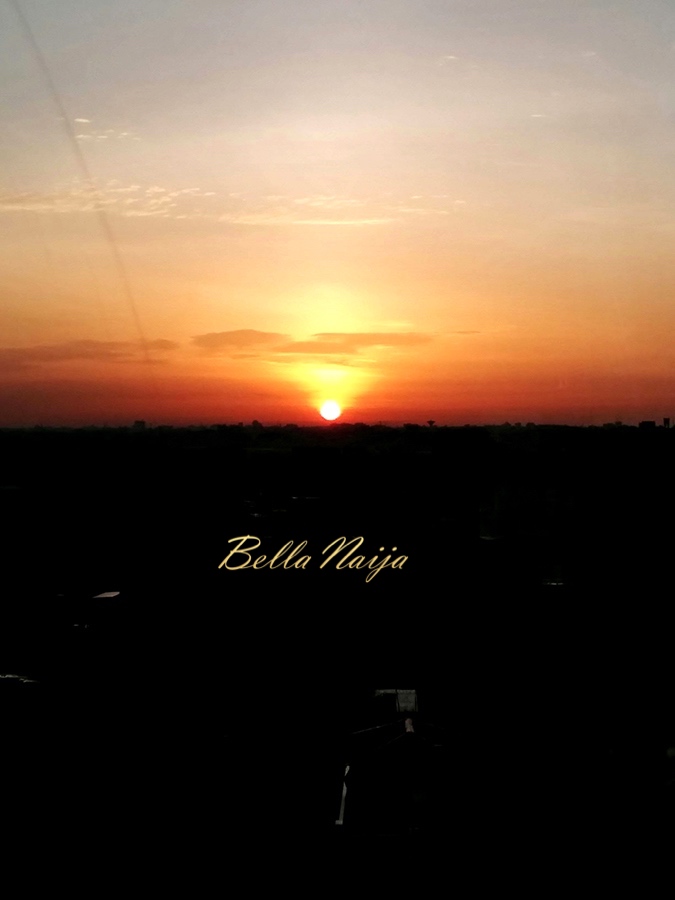 We left the hotel at a little after 9am and by 10:30am we arrived border going home. I bought cheap ankara fabrics again at the border, they're almost an obsession for me right now, you already know how much I love prints.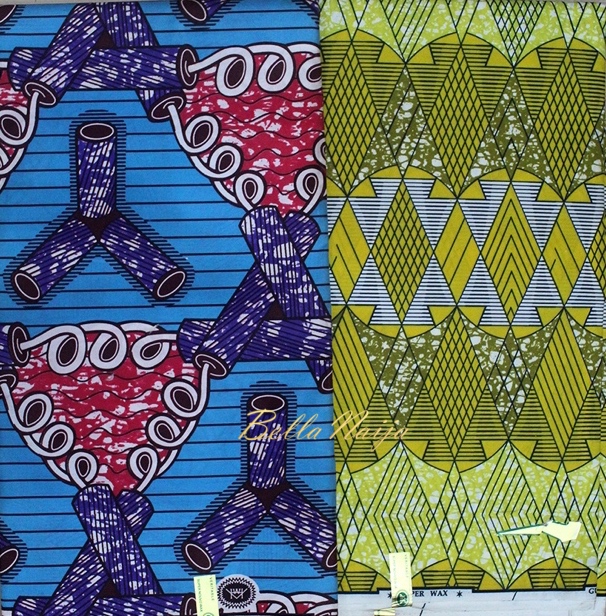 We arrived Nigeria at 12:33pm but to get into Lagos was an issue. We had to get through about 9 checkpoints if not 10, almost every 5 minutes after leaving the last one and having to wait for about 30 minutes each stop. A journey that was supposed to take just 3 hours became 6 hours, when I'm not going to London ?
Then we finally got in and it was hard leaving everyone – we had a fun long weekend together!
Highlights of the Trip
GoogleNG took good care of us from the bus to the hotel, the meals and activities, I was fully satisfied.
I also feel like the people I travelled with were great. We all got along just fine and made the best of every situation, making each other laugh with silly jokes mostly about Legba – Lol.
Winning my paintings! I hardly win anything but thanks to Google, I won twice!
Seeing how much ankara people wear there made me very happy, I loved seeing it everywhere in different styles, colours and prints.
Going to Ganvie.
And my favourite picture, the photobomb!
Observations About Cotonou
Similarities to Yoruba culture, with many people speaking Yoruba
Again lots of people wearing ankara
Fuel sold by the road side in big glass jars
Lots of women ride okada bikes there
Street sweeper machines, their roads were very clean
Thanks for coming on this trip with me guys! Make sure you check our Instagram page @bellanaijaonline and hashtags – #TravelwithGoogleNG, #GoogleinCotonou, #BNinCotonou, for more photos and videos I didn't put here.
I take a lot of photos I know but I wanted to show you as much as possible, make you feel like you were also there with me. Thanks to Google as well for making everything interesting and easy for us. Taiwo you're the best!
***
Photography & Words: Eki Ogunbor with a Nexus 5 | @thechameleonblogger
Photo Editing: Eghosa Asabor