The Amazing Talents of Children | Don't miss GCGT Season 6 live semi-finals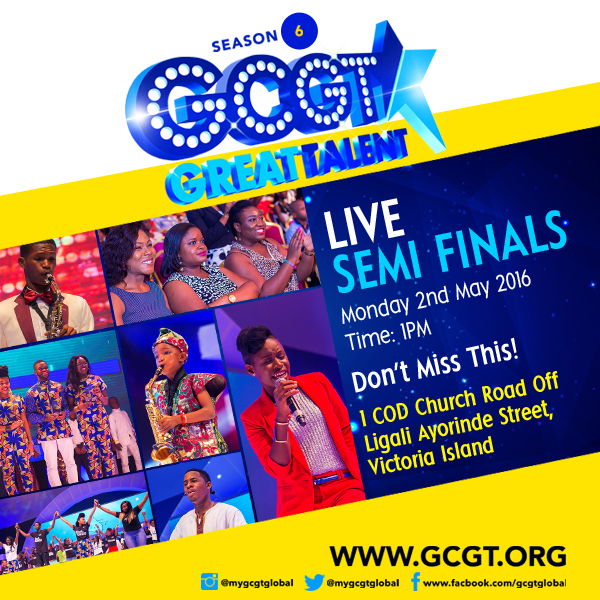 Go to social media and pictures of children abound. Parents love to share pictures of their children simply because they are cute. But kids are not only cute, they are amazingly talented.
I recently watched some YouTube videos of Emmanuella, the new sensation and I am still in awe of how a 5 year old girl can be so talented. You've probably watched her most popular skit, "this is not my real face" as she escapes getting into trouble at school.
This really got me thinking on how talented children are and what a beauty it is to see them express their God given talent at such a tender age. That's why I am super excited about the upcoming God's Children Great Talent (GCGT).
GCGT is Africa's Biggest Youth Talent Competition. An initiative of City of David Parish of the Redeemed Christian Church of God, GCGT identifies and celebrates talents in children from 5 to 20 years of age. The talent show which began in 2011 is currently in its 6th season.
So, if you've got kids around you, whether they are your children, your siblings or just even your neighbors' kids, keep an eye out and try see what their talent is. And then help them develop it. They could be the next Emmanuella.
Oh, Season 6 of God's Children Great Talents show is on Africa Magic Family Channel 154 on Sat 30th April and Sunday 1st May 2016 at 6pm.
And the live semi-finals is on Monday 2nd May 2016 at 1, COD Church Road off Ligali Ayorinde street,Victoria Island by 1pm. Admission is free. Come on and support the kids.
Please visit website for more info: http://www.gcgt.org/
 _____________________________________________________________
Sponsored content