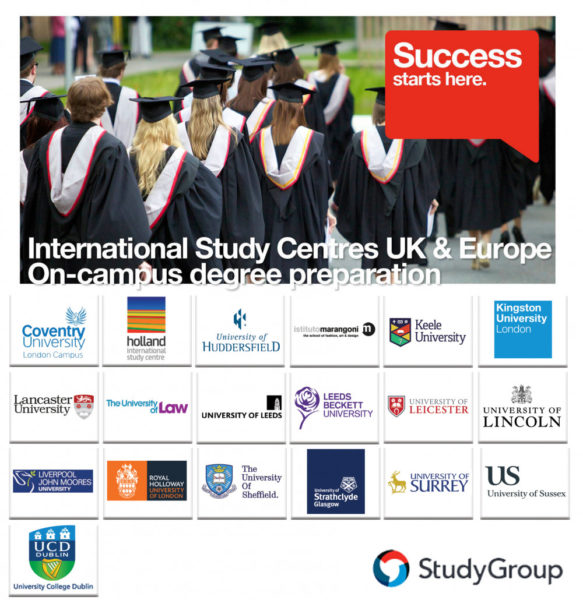 1st and best choice for international students
Widest choice of degree options – offering progression to more than 1,000 degrees in Business, Computing, Management, Engineering, Fashion Studies, Creative Arts, Hospitality, Media, Politics and more.
The most successful outcomes
Top ranking University partners – 10 of our partner universities are in the top 50 (The Times/Sunday Times Good University Guide 2016)
Post Study Work – in Ireland and Holland offer the opportunity to stay and work after graduation.
OUR COURSES
International Foundation Year (For WAEC/NECO/IGCSE holders): with progression onto year 1 of undergraduate course.
International Year One (For OND/Diploma/A-Level/Foundation holders): with progression onto year 2 of undergraduate course. No UCAS application necessary.
Pre-Masters (For HND or Bachelors Degree-3rd Class)*: with progression onto a Masters course.
*You will require a Pre-Masters for entry into University of Sheffield Masters course if you hold a 2nd Class (lower division) degree.
Contact: Francis Adekoya – [email protected] – 09091749998 (SMS preferably) to book an appointment meet at any of the venues below. To book an appointment please send SMS or Email as follows:
Email: Kindly send Full Name & Phone Number.
SMS: Kindly send Full Name & Email Address
Wednesday 13th April 2016
BCIE Victoria Island
14 Muri Okunola Street Megamound Place Off Ajose Adeogun Street, Victoria Island Lagos.
10am – 12noon
PFL Victoria Island
296B Jide Oki street, Off Ligali Ayorinde Street, Victoria Island, Lagos
1pm – 3pm
Thursday 14th April 2016
UKEAS Victoria Island
6, Adeola Odeku Street, Victorial Island, Lagos
9am – 11am
UKEAS Ikeja
3rd Floor, 76 Opebi Road, Ikeja, Lagos
1pm – 3pm
Friday 15th April 2016
BCIE Ikeja
2nd Floor, Valley View Plaza, 99 Opebi Road, Ikeja, Lagos
9am – 11am
SI-UK Ikeja
2nd Floor, 84 Opebi Road, Ikeja, Lagos
11am – 1pm
PFL Ikeja
49 Sobo Arobiodu Street, GRA, Ikeja, Lagos
1:30pm – 3pm
Monday 18th April 2016
UKEAS Enugu
Suite B8, First Floor, Bethel Plaza, 36 Garden Avenue, Enugu.
11am – 1pm
Tuesday 19th April 2016
BCIE Port Harcourt
2nd Floor, F. H. Jumbo House, 80 Aba Road Opposite Government Crafts Development Centre, Port Harcourt, Rivers State
10am – 12noon
PFL Port Harcourt
2nd Floor, Item House, No 82 Tombia Extension, G.R.A Phase 2, Port Harcourt, Rivers State
1pm – 3pm
Friday 22nd April 2016
UKEAS Port Harcourt
Plot 156, No 11 Tom Inko-Tariah Street. Rumuogba Estate
9am – 11am
Monday 25th April 2016
Futurize Solutions
Suite 302, No 12 Cape Town Street, off IBB Way, Wuse Zone 4, Abuja
10am – 12noon
Vantage Scope 360
Suite B8, S H M Complex, Mabushi, Abuja
12:30pm – 2:30pm
SI-UK Abuja
Suite SF 15 Olive Plaza by Banex Junction, Wuse 2, Abuja
3pm – 5pm
Tuesday 26th April 2016
UKEAS Abuja
Suite 3, 2nd Floor, Hatlab Place, Plot 1952 Sokode Crescent, Wuse Zone 5, Abuja
9am – 11am
PFL Abuja
Ground Floor, Right Wing, 10 Gimbiya Street, Area 11, Garki, Abuja
12noon – 2pm
BCIE Abuja
24B Djibouti Crescent off Freetown Street, behind Rockview Hotel (the 5th House after Zartech)
Wuse 2, Abuja
Thursday 28th April 2016
Chelis Education
2 Femi Otedola street, 7th avenue Gwarimpa Estate, Abuja.
3pm – 5pm
Tuesday 3rd May 2016
DRUMS Schools Finder
S.E Daniya Close, Guzape, Asokoro District, Abuja
10am – 12noon

British AUC Abuja
No. 8 Ihiala Street, Bacita Close, off Plateau Street, Section 2, Area 2, Garki, Abuja
1pm – 3pm
_________________________________________________________
Sponsored Content