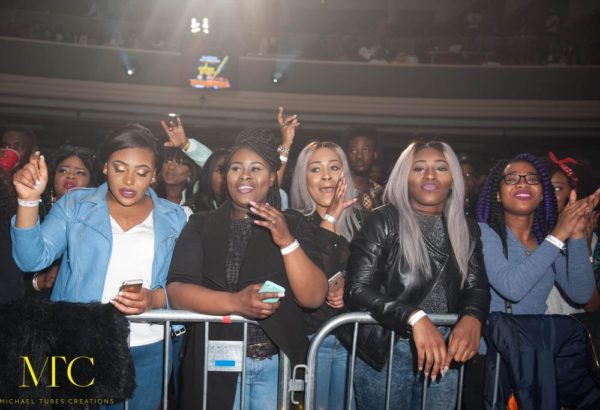 The first ever 'Arin's angels Mayday Afrobeats Concert' held yesterday, May 2nd in London and it was filled with various acts that showcased their musical talents to a packed crowd.
Dutch Da Don opened the show and hilaorious comedian Seyi Law took over as host. After a while some UK based artists like Moelogo, Selimax, CoolH, Kaybad, Ray, YFS, SK, BiLara, Jhybo, Paveway, Coalition Dancers and many more came on the stage to perform.
When Korede Bello came on stage, he was loudly welcomed by UK Bellovers after which he performed "African Princess", "Mr Romantic", "Mungo Park" and his award-winning song 'Godwin'. Towards the end of his performance, he was joined onstage by his label mate Reekado Banks and they launched into 'Doro Bucci' and 'Adoabi' before Reekado's solo set began.
Reekado treated the crowd to 'Oluwa Ni', 'Chop Am', 'Sugar Baby' and 'Katapot' and he was accompanied by his dancers. The singer even took the time to pose for selfies with 'ReekAddicts' when they held out their phones as he ventured into the crowd.
TripleMG's Tekno rounded off the night with his choreographed dance moves as he sang 'Wash', 'Dance', 'Anything' and smash hit 'Duro' sending the audience into an uncontrollable frenzy.
Other notable faces in attendance include Wisetola, Paul O, Ubi Franklin among others.
Here are photos from the event:
Photo Credit – Michael Tubes Creations | Review – KalishaJ
---
About KalishaJ
KalishaJ is an American born UK based Singer, Event Host and Freelance TV/ Online / Radio Presenter.
A lover of all things Entertainment & Music related, she is also passionate about fighting childhood hunger andinspiring underprivileged children & youth through performing arts. Check her out on www.kalishaj.com or on Twitter / Instagram: @kalisha_ j