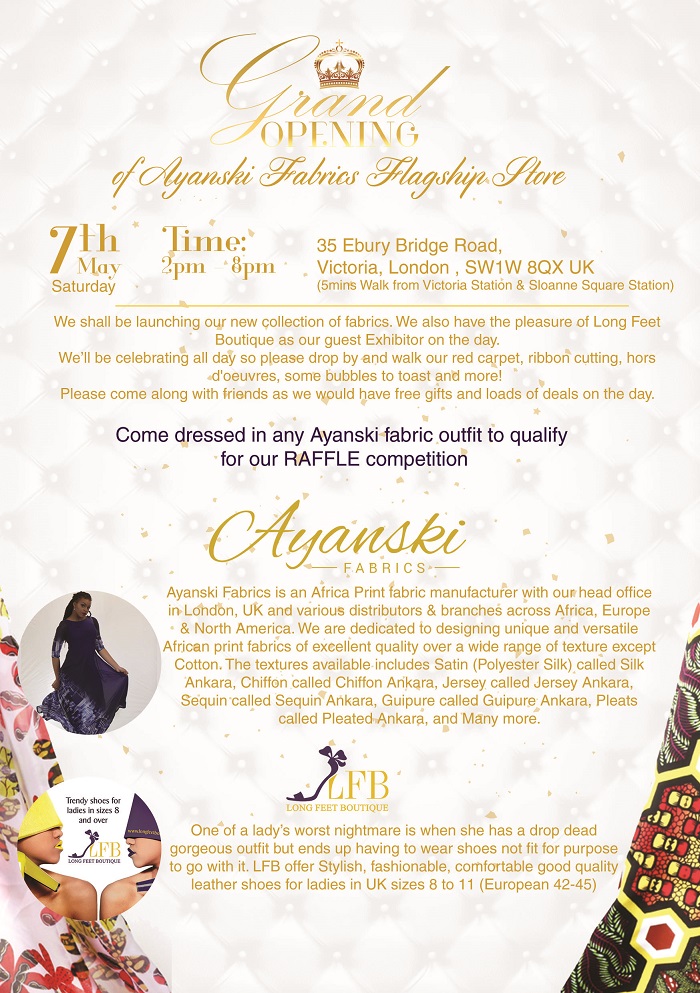 Ayanski Fabrics would like to invite you to our official store opening of Ayanski Fabrics UK on Saturday, May 7th 2016.
Ayanski Fabrics is an Africa Print fabric manufacturer and supplier, dedicated to producing unique African prints on a wide range of texture except Cotton.
 Our products include Chiffon Ankara, Silk Ankara, Jersey Ankara, Sequin Ankara, Lace Ankara, Handcut Ankara and more
It's Celebration all day so please drop by and walk our red carpet, ribbon cutting, hors d'oeuvres, some Bubbles to toast, gift for everyone and more!
Please come along with friends as we would have free gifts and loads of deals on the day.
 "Come dressed in any Ayanski fabric outfit to qualify for our RAFFLE competition on the day but don't worry if you don't have one… Buy one on the day and you qualify"
Please come along, parking is free after 1.30 PM in Victoria Area and Victoria Station and Sloane Square Station is 5 Minutes Walk.
Invite a friend and don't forget to wear your Ayanski Fabric if you have one to qualify for the Raffle Draw.
Date: Saturday, May 7th 2016
Time: 2 PM – 8 PM
Venue: 35 Ebury Bridge Road, London, Greater LondonSW1W 8QX
RSVP Link: rwm.co/dBbrGjX
For more information, please contact us on:
Website: www.ayanskifabrics.com
Instagram: @ayanskifabrics
————————————————————————————————————————-
Sponsored Content