South African television host, radio personality, entrepreneur and style icon Bonang Matheba is currently in Lagos, Nigeria and BellaNaija caught up with the star to talk about her achievements, her plans for the future and so much more.
28-year-old Bonang started her career at the age of 15 and for her there's been no looking back since. With constant hard work, patience and an amazing team behind her she has fast become one of South Africa's biggest stars with several accolades under her belt.
Bonang has set herself apart with her style and her warm attitude towards her fans.
When we caught up with Queen B (as she is fondly called by her fans), she talked to us about her plans to empower young women, how she plans on taking over the African entertainment industry as a whole, her relationship with South African rapper AKA and so much more.
Read her interview below.
ON STARTING HER CAREER EARLY
Your profile states that you started your career at the age of 15. That's amazing! How did things start up?
I think like everybody else, Auditions. I had a TV Agent in Johannesburg and then I started attending auditions at the age of 15, 16. That's what I did. Just auditions, auditions, auditions. Then I landed my first show but the first big show for me in South Africa was a show called "Live" at SABC1. It's a music show that played on Fridays. That's where things kind of blew up. After that I moved from one TV Show to the next where I am right now.
So at 15, you actually knew that this is what I want to do?
At 13, I knew and then at 15, I actually did something about it but I knew from a very, very young age that I wanted to be on Television specifically TV presenting, nothing else. Everything else kind of found me as I grew into entertainment.
Your parents weren't like you should stay in school?
They were. They were like that until I matriculated in 2005. And then they said, "you know what, if this is what you want to do, we'll support you". And then part of the reason why I'm so successful is that my parents are sort of a shoulder to lean on and they were very supportive of my decisions and things I wanted to do. So I owe everything to them, basically.
ON GROWING IN THE INDUSTRY
In the past 10-13 years, you've managed to take your stand in radio, take your stand in fashion, take your stand as a DJ, take your stand on TV, and take your stand as a style icon. How are you able to keep up?
I have got a great team, I've got a great PR team, I've got a great bookings team, I've got a great accounting team, a glam squad and it's just a collective effort. I don't do anything by myself, no man is an island. So I owe a lot of what I do, partly to my decisions and the things that I want to do but also how it's executed. So the people that work with me and for me are really, really incredible in their fields.
You started your own production company a couple of years ago. How has that been for you?
Bonang Matheba Entertainment. It's going good. I started it three years ago and I've done two or three productions for SABC, which is the Government broadcasting corporation in South Africa. And I've done a lot of red carpet events. Red carpet productions for the South African music awards – I've done two, I've done a reality show for myself which is online, a reality show for a few people. So it's good. For me, that is my next step. I've done what I can do in terms of South African television and now I want to move across the African continent, then globally. Then I also understand the importance of owning your content, and owning your work, and owning your decisions, and also having an outlet or platform that would help other entertainers tell their stories, that's where I am right now.
At 28 you've definitely achieved a lot and there are so many young women who look up to you. Is there anything you are actively doing to encourage younger women?
Absolutely, I do a lot of talks back home – a lot of motivational talks, a lot of mentoring. I've got a camp that I'm putting together in South Africa for girls between the ages of 16 and 19. It's a seven day mentoring camp; we are going to teach beauty, fashion, finance, business, entertainment, relationships, and accounting, everything in 7 days. That's what I'm doing, that's my big plan. But people who read my blog and follow me on Facebook, Instagram and twitter know how I encourage a lot of hard work and patience. I'm a person who really believes in the value of grit, getting your knees dirty and determination, praise in God and believing in Him and that things happen in His time and not yours, you just need to be patient. For me it's hard work, everybody knows that, I sing that message every single day. I'm like hard work, hard work, hard work. Be patient, push and also do it for all the right reasons. The intention must always be true.
ON HER LOVE FOR NIGERIA
Bringing things to Nigeria…you've been to Nigeria a couple of times, what can you say are your major highlights of your visits?
I think 2015, when I was here hosting The Future Awards with Darey, for me that was incredible. Really, really good, and I've had some interesting feedback and support from Nigerians and all across Africa – Uganda, Zambia, Nigeria, Namibia and South Africa obviously are my big entertainment countries. But for me last year was when I was given the opportunity to show the Nigerian audience, what I do. They've seen me on Instagram, most of them follow me because of my fashion but most of them don't know my skill – Radio DJ, TV Hosting, they saw it, they loved it and I'm hoping to do more.
I think Nigerians do love you. I once saw a comment on BellaNaija – "Bonang is not the only South African media personality", so I think Nigerians really love you. Are you planning on entering the Nigerian entertainment industry more?
Absolutely, that's part of the reasons I'm here this weekend. To create relationships, start relationships, meet press, meet media, and meet TV Producers. Trying to see what I can do In Nigeria apart from South Africa. Because once you make it in Nigeria, the rest of the world will welcome you. And we've seen it with other Nigerian stars, It's like the New York of Africa, once you make it here you can make it anywhere.
Let's talk about your style. Who are some of your favourite Nigerian style icons?
Quite a few, I love Toke Makinwa, everybody knows Toke is my twin. I absolutely love her fashion style because it's unpredictable. I really love how she puts her looks together. But the thing is with Nigeria, Nigeria is a mix of a lot of things – it's Western, it's African, its Southern, it's Asian – You know the women here really fuse everything together beautifully. But I think Toke is up there.
Do you have any Nigerian designers that you love?
Toju, I love Toju Foyeh. I'm actually doing a shoot with her for her new lookbook. She's definitely my favourite.
What Nigerian dishes have you tried?
I eat it at home actually, I love Egusi, I love jollof Rice, I love peppersoup, I love a lot of things. I live down the road from an African restaurant, so I just pop in when I'm missing Nigeria and get something – some yams or whatever and just guzzle it up.
ON HER PERSONAL LIFE AND SOCIAL MEDIA
So you're on the cover of Grazia's 200th issue. How does that feel? It's such a big deal and your second cover for the magazine.
It's good. To be on the cover of an international publication like Grazia that's still in print, it's fantastic. It's always a blessing to be one of the South African entertainers that they believe in. Editors rarely believe in entertainers because we know that magazines don't really sell, everything is digital. So for them to keep using me as a cover star, means first of all, we are moving and also you have an interesting story to tell. My life is always evolving, my work is always evolving, my accomplishments are evolving.
They called it your most intimate interview ever, what were some of the juicy details?
There's 200 questions, you have to read it. I cannot remember all. Because I'm a very private person. They asked me a lot about my family, my love life, they asked me about my processes and how I got to where I am. So you have to thoroughly go through it.
Speaking about your love life, you confirmed your relationship with AKA. A lot of people feel that you are the "it"couple – Imagine an African Kanye West and Kim Kardashian.
Oh really is that what they say?
I think so…how does it feel to be dating one of Africa's hottest rappers? You seem so happy and we couldn't help but notice that a photo of him performing at a concert recently is the wallpaper on your phone.
It feels good, He's a friend. Which makes it much easier. But I always want to be known for my work. That's why I like to shift the narrative back to my work.
You're actually a very private person…it's amazing how you keep so much away from the media.
Very private. It frustrates a lot of people. I don't speak about anything, I only speak about my work so they end up making up stories.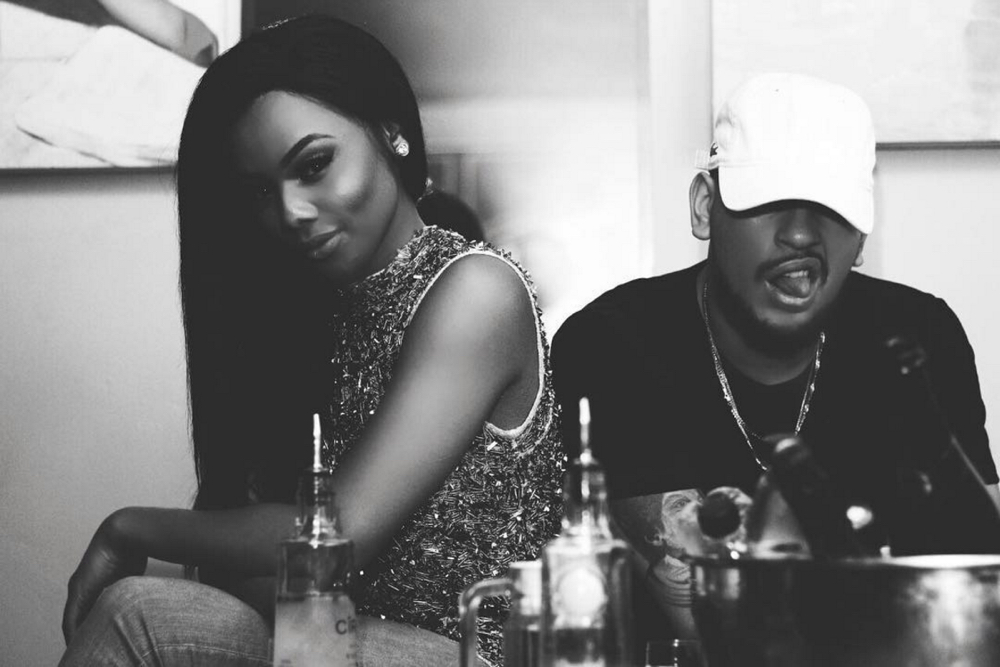 You say you're a private person but you are very active on social media. Where does the Bonang of social media start? How have you been able to draw the line on social media?
I've been able to focus on my fashion. On social media I'm a fashion girl and I also focus on my work. So, I show the behind the scenes of cover shoots. I don't ever Instagram or put up my family, my best friend. My best friend is here but I never put her on Instagram. I hardly ever put up things that are close to me.
ON KEEPING IT ALL TOGETHER
How have you been able to make it all work? Radio, DJing, TV, and all of it?
I think focus, absolutely focus, having a tonne of vision, and understanding that distractions come from all parts whether it's family, friends or people on social media. Having an end goal or objective and  focusing on what it is that you want to has kept me sane. I'm celebrating 13 years in the industry this year and my main thing is having a tonne of vision. I wouldn't have been able to do everything I have accomplished if I attended every argument or try to fix every story or correct people or explain myself. My work speaks for itself. Vision helps you starve your distractions and feed your passions.
How do you cope with all the negativity on social media these days?
On my social media, there isn't so much. If you go through my comments, about 80% of them are positive. I always say that if you exude love, You would receive love. I would rather focus on the 80 people that love me than the 20 that don't. It's unfair to the 80 that love me and support me and are there cheering you on and are your biggest cheerleaders.
Do you still get nervous before you get on stage?
Every morning before I get up on radio.
But they can't see you on radio *laughs*…
Even TV or MCing like at the Metro FM Music Awards which are the biggest music awards ceremony in South Africa. I was still shaking halfway through the awards. It's because I'm a perfectionist, my work means a lot and I understand that audiences deserve a certain quality of delivery  so I am always nervous and making sure that I please myself and because I'm entertainer I want to make sure that I entertain and do it properly and give people a show that is worth watching or listening to. When I stop getting nervous then I know that I don't love it as much anymore and I need to move.
ON HER PLANS TO BUILD A BIGGER BRAND IN AFRICA
What else do you have planned for the rest of the year?
It's my camp in September, I'm getting a star on Africa's walk of fame and that's going to be in Rosebank at the end of the month. I have a couple of international trips lined up. I'm going to be going to L.A soon. For now, it is my star on the walk of fame, it is my camp, it is trying to cultivate a bigger audience across Africa. I'm doing the Uganda Entertainment Awards in August, I've got an event in Zimbabwe on the 20th of May, then I'm going to Lusaka in July.
What else do you want to explore in Nigeria, where do you want to visit, what do you want to eat, who do you want to meet?
Well, I've been here a couple of times so I've visited, explored, seen and met a lot of people- celebrities and all of that. But for now, I really want to make a lot of connections with TV Producers, fashion Bloggers, show producers, designers, Celebrities and that for me is my primary goal, that's the reason I'm here this weekend – to let people know about Bonang, and that she's out there and that she's about to take the world by storm, one continent at a time. Let them know about my awesome Revlon deals, my Ciroc endorsement deals; I'm the only female Ciroc ambassador in Africa, also about my incredible lingerie collection at Woolworths. So it's just about letting them know.
***
For more on what Bonang Matheba is up to you can follow her on social media:
Instagram: @bonang_m
Twitter: @bonang_m
Website: www.bonangmatheba.com