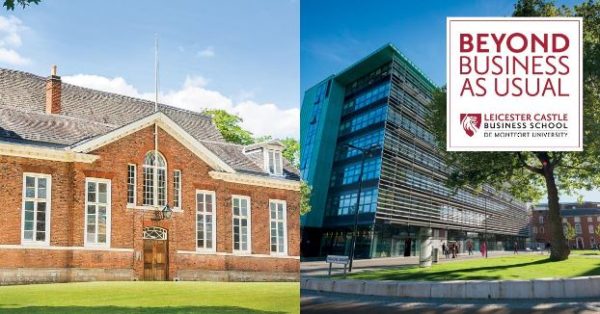 Are you hardworking and ambitious? Join us this September – for our Masters programmes in Business Management and Sport; Business Management and the Creative Industries; Global Banking and Finance; Global Investment and Risk – and our premium, Leicester Castle Business School affiliated, BSc (Hons) degrees in Global Leadership and Management and Global Finance with ACCA and CIMA exemptions.
Leicester Castle Business School, part of De Montfort University, UK, arguably the world's oldest newest Business school, is based in the City of Champions.
We are offering £4,000 scholarships off fees for all candidates. Why not apply to us at Leicester Castle Business School (www.LCBS.ac.uk) to start building your future career this September. We also have a January start date for our postgraduate programmes.
Leicester Castle Business School – Beyond Business as Usual.
We will be meeting with students in Lagos, Abuja and Ibadan. Please come with your friends and remember to bring your Academic documents for assessment and on the spot offer.
IBADAN
Date: Tuesday, May 24th 2016
Venue: UKEAS 1 Shell Close, Onireke, Ile Oridetu
Time: 10AM-1.30PM
Email: [email protected]
Phone: 08057126779
Venue: PFL Ibadan, Oni & Sons Road off Ring road
Time: 2.00PM – 3.30PM
Email: [email protected]
Phone: 08060748782
LAGOS
Date: Wednesday, May 25th 2016
Venue: UKEAS 6 Adeola Odeku Street, Victoria Island, Mobitel Building
Time: 10AM – 1.00PM
Email: [email protected]
Phone: 08057126717
Date: Thursday, May 26th 2016
Venue: PFL Ikeja 49 Sobo Arobiodu Street, GRA-Ikeja
Time: 9.00AM – 11.00AM
Email: [email protected]
Phone: 07042924010
Date: Thursday, 26th May 2016
Venue: SI-UK Education Council 84 Opebi road, Ikeja
Time: 12.15AM – 1.20 PM
Email: [email protected]
Phone: 08110477469
Date: Thursday, May 26th 2016
Venue: UKEAS Ikeja 3rd Floor,76 Opebi road
Time: 1.30PM – 3.30PM
Email: [email protected]
Phone: 08057126716
ABUJA
Date: Friday, May 27th 2016
Venue: UKEAS Suite 3,2nd Floor,Hatlab Place Plot1952,Sokode Crescent, Wuse Zone 5
Email: [email protected]
Phone: 08158868765
If you have further Enquiries, Contact Babs or Ene:
Phone: 08157714913, 08090786320
Email: [email protected]  | [email protected] | www.dmu.ac.uk/international
_____________________________________________________________________
Sponsored Content