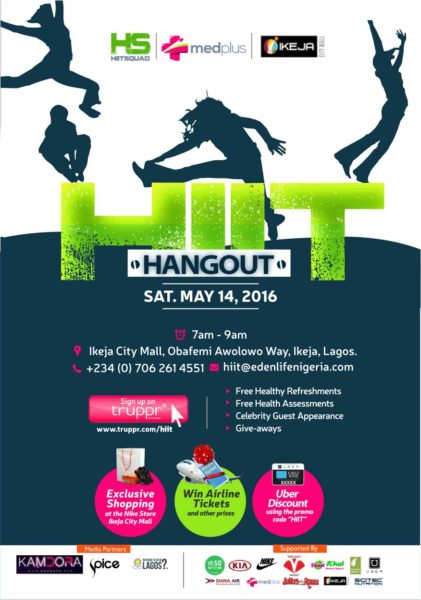 Get ready, Lagos, for The HIIT Hangout on Saturday May 14th, 2016 brought to you by The HIIT Squad and MEDPLUS. 2 hours of pulsating body weight workouts, zumba, fitness challenges, music, celebrity appearances, prizes and refreshments.
Details below:
Date: Saturday May 14th, 2016
Time: 7AM-9AM
Venue: Ikeja City Mall, Obafemi Awolowo Way, Ikeja, Lagos
High Intensity Interval Training (HIIT) is one of the most effective forms of exercise because it maximizes calorie burn in minimal time. These strength and cardio workouts can be done anywhere and you will continue to torch calories for a full 24 hours after! Small wonder why HIIT is a global sensation.
HIIT is loads of fun and extremely engaging and for two hours The HIIT Squad will show you just what your body is capable of.
Proudly supported by Medplus, Kia Motors, Dana Air, Kamdora, Simply Green, Truppr, Ikeja City Mall and Nike. Arrive at Ikeja City Mall with Uber and get N3,000 off your first ride using promo code 'HIIT'.
The HIIT Hangout is more than just a workout, it's an experience!
Sign up at www.truppr.com/hiit now for your FREE ticket!
_____________________________________________________________________
Sponsored Content