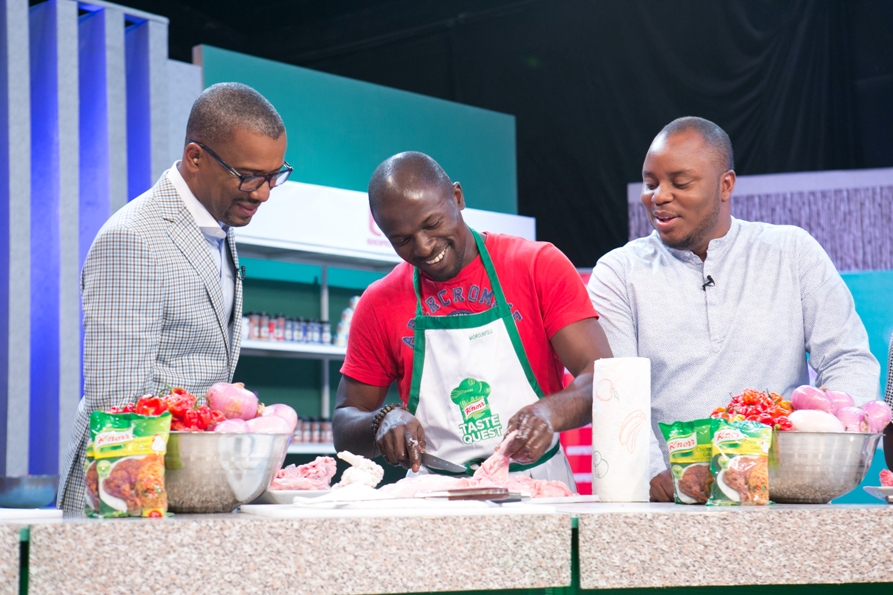 The flames are getting hotter on Nigeria's premier cooking reality show, as Knorr Taste Quest Season four moves into the elimination stages. Four contestants are out of the show already, as episode 4 saw the sixteen hopefuls proving their culinary skills to judges, Chef Fregz and Dr Robert.
What happened, you ask? Well, believe it or not, it was all about the chicken.
The contestants' task on Saturday was to prep a chicken, they had to 'debone' the chicken, stuff it with pepper and onions, season with Knorr chicken, tie it up with string, or use the net.
Apparently, however, preparing the perfect chicken is not as simple as just sprinkling on a little pepper and salt, as contestants Blessing, Vanessa, Debbie and Anwuli discovered. Despite all the help from Knorr's seasoning cubes, their kitchen-craft did not quite make the cut.
***
See pictures below for how it all went down.
So who gets the chop next and who will be crowned Nigeria's Seasoned One?
Stay tuned and find out on;
STATIONS
DAYS
TIMING

AIT Network

Sun

5pm – 6pm

Africa magic Family

Sat

7pm 8pm

WAP TV

Sun

8pm – 9pm

Rave TV

Sun

8pm – 9pm

NTA Network

Sun

6pm – 7pm

Silverbird TV

Sat

8pm – 9pm

TVC

Sat

8pm – 9pm

ONTV

Sun

7pm 8pm

Delta TV Warri (DBS)

Sat

7pm 8pm

Broad Corp. Oyo State TV(BCOS TV)

Sat

12pm – 1pm

Anambra B'asting Serv TV(ABS TV)

Sat

3pm – 4pm

Crossriver State Broad.corp.(CRBC)

Sun

5pm – 6pm

Rivers State TV(RSTV)

Sat

12pm – 1pm
For more information, kindly visit;
Knorr website: www.knorrtastequest.com/ktq4 | http://www.knorr.ng
Facebook: https://www.facebook.com/KnorrNigeria
_________________________________________________________________
Sponsored Content