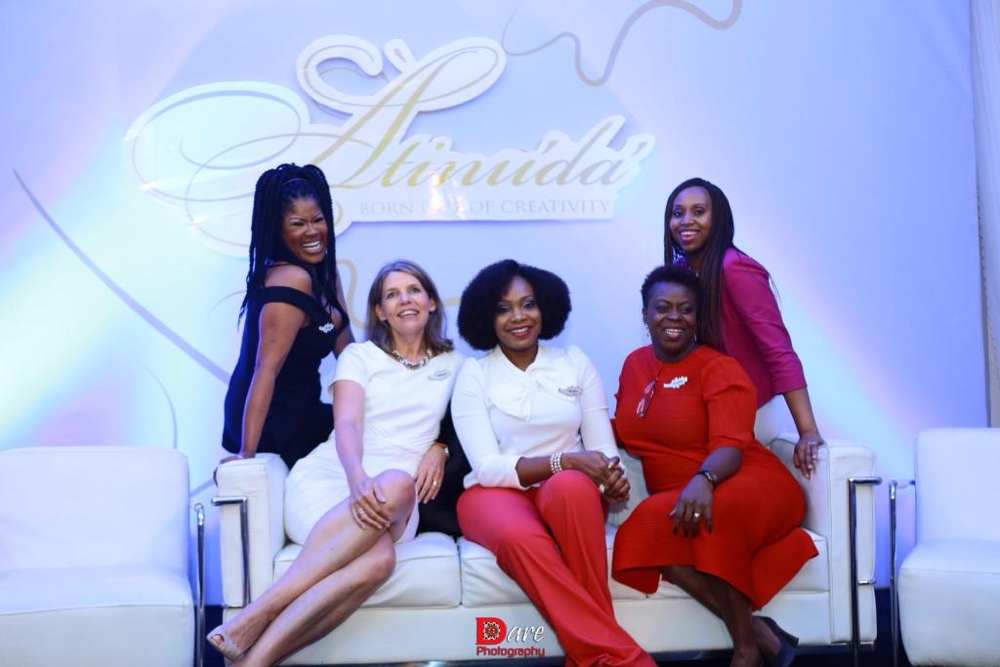 The Atinuda Designer's Atelier happened on Thursday the 9th of June at Clear Essence Spa in Ikoyi and it was a meeting of experienced minds ready to share every bit of their vast knowledge on the wedding/event planning industry.
Powered by Ayiri Oladunmoye, CEO of Oaken Events the event was hosted by Arese Ugwu, the speakers included Seyi Olusanya CEO of Once Upon A Destination and Cedar Events, Christina Holt Founder of Wedding Concepts SA and Diann Valentine CEO of Diann Valentine Living Well (DVLW).
BellaNaija is proud to have been media sponsors for the Atinuda initiative. Eki Ogunbor was present at the Atinuda Designer's Atelier representing BellaNaija Lifestyle, which covers Living, Weddings, Beauty, Style & Fashion.
That's me with Diann Valentine, she was definitely my favourite speaker of the day and you'll find out why. I was fortunate to attend this enlightening event for BN and I learnt so much from these ladies about an industry I'd have never thought to be interested in. It was an amazing experience and again, kudos to Oaken Events and Ayiri Oladunmoye for giving us something so valuable, I'm looking forward to the next one already!
Christina Holt
Christina made me dream of getting married in South Africa which has become one of the most popular places for destination weddings. Wedding concepts SA specialises in destination weddings for people who want to have a wedding anywhere in Southern Africa. She mentioned it's popular in SA to have the wedding ceremony outdoors and the scenery adds the the beauty of their weddings and  most of her Nigerian clients come to her because they want something smaller, something different. Wedding Concepts SA is known for intimate weddings and paying close attention to detail,
"The luxury is in the detail if you really have thoughts of all the smallest things."
To create the best experience for their clients, they use social media to get to know their clients and their personalities. This information helps them give a personal touch to the wedding with personalised thank you cards/gifts, place setting cards, wedding logos, social media hashtags, the cake and so much more. She also gave us, BellaNaija Weddings, a shoutout for our support on social media. Christina said,
"Wedding Concepts delivers the service of bringing people (vendors) together to make the clients vision come to life."
In closing, advised the use architectural 3D drawings to sell your vision to clients because it really takes things to the next level and helps you secure a client. Christina also spoke about managing the project budget and their financial approach as a company; they charge a percentage on the clients budget while others charge a flat rate.
To add more to what Christina said about her charging system, Mati Gono of Just As Planned mentioning how important it is to know your clients and do background research on them to charge them realistically and the fact that most Nigerians do not like the word 'percentage' it discourages them so she charges a flat rate.
Funke Bucknor-Obruthe of Zapphaire Events also added that because of the situation in the country you might have to charge a little less than usual with the hope that things will pick up with the economy later. She also adviced that because we are in a social media world right now, you must work
"because the more you do the more you get. If you don't work and someone goes to your instagram page and sees that it's three months ago you posted, they will not call you because they feel like you are not relevant"
Diann Valentine
Diann was my favourite speaker, she's quite an energetic speaker with lots of valuable quotes and advice.
"We were all born into love and at some point in our lives we became fearful and fear cripples us and destroys our faith and limits our creativity. Fear is the death of the creative soul. The presence of fear is the souls recognition that the destructions of love is near. Every morning you wake up, you make a choice to operate in fear or love, this is what will drive your business. Love gives us permission to be ourselves and we're all in the business of love, people entertain and celebrate love either by being romantic or expressing their love for a brand. It (love) is the core of what we do."
"Women in love are desperate for inspiration and popularity tends to drive trends in this industry, if you're popular you set the trends. It takes courage to go against the trends and the status quo. Dare to extend your thinking beyond the box and create more than what the clients brings to you from her Pinterest page" which she refers to as the creative's arch nemesis. "Creative a ready, willing and fearless client that trusts you to express/interpret her love on her big day in a manner that she adores." She gave an example of a bride who loved cakes and wanted her cake to be the center piece of the wedding and Diann came up with the idea of a suspended cake!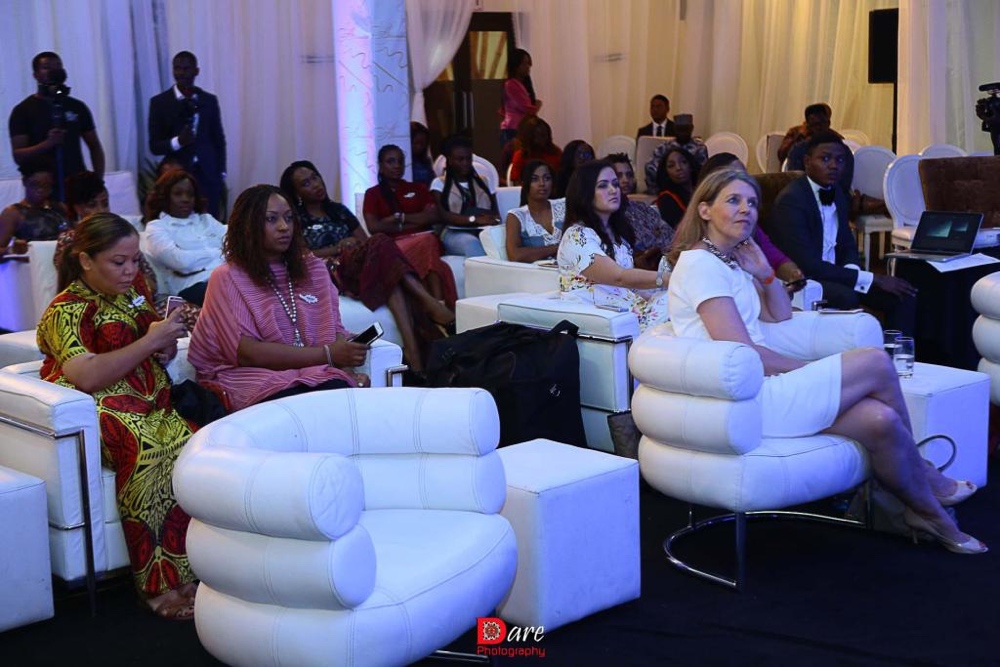 Diann mentioned she gets inspired by other creative like florists and artists but appreciates it when they push boundaries and do more than whats already done. She gave the flower wall as an example, its pretty but she needs to see more than just a flower wall, "Whats the next big thing?" Why not cut out flowers from the wedding/event in total? Get creative with other things like lights and paintings, go against the grain! It is with this thinking she created the Valentine Cuff, the big bouquet always covers the beauty of the wedding dress in the lead image at weddings of the bride and groom. The valatine cuff compliments the dress giving it a feminine touch, the flowers become more of an accessory. "Clients spend $30-60,000 on a wedding dress and then you cover it up with a $1000 bouquet? It's and insult to the coutourist who made the dress." Ayiri Oladunmoye is now the exclusive distributor of the cuff in Africa.
What is required for creativity?
Destroy the box you're living and operating in, Pinterest, Instagram, bridal magazines. Challenge everything, the white dress and all the traditions.
Get Tools. Start with what you know and get what you don't know, if you keep thinking you know everything you will keep getting the same results.
Get Talent. Get smarter better more experienced, more creative people. Don't be fearful of people that know more than you do. Don't be afraid to invest in people with training or scouting someone who isn't so popular yet but has great talent. She gave an example of going to schools to scout raw talent like artists and painters.
Get Comfortable with Failure. Embrace failure, learn from it and give people in your team a chance to fail too. What is more important is how you bounce back from a set back

Human resources. Get a great team get people that know more than you know, people that

have

 skills you don't have.
And she ended with "Do it for love and love will do it for you."
Seyi Olusanya
Seyi spoke about 'The Power of Us' as a team and a community of event experts. While speaking she mentioned that to build her team, she asked herself this question, "If they made a movie of your life who would be in the credits?" These people are the ones you start with when you want to build something substantial and this is what Seyi did, looking internally (friends and family) to create a winning team that's gotten her where she is today.
"It is more important to maintain sanity at home first before every other thing around you can fall into place. Your clients will never love your company until your employees love your company first."
Seyi Olusanya went on further to speak on industry colleagues investing and supporting each other to achieve a collective vision in the industry which will help the industry move forward.
"Team work makes the dream work," Seyi encouraged her industry colleagues to work together, using each others strengths to improve the way things are done. Bring the best of what everybody has so we can achieve so much more.
After the talk, we had the opportunity to get a feel of the Valentine Cuffs and I tried them on and took some photos, they were lovely. We were served lunch and after that, there was a speed mentoring session with each of the speakers for guests who'd signed up.
The event was very enlightening for me and I enjoyed every bit of it, learning from these inspiring women and meeting lots of wonderful people.
See more Photos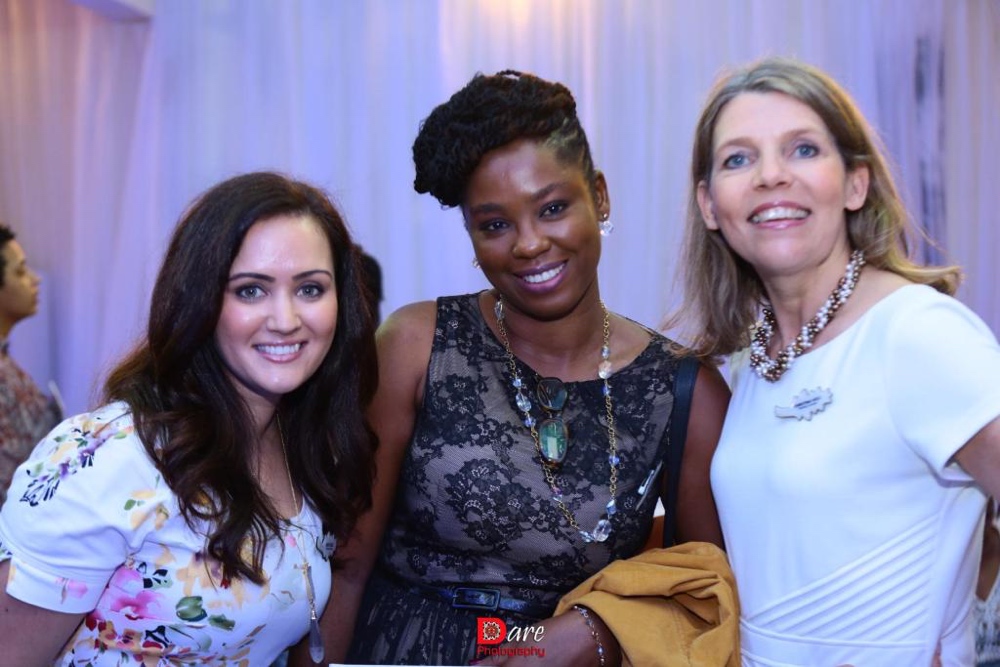 Photography: Dare Photography | @darephotographyuk