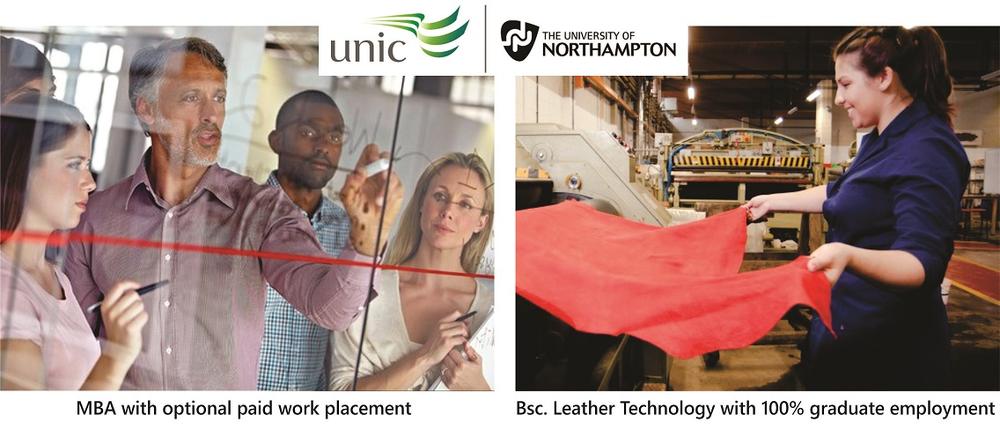 Are you passionate about pursuing a profitable career with 100% Graduate Employment? Then look no further as UNIC and University of Northampton offer two exclusive courses that can make it happen.
MBA with optional paid work placement
This unique MBA requires no previous business or management experience. All we need is a true passion for business and entrepreneurship that will help you to excel in the industry.
As part of the course you can elect to participate in a paid work placement with the aim to give you an advantage over the competition for jobs and scholarships after you graduate. Previous Northampton students have been successful in securing placements at globally recognised companies including; Walt Disney, Carlsberg, Tesco, Aldi and Rolls-Royce.
Course Highlights
No work experience needed
Study full-time or by distance learning
Opportunity to participate in paid work placement
Optional MBA business networking trip to Brussels
Extensive online materials to support your studies
Accommodation with UNIC guaranteed
Achievable entry requirements – Pass, 3rd class & HND can apply
Course Fee: Pre-Master's – £6,000  | MBA – £12,700
Leather Technology with 100% Graduate Employment
Leather Technology at the University of Northampton has a 100% graduate employment rate for the last five years. By enrolling on this course students gain themselves a level of job security that is not often associated with other degrees.
Course Highlights
100% graduate employment rate for five years running
Only course of its kind in the UK and Europe, on campus tannery and laboratories
Annual study trip to Italy
Tailor the course to suit your strengths and interests
Achievable entry requirements – WAEC and NECO can apply
Links with top industry brands including Aston Martin and Rolls Royce
Opportunities to attend international leather fairs in Hong Kong, Milan and Shanghai
Course Fee: £9,000 for Foundation
Date: Friday, July 1st 2016
Time: 11AM
Venue: You can meet with our representatives at the following venues –
Yaba – MOD Education, 7 Hughes Avenue, Alagomeji-Yaba
Festac – MOD Education, 21 Road, D Close, House 11, FESTAC
Ikeja – MOD Education, 7 Allen Avenue, Ikeja
Abuja – MOD Education, 43 Nouakchott Street Off Olu Obasanjo Way, Wuse 1
Port Harcourt – MOD Education, 85, Olu Obasanjo Road (LASO House), GRA
Benin – MOD Education, 4 Imose Close, Benin
Uyo  – MOD Education, 123, Olu Obasanjo Road (Former Abak), Uyo
Calabar – MOD Education, 133 IBB Way, opp Margaret Ekpo Airport
Register here for MBA: study.navitas.com/MOD-MBA-LP  |  Register here for BSc Leather Technology:  tudy.navitas.com/MOD-Leather-LP
_______________________________________________________
Sponsored Content