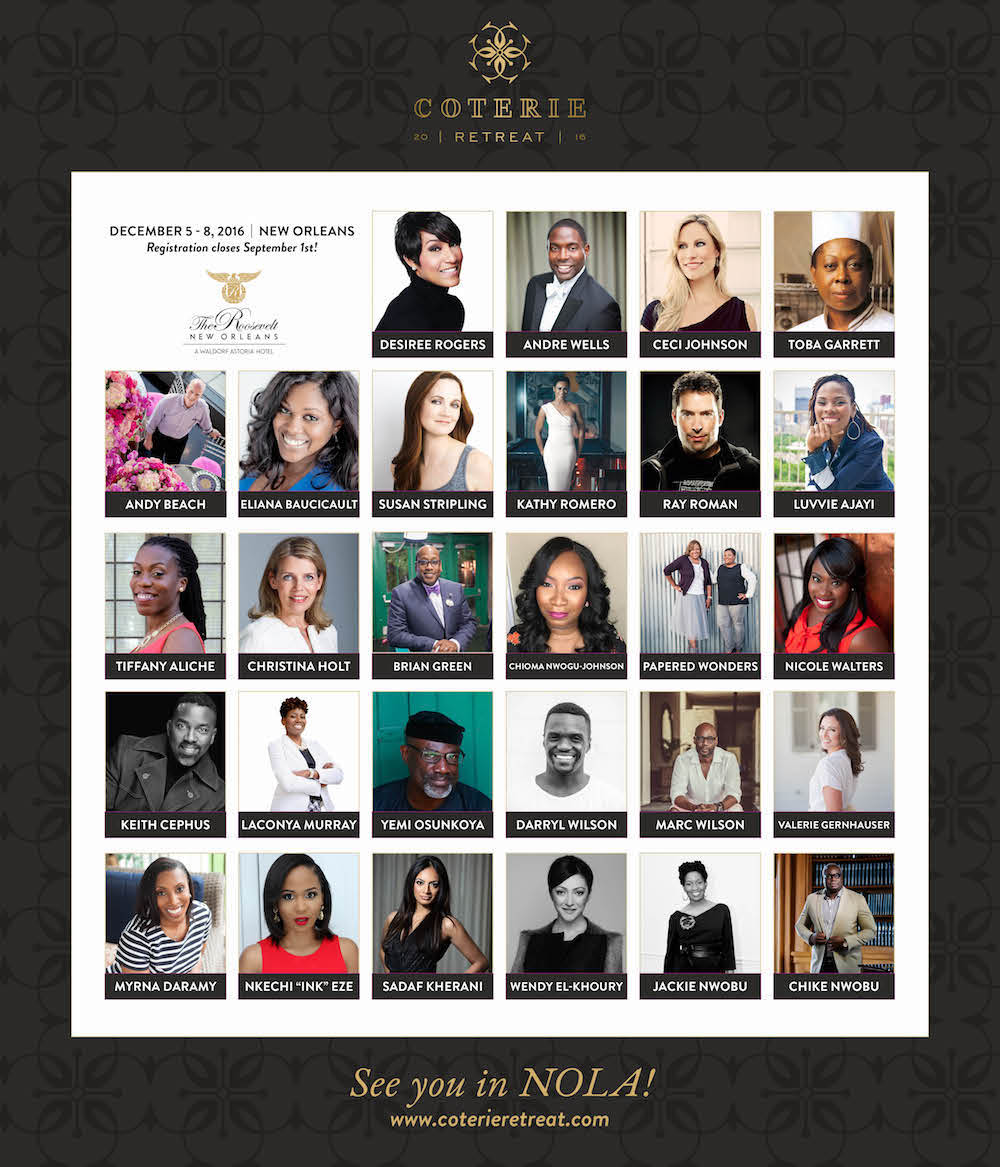 Hey BellaNaijarians!
Are you a wedding vendor that needs to network and learn from the best? Then you can win a scholarship to enter this year's Coterie Retreat in New Orleans, USA from December 5-8, 2016.
BellaNaija Weddings editor Ink Eze will be on the multi-cultural panel, she also spoke at last year's retreat alongside top Nigerian wedding vendors Jide Alakija and Chioma Nwogu-Johnson.
To enter, repost the first image above with the hashtag #coterieretreat16 on social media. (You can post it on Instagram or Facebook or both! Then email [email protected] with your Name, Company Name, Website, IG, Twitter or Facebook URL and a video telling us why you are deserving of this scholarship and what you hope to gain from attending this year's retreat.
****The entry period ends on Saturday, June 18. Winners will be announced on June 22nd.****
Regular registration is open now and ends on September 1st – click here for the registration page.
HERE'S A SNIPPET OF WHAT YOU'LL LEARN
Building a brand, the lows and the highs.
How to pivot in a saturated industry.
New trends in Social Media and Technology today. Everything you need to know.
Snapchat or not, how to leverage this growing platform and why it's not to be overlooked.
Why getting published can elevate your brand and how to get your work seen by Editors.
Attract and maintain a strong following for your business.
Editorial shoots vs Real Life Weddings. How to design an inspiration tabletop
Got followers? Now what? How to attract and maintain a strong following for your business.
Vendor relationship, the blessing and the curse to many creative entrepreneurs. How to build those relationships so everyone wins.
Corporate event basics. How to grow position yourself for corporate events.
Luxury weddings and all their glory. What you really need to know about this niche audience.
Business finance. How to build your net worth and keep it.
Building a destination wedding business in today's market.
Marketing your wedding photography and videography business + how to price your services
Added Bonus: Cake decorating workshop, Hands-on Floral Class, Watercolor Painting Workshop, Hands-on Videography and Photography classes, Stationery Focus Group, Legal and Trademarking Law Focus Group, Pricing for Wedding Planners Intensive + plenty more!
See you in NOLA!
***
Photo Credit: Dane Lee Jones Photography