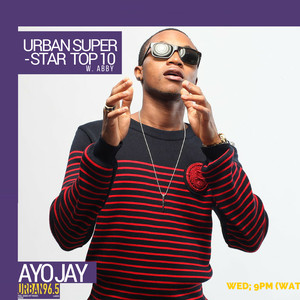 "Your Number" Singer and RCA Records latest Artist Ayo Jay recently got on Urban 96 FM where he talked about music and how his deal with RCA Records started;
While revealing his playlist on 'Urban Superstar Top 10' here are some of the things he said in his interview:
On what he has been up to:
I have been doing shows since the beginning of the year, I just got back to get myself  together for my deal with RCA Records and work has started already.
On how the deal happened:
It started with Rolling stone naming me as one of the top ten artists to watch out for in America. That started from the buzz my single with Fetty Wap was getting  because it had been doing very well in America over the last 5-6 months. I was really honoured because it's not everyday that kind of thing happens to those from this part of the world. I look forward to being featured on bigger platforms than this.
On creating a controversy to sell music in the future:
I'm still focusing on establishing myself properly trying to let people know the Ayo Jay brand after that you can start to cause trouble everywhere. Will I consider beefing someone to boost my record sales? I don't think I will. At this point  no, but i don't see myself not beefing an artist, if I see that there's a reason to. I won't start it but if someone should abuse me, ill give my own reply one time. I on't shy away from controversy if I have to be controversial.
On why his songs are not making the most impact in Nigerian market at the moment:
When i dropped "Ibadi yen" in  Nigeria, it kicked more in America, although we had plans to push the song in Nigeria, it kicked off better in America. The week Iwas planning to shoot a video in Nigeria,  had to be in America because the song was taking off fast there and so I had to go to do interviews, shows, and all that. I had problems with management and my label team was mostly American. I have always been in and out of Lagos and New York. My fan base is sort of larger in New York.
On details of his record deal with RCA:
It's a singles deal for your number that moves into an album deal. ill be making four albums over a period of time. It's a long-term relationship. They're taking care of everything; marketing,  recording, pretty much saying "make dope music and we'll take it around the world for you.
On his dating life:
No, I'm not dating anybody right now, but trust me a lot of girls are looking for me. I'm single and searching.
On handling current price hikes:
It's not easy. government, please epp us, it makes the value of the Naira a bit worthless. It affects us in a negative way but we're looking up.
On his Next Moves:
I'm working on my album, I'll soon shoot a video for "Your Number". One thing thought, Fetty Wap is off the song because of issues with the label. We'll re-release the song with another artiste on it and it will be even bigger!
Listen Here!