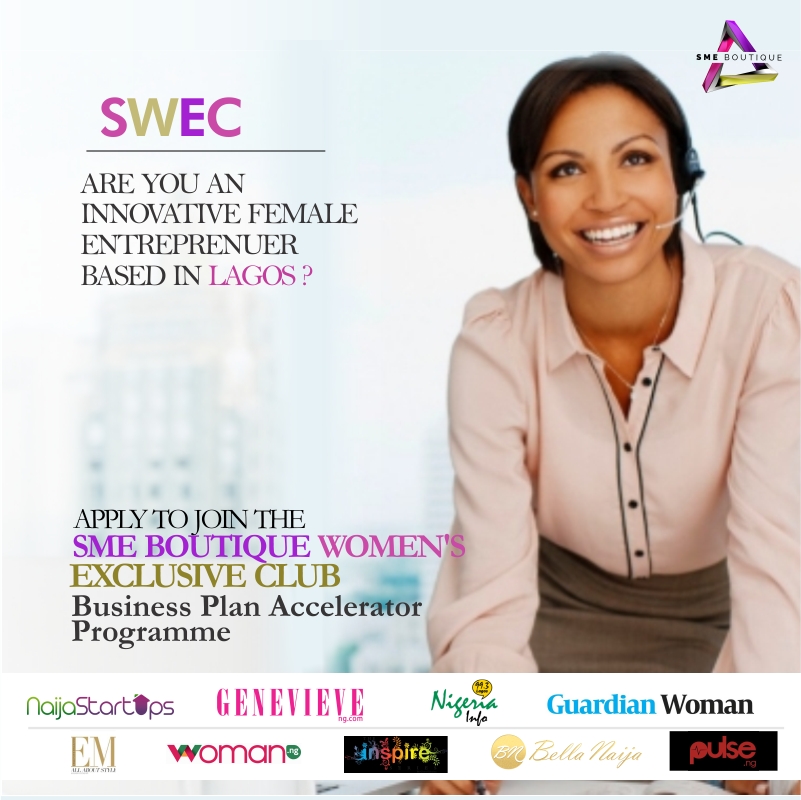 Are you a ladypreneur? Are you looking to find innovative ways to grow your business, meet new clients and network with established business leaders? Then the SME Boutique Women's Exclusive Club (SWEC) is for you!
SWEC is an exclusive club for Lagos based female entrepreneurs who are seeking business growth and personal development opportunities. Through its member-based group structure, the club aims to create a community of women who are empowered and positioned to succeed through the provision of capacity building seminars and workshops, mentorship opportunities with established business leaders, access to financing and potential investors as well as networking and business support services tailored to suit specific business requirements.
SWEC will provide the following commitment and services to its members all for FREE
Brand visibility to consumers and targeted audience through business profiling, business fairs and marketplace alliances etc
Free or discounted capacity building opportunities with business leaders and industry experts
Mentoring and networking opportunities with established business leaders
Business advisory services and support
Access to financing and financial products
Discounts on services and products
The SWEC application form can be downloaded via this link: http://goo.gl/forms/SqUwzro59m5D0r1v1
15 lucky members who join SWEC before the 28th of July will be chosen to join our 4 month Business Plan Accelerator Programme- Scale UP! program in Lagos. This 4 month programme will include in-depth capacity building session from established business leaders, one on one mentorship opportunities with successful female business owners, media profiling to raise awareness of their businesses, as well as networking opportunities with female entrepreneurs and business leaders. The winner of the competition will also receive seed financing for their business.
Deadline to apply for Scale UP! Business Plan Accelerator Programme is July 28th 2016, however female business owners are welcome to apply to join SWEC at anytime.
Inspired by Glory is an implementing partner of the SWEC Scale UP! Business Plan Competition
For more details of SWEC and the SWEC Scale UP! Business Plan Competition please visit our website here http://info.smeboutique.com/swec
Instagram: @SMEBOUTIQUE
Twitter: @ SMEBOUTIQUE
_____________________________________________________________________
Sponsored Content