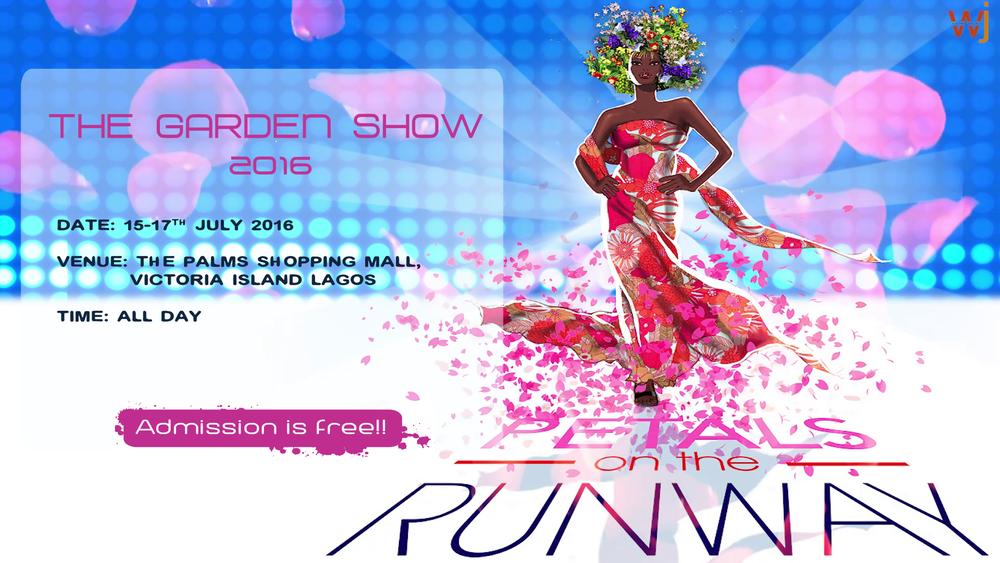 Following the successes of the 2013 and 2014 Garden Shows, the RHS Hampton Flower Show London outing and the just concluded 2015 Flowers at Christmas event, the Winihin Jemide Series in collaboration with the Garden and Flower Club of Nigeria once again presents the annual garden show, themed 'Petals on the Runway' – the most unique floral exhibition of its kind in the Lagos Metropolis.
'Petals on the Runway' will feature Lagos' finest florists and fashion designers as they pair to creatively interpret three unique themes: – Flowers in her hair, Royal Roots and Jungle Fever. It is envisioned to not only tickle the imagination of the audience to show a unique side to floral display but create networking opportunities for business owners in the city.
Details of the Garden Show 2016
Date: Friday, July 15th – Sunday, 17th 2016
Theme: Petals on the Runway
Venue: The Palms Shopping Centre, Lekki, Lagos
Admission is totally Free!
Florists
Aralia By Nature
Orchid Bistro
Flower Plus
Gethsemane
Omar Gardens
Elizabeth Alfred
Florals and You
Rosety Gardens
Floral Fantasy
Red Rose
Designers
Lisa Folawiyo
Lanre Da Silva Ajayi
Meena
Gozel Green
Ejiro Amos-Tafiri
Maxivive
Needle Point
Faultless Sparkles
Nicole By Haguanna.
Fore more information, check out the Hahstags across all social media plaforms
#TheWinihinJemideSeries #PetalOnTheRunway #TheGardenandFlowerClubofNigeria #TheGardenShow2016 @winihinjemideseries @winihinjemide @sylviaenekwe #ThePalmsshoppingMall
YouTube link for exhibitor interviews:https://www.youtube.com/channel/UCXMjFC4oJK7ntiBWhys3q_g
_____________________________________________________________
Sponsored Content