'On The Catwalk' is a regular column by BellaNaija's former fashion writer and critic turned fashion publicist  – Richard Akuson that explores the length and breadth of the emerging Nigerian fashion industry, weighing in his thoughts on happenings within the industry, one issue at a time.
Fresh off a remarkable showing at the recently concluded South Africa Menswear Week (SAMW) (read my review here), Nigerian menswear designers, Maxivive, Orange Culture, Tokyo James, Kola Kuddus, Mai Atafo and Emmy Kasbit showed collections ranging from 3 looks (in the case of SAMW first-timer Emmy Kasbit) to 18 looks (in the case of Mai Atafo).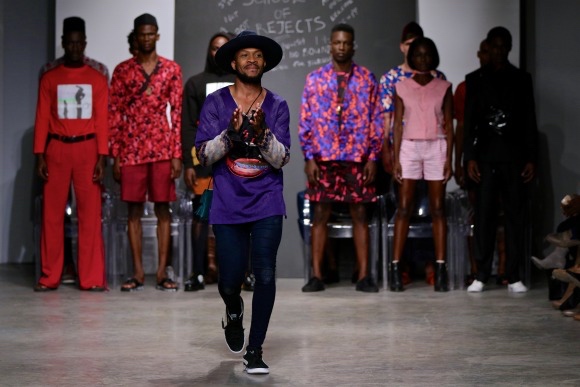 After my review of their different collections, I was on a phone conversation with one of the designers when I curiously asked if he was showing a different collection at Lagos Fashion and Design Week (LFDW) 2016, which starts sometime in October or if he's show the very same collection. The designer wasn't sure either. He says although he'd like to show something completely different from what he'd shown a few days ago at the SAMW, funds are not necessarily available for that. The likelihood? He might most probably show the same collection at LFDW.
This is the case with designer Lisa Folawiyo, who showed the same collection she'd debuted at New York Fashion Week (NYFW) Spring/Summer 2015 at the 2014 Lagos Fashion and Design Week and Mai Atafo who'd shown the same collection he'd debuted at Mercedes-Benz Fashion Week Africa some days earlier at LFDW.
Somewhere within this thin lining, lies a slight disrespect or a lack of regard for LFDW or its show goers. And for me, that's a letdown and a bore. Why should I come to a show that I've seen several months before either in person or  by proxy, via blogs, at a completely different fashion week several months later?
Absolutely not! Not even as a recap or for the sake of the presentations as the clothes are primary to everything else. I'd want to come to a show with great expectations and have them met with pleasant surprises. And seeing the same clothes that I'd seen months before will not count as that.
Personally, I'm of the opinion that these designers should be made to choose. To either debut their Spring/Summer collections at LFDW exclusively, or made to create new ones specially for LFDW after such international showing.
But beyond the surface value of things, I know there's the slippery slope of fashion politics. LFDW would not want to loose these major designers who are somewhat the placeholders of it's schedule. And an ultimatum of LFDW vs. NYFW or any international week at that, almost anyone would go for the latter.
Consequently, LFDW might not be ready for such a drastic step. After all, last season without Lisa Folawiyo and Deola got tongues wagging, imagine one without Orange Culture and Mai Atafo.
As LFDW 2016 draws nearer, it'll be interesting to see what happens next. Will the likes of Orange Culture (the hallmark of Nigerian menswear), Mai Atafo, Tokyo James, Maxivive, Kola Kuddus be forced to create new collections specially for LFDW, or will they take the easy way of showing the same collections that they just did at South Africa Menswear Week?
What happens next? Only time will tell! But I keep watch with unabated gaze.