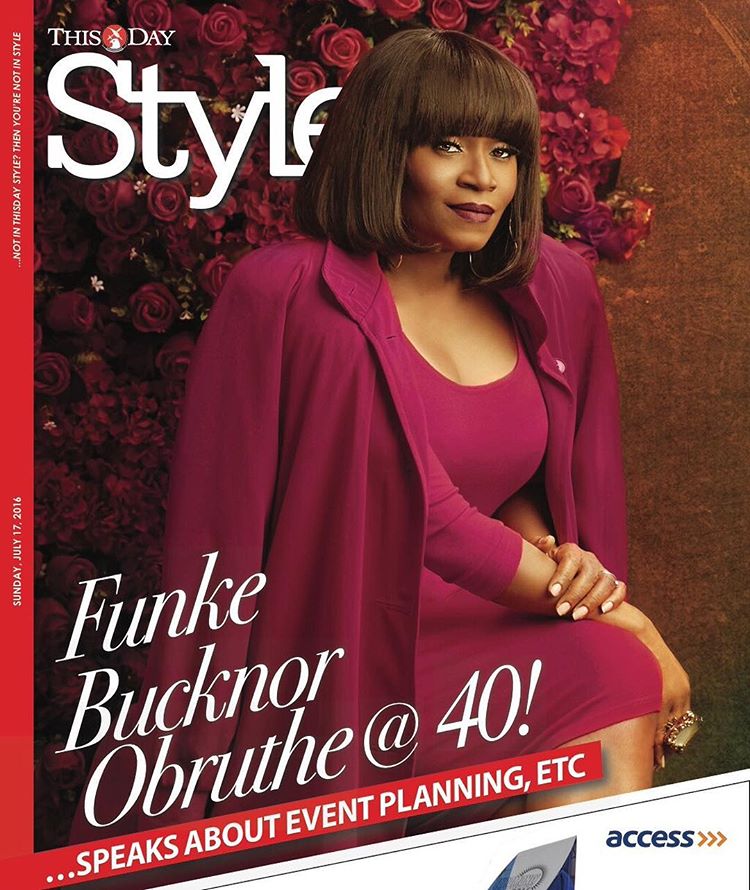 BellaNaija brought you the first look at Funke Bucknor-Obruthe's birthday shoot by Ty Bello. Since then, she has celebrated her birthday in beautiful style – click to see the Thanksgiving Service & the Rocking Party.
This morning, we got to check out her ThisDay Style cover feature and it is dazzling!
Excerpts from the Interview
Tell us about your team and how it has grown since you started out. How are responsibilities delegated? Would you say you do more or less work on a single event since yo started out?
When we started, it was just myself and one or two team members. Now, we have a structure, which involves processes. With a staff now of over 30 permanent staff and 200 contract staff, you need the right structure alongside a strong management and the right board members. It's a full-blown army and roles are delegated and clearly defined.
Now I'm not involved in as many aspects but I am also very hands-on and I want to be involved. But, with a great team in place, it's becoming less and less about me and more about the Zapphaire Events group brand.
How long have you been married and what attracted you to him?
We have been married for nine years and next would make it 10. My husband has the kindest and largest and biggest of hearts. He can sacrifice his last shirt on his back for his family and friends. Family is important to him. He also has the most fantastic sense of humour. What do you expect from a Warri, Isoko man?
With being a wife, a mum, a YouTube blogger, a public speaker and an entrepreneur, how do you prioritize what is important in life?
God and Family is the most important aspect of my life. Every other thing feeds into that.
What advice do you have for others looking to succeed in Event Planning?
Focus, be patient, be humble and work hard. Nothing in life comes easy.

What plans do you have for Zapphaire Events in the next ten years and what steps are you taking to achieve this?
The global brand is the major plan for Zapphaire Events. An organization that exists with the right structure and a local feel but a global content.