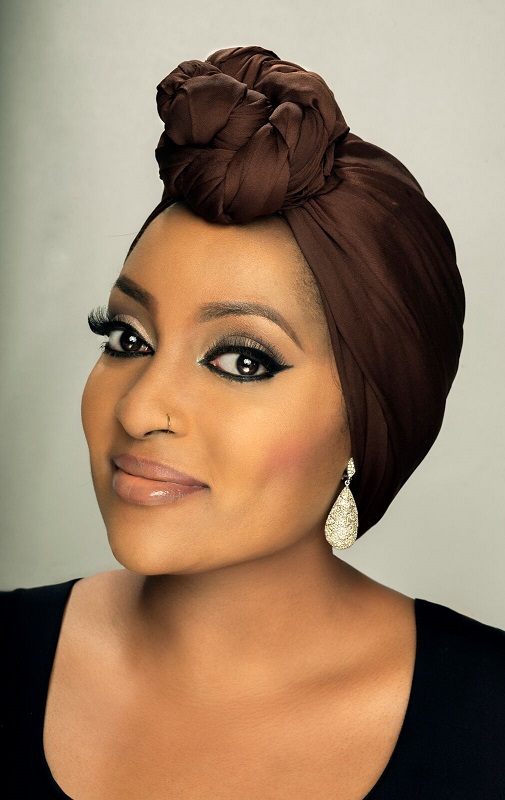 Salma Nabilaa Phillips is the Talk show hostess behind The Salma Show. She is from the North Eastern part of Nigeria. The Salma Show is a 30 minutes Northern infused tv programme. It is a fun, informative and interactive TV programme focused on topics and issues that apply to everyday life from current affairs, politics, beauty, fashion, lifestyle to entertainment and more.
With a northern infused element, the show features guest interviews, round-table panel discussions and a useful tips segment. every on Africa Magic Urban, DSTV Channel 153 at 7.30pm CAT/6.30pm Nigerian Time.
The look was chosen to enhance her cultural background in a more modern way. A native of the Fulani tribe, Salma's look is an infusion of traditional meets modern, which are highlighted eyes and nude lips. The finished look is clean with striking dark eyes with the khajal/khol for the Fulani woman. Recreate this look with the steps below.
Steps Used to Create this Eye Look:
Apply eye shadow primer all over the eyelids
Apply a neutral eye shadow all over the eyelids as well
On the outer corners of the lids, apply a dark brown eyeshadow and blend in towards the crease.
Using a black gel eyeliner and an angled brush create a thick winged liner on the eyelids close to the lash line .
With a black kohl pencil, line the waterline making sure to extend the kohl liner to the lower lashes for that bold line, then join the lower liner to the top winged liner
Apply false eyelashes to enhance the eye look.
Credits
Photography: Mike Ofori | @gyasi_media
Model: Salma Phillips | @salma_phillips
Make Up: Oluchi Onuigbo | @oluchionuigbo
Stylist: Jowy | @jowyfashionconsulting