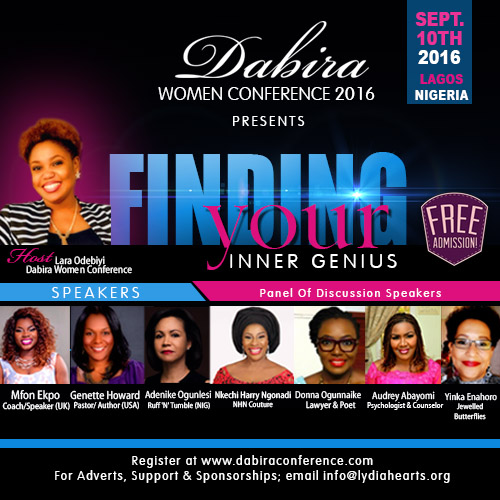 You are invited to the 4th Edition of one of the most anticipated Women Conference in Nigeria, Dabira Women Conference 2016.
Our past conferences held in Lagos since 2013 were successful conferences hosting women from all groups, and states within Nigeria, graced with renowned speakers both internationally and locally.
Dabira Women conference 2016 is billed to host over 1000 women in an Inspired and Impacting Conference Meeting. This year's conference will focus on the Theme: Finding Your Inner Genius  – Helping Women Find Strength From Within
Speakers for the 2016 Dabira Women conference are:
Genette Howard- Author/Coach/Speaker (USA),
Mfon Ekpo– Coach/Author/Speaker (UK),
Adenike Ogunlesi- CEO Ruff'n'Tumble ( NIG ) ,
Lara Odebiyi- Host Dabira Women Conference (NIG)
Register here to attend http://dabiraconference.com/about-dabira-conference/
What to expect from the 4th Dabira Women Conference 2016
This conference will help you discover and tap into your inner-most self, recognize your ability, strength, and how you can channel it positively to become the woman you desire to be, in your profession, business, ministry & relationship.
We live in a very challenging time. Frustration, withdrawal, giving up, suicide, depression, now becomes the order of the day especially with women. However, everyone has an inner genius, an area where they are brilliant and can exhibit strength and outstanding abilities. We must learn to find strength from within, do ordinary things in EXTRAordinary ways, relating to business, career, relationship, ministry, and life in general. Add a little EXTRA to that creativity, that big idea, innovation and most of all – that Big Dream!
Register here to attend http://dabiraconference.com/about-dabira-conference/
Our Panel of Discussion would feature Inspiring women, discussing on the topic; Women breaking the silence – Identifying, Analyzing, Revealing and Helping women find their true worth, even in a most vulnerable circumstance.
Panel Speakers are:
Nkechi Harry Ngonadi (NHN Couture),
Donna Ogunnaike ( Donna the Poet ),
Audery Abayomi ( Psycologists & Counselor )
Yinka Enahoro ( BeJewelled Butterflies)
Despite all we go through in life, the conference is set to help women regain hope, faith, strength, to discover self, and be determined to succeed.
DWC'16 will leave women inspired, energized, empowered & focused on their goals.
Don't miss this Event, be there!
Date: Saturday, September 10th, 2016.
Venue: Havillah Home Of Events Yaba, Lagos
Time: 10am prompt
Admission is free!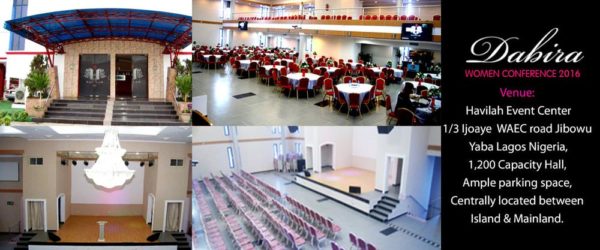 Register here to attend http://dabiraconference.com/about-dabira-conference/
For Advert/Sponsorship/Partnership email: [email protected]
____________________________________________________________________
BellaNaija is a media partner for Dabira Women conference 2016