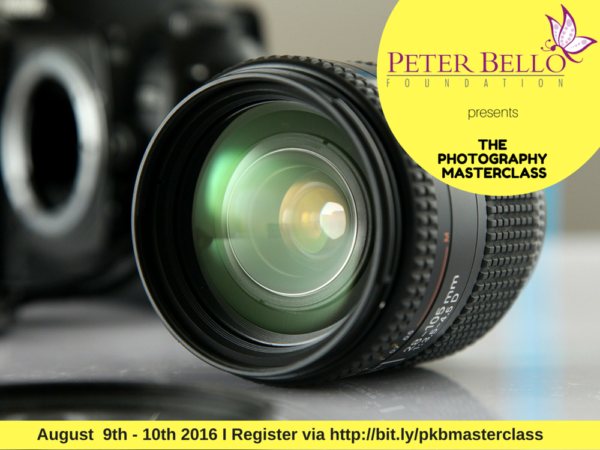 As part of its objectives to providing learning opportunities for young people in the Arts Industry, Peter Bello Foundation is hosting a Photography Master Class for existing and aspiring Photographers in Calabar and environs. Scheduled to hold between Tuesday, 9th & Wednesday 10th August 2016.
The Photography MasterClass is designed to enable participants build confidence in their creative and technical skills improved photography and entrepreneurial skills. The workshop is billed to enable participants grow their business, improve their value delivery to their Customers as well as enable them build their personal and professional brands.
The Workshop will cover all peripheral aspects of Photography from The Business of Photography to Lighting, Editing, Concept Development, Freelance Photography, Branding, Sales and Marketing, as well as Event, Product and Outdoor Photography. Some of Nigeria's leading Photographers scheduled to facilitate the sessions include: Kelechi Amadi-Obi, Daniel Cobhams, Kola Oshalusi, and Bayo Omoboriowo.
The Peter Bello Foundation is a Non-governmental organization committed to spreading the message of hope and giving young people the opportunity and support they require to live their dreams. The foundation believes that greatness lies inside of everyone and it is our collective responsibility to offer support and give young people wings to soar!
The Foundation was set up in remembrance of Capt. Peter Kayode Bello who died in a fatal Helicopter crash on August 12th 2015 in Lagos, Nigeria. The Foundation was also established to provide opportunities for young people to live their dreams and reach their full potentials. By paying forward Peter's love for learning and his passion for inspiring others through his life and works, the foundation aims to bring hope and personal advancement into the lives of many
To attend, please register at http://bit.ly/pkbmasterclass
Participation is FREE!!! (For persons in Calabar and Environs)
For enquiries and partnerships, please contact our Secretariat via +2348175400911; +2347033895992; +2348185035437 or email [email protected]  or visit www.peterbellofoundation.org
————————————————————————————————————————————————
This content has been published for free as part of BellaNaija.com's commitment to youth causes, education, healthcare, and community development, and as part of our Corporate Social Responsibility programme.