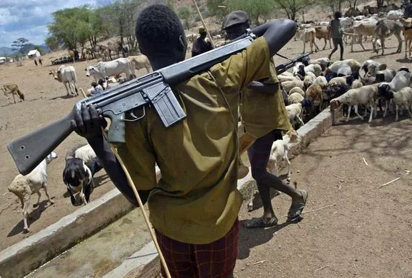 Pastor Luka Ubangari of the Redeemed Christian Church of God, Unguwan Anjo, has been killed by gunmen alleged to be Fulani Herdsmen on Sunday night.
PUNCH reports that the deceased was killed alongside 2 others near Godogodo in the Jema'a Local Government Area of  Kaduna State.
Ubangari was said to have been ambushed, shot and killed while on his motorcycle  after an evangelical visit to Golkofa, also in the area.
The killing comes few days after Governor Nasir el-Rufai, visited Godogodo and Sanga districts, in the Jema'a and Sanga local governments areas to assure the residents of improved security, promising to arrest the perpetrators of the attacks by suspected Fulani Herdsmen in the area
Speaking to PUNCH, a source, who craved anonymity said:
We were happy that Governor Nasir el-Rufai visited and assured us of improved security and that the killers would be found and punished.

To our shock, Pastor Luka Ubangari was ambushed, shot and killed as he was riding his motorcycle after an evangelical visit to Golkofa. He was killed by Fulani men who were out to remove us from our ancestral lands.
Another source also told PUNCH that two days after the murder of Ubangari, suspected herdsmen attacked Ningon village, 6km from  Gwantu, headquarters of Sanga LGA, killing two persons and seriously injuring another person.
The President of the Ningon Community Development Association, Nuhu Tukura, said that the community was attacked on Sunday night and  two natives, Gambo Sule, 38, and Benjamin Auta, 35, were killed by gunmen.
He added that the police only arrived on Monday morning following a distressed call put on to them on Sunday night.
"At 8:45pm Sunday night, Gambo Sule, 38, Benjamin Auta, 35, were killed by unknown herdsmen.

We are seriously troubled by all these happenings. Now, we don't even know what we can do to have rest. Our farms, we cannot go, and our houses we cannot live in. What else shall we do?

We called the police immediately the incident occurred around 8:45pm on Sunday night, but they did not come until around 7:30 this morning (Monday).

We are pleading with the state government to help us with security and assist us in feeding. Most farmers are afraid to go to the farm and there will be food scarcity problem this year and the next," Tukura said.
The Kaduna State Police Command Public Relations Officer, Aliyu Usman, who confirmed the incident to PUNCH, however said that only one person was killed.
"When the people learnt of the invasion of the attackers, the police in the area swiftly moved in with APC (Armoured Personnel Carriers) to chase away the attackers. However, one person was killed. Our men acted quickly to save the situation," Usman said.