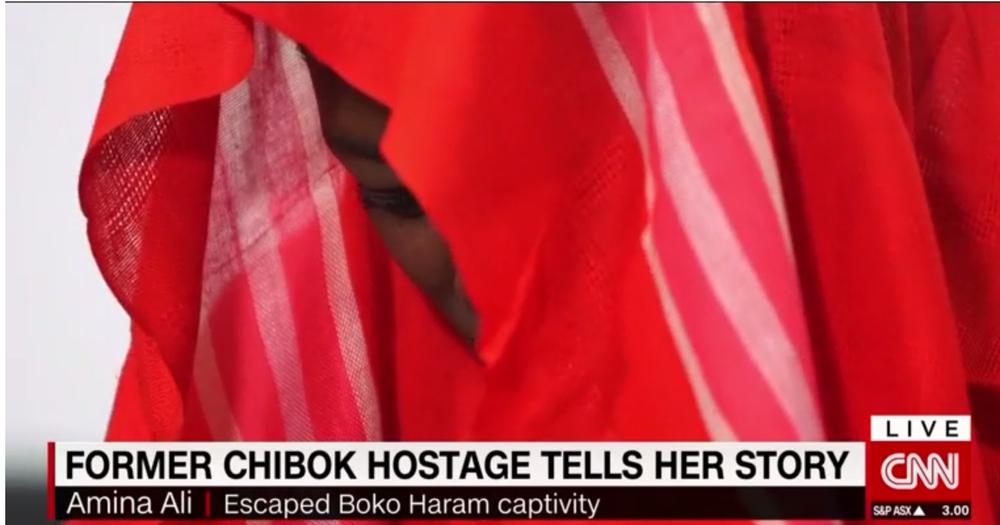 Life is bittersweet for escaped Chibok Girl Amina Ali Nkeki. Though she is glad to be reunited with her family, based on this interview, the 21-year-old mother of a baby girl says she misses her Boko Haram fighter husband and is still thinking about him three months after escaping the militants' camp.
In an exclusive interview with CNN, Amina provides rare insight into her life after escaping the terrorist group's camp.
Amina Ali, who was held hostage by the terrorist group for more than two years, says she was married off a year into her ordeal and later had a baby girl, Safiya.

The couple and their daughter were found on the outskirts of Nigeria's Sambisa Forest in May. She says they fled the camp by themselves and were not rescued by the Nigerian military, contrary to reports.
Her husband, identified as Mohammed Hayatu at the time of their escape, told a witness that he too had been kidnapped by Boko Haram.
He was placed in military detention for interrogation by Nigeria's joint intelligence center.

Amina Ali says she has no idea where he is now and is keen to be reunited with him.

"I'm not comfortable with the way I'm being kept from him," the painfully shy 21-year-old told CNN in her first worldwide interview, at an undisclosed location in Abuja Tuesday.

Addressing the father of her child directly, she says: "I want you to know that I'm still thinking about you, and just because we are separated doesn't mean I have forgotten about you."

Amina Ali remains the only long-held hostage who has escaped.

But she has a defiant message for her "sisters" still being held: Don't lose hope. She managed to get away, she says, and one day they will be able to return to their families too.
"Be patient and prayerful," she said. "The way God rescued me from Sambisa Forest, he will rescue you too."
You can read the full interview feature via CNN.