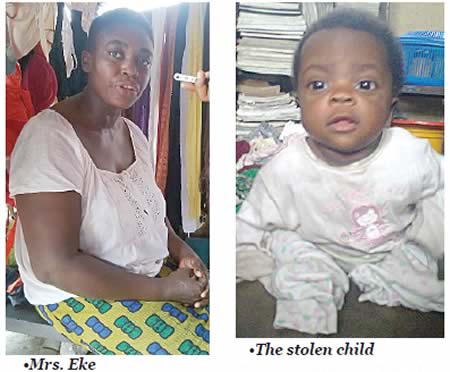 A 13-month-old child, Chinazamekpere Eke has been kidapped in Rumuokurusi community in Obio/Akpor Local Government Area of Rivers state, PUNCH reports.
According to residents, an unidentified woman in a commercial tricycle (Keke Napep) allegedly snatched the child who was strapped to the back of her 6-year-old sister, Chinyere Agbai, and disappeared to an unknown destination.
The report stated that the incident took place at about 8:30AM on Monday.
The mother of the child, Oluchi Eke, told Southern City News said that that was not the first time her daughter was bringing the child to her shop.
She also said that she had separated from her husband.
"This thing happened on Monday; my first daughter was carrying the little girl  to the shop on the road around Orianwo Street, by Tank junction in Rumuokurusi.

A woman in a Keke Napep dragged the little baby into the Keke Napep and went away with my child. The baby that was carrying the little girl is six years.

I was in my shop while the two children were coming to meet me because they had returned from their extra-moral class.

When the thing happened, I went to Elimbgu Police Station to report it. The police said I should be coming to the station. I have put everything in God's hands.

I am not in good term with my husband. I am not suspecting my husband to have a hand in the act. The baby is one year, one month now.

My husband's name is Okechukwu Agbai. I have not called him after the incident happened. I don't know if he has heard of it.

I have been calling his number for over two months now, but it is not going. I have two children, two girls and they have taken one.

My husband did not claim ownership of the baby. I want the world to hear of the stealing of my child and I appeal to the police to help me to find my baby," the distraught mother said.
The State Police Public Relations Officer, Nnamdi Omoni, said he has not been briefed on the case, adding that he will call the Divisional Police Officer of Elimgbu Police Division.
Photo Credit: PUNCH