Style blogger Monica Awe-Etuk of AwedByMonica.com was live at the 2016 NYFW. She shares with BN Style some of the most interesting looks and trends she spotted.
Enjoy!
***
New York Fashion Week has come and gone, paving the way for some of the hottest trends for the Fall season. I was fortunate to attend this past September's NYFW, and there were a few trends that I noticed, and believe will be the most popular, and wearable trends for Fall.
I picked 3 trends to highlight that are easy to recreate. You don't have to be a fashion blogger to recreate these everyday looks, you just have to have a flare for fashion, and the incline to try something new. Here are my favourite street style looks featuring the 3 trends I think every fashion girl should try this season.
1. Sneakers
No matter where I turned someone was wearing sneakers in one silhouette or the other. What I loved the most was that girls were pairing their sneakers with everything from long dresses, to tailored pants, and I loved it. More and more women are opting for comfort, making comfortable not only stylish but on trend!

I was so happy to find a pair of sneakers that matched perfectly with my midi skirt. Using colours to tie in your sneakers is a great way to create a seamless outfit. A classic bag, and minimal accessories add a chic factor, creating a great look.

Carrie Colbert from We Wear Well paired this beautiful organza top with a pair of shredded hem crop jeans, and her converse. Her look is fun, and perfect for a casual event.

CoCo Bassy from Millennielle Fashion Blog, paired her Saint Laurent star sneakers with a beautiful midi skirt and classic t-shirt.
I love the minimal feel to this look. She also added a pop of color with her bag, adding just the right amount of chic, and interest to her outfit.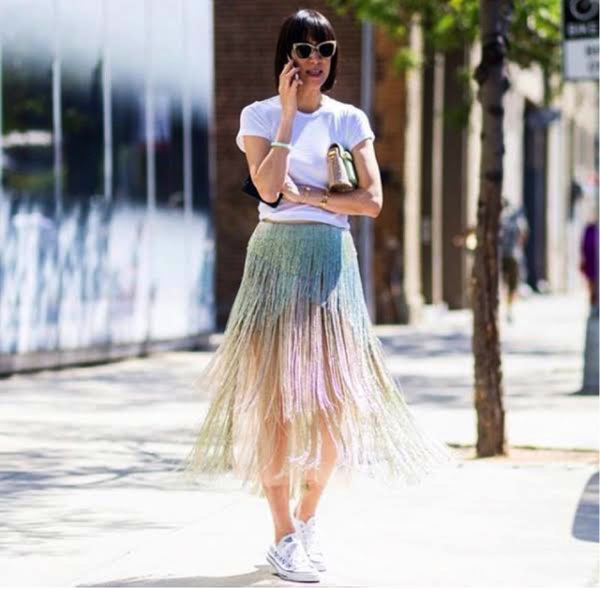 Fashion Editor Eva Chen is twirling on the haters in this amazing skirt.
A skirt like this paired with a pair of heels and a beautiful top can easily be worn to a formal party, but instead she paired it with simple casual pieces that actually frame the skirt perfectly still making it the focal point.

Style Consultant and contributing editor for The New York Times' "The Cut" Shiona Turini goes black and white with her casual-chic outfit. You can never go wrong with black and white in my books.
2. Ruffles
I absolutely love ruffles, they are just so pretty and feminine, what's there not to love about this amazing summer trend that has found its way to Fall.
The beauty about this trend is that it doesn't matter what your body type is, it is totally easy to wear in a variety of silhouettes ranging from skirts, to dresses, to even pants.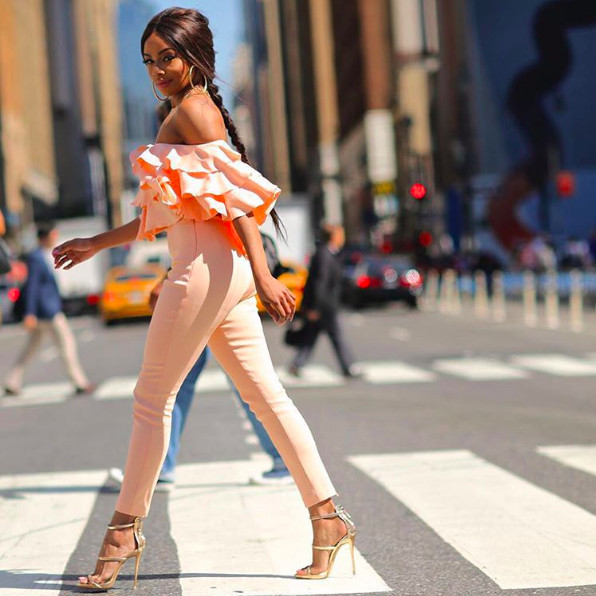 South African Media personality Bonang Matheba looks stunning in this peach ensemble featuring this ruffle top. It's fun, flirty, and very much on trend regardless what climate you live in.

Fashion, Beauty and Lifestyle Blogger Elizabeth Keene, from A Keene Sense of Style looks pretty in pink and blue ruffles.
Her look is clean and classic and makes the ultimate city-chic fashion statement.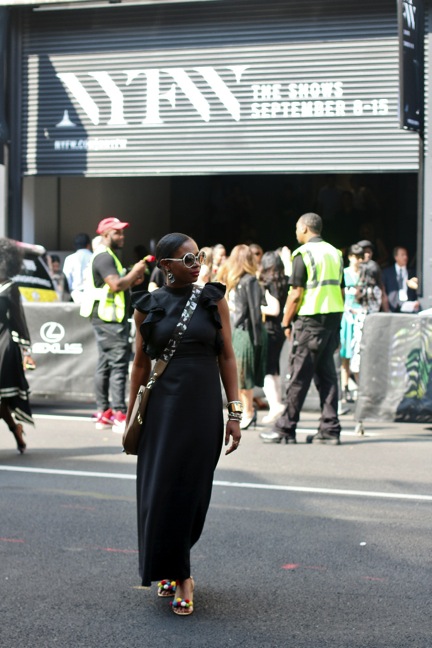 Remember I said I love ruffles! It was love at first sight for me when I found this dress. I adore the ruffle sleeve detail, and the length.
The dress was perfect for the shows during fashion week, and is definitely a dress I will wear over and over.


Blogger Jessica Wang from Not Jess Fashion Blog, goes monochromatic in this shades of blue outfit.
Her ruffled blouse is feminine and pretty, and I love how she creates a juxtaposition of feminine and masculine by pairing her blouse with an edgy pair of ripped boyfriend jeans.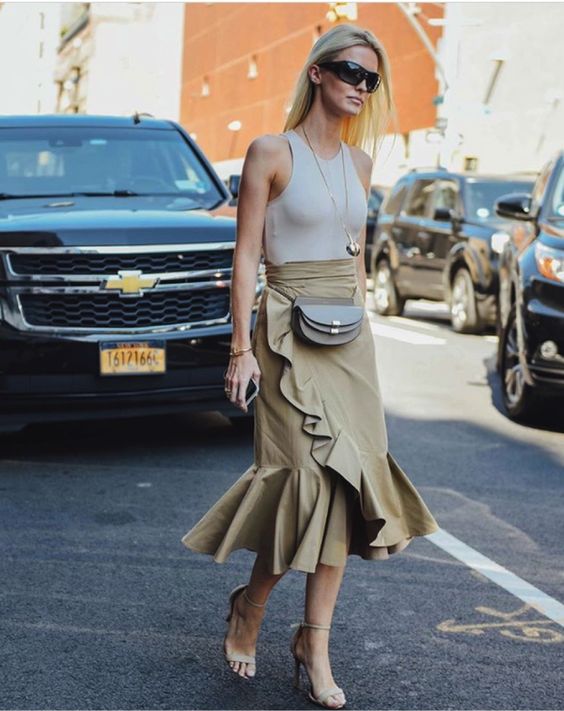 Kate Davidson Hudson from the Editoriatist.com opted for a more neutral look in this beautiful ruffle skirt and tank-top.
She tones down the ruffles with simple details, creating an understated look, that still stands out.
3. Booties
Booties are all the rage this season!
They are no longer a Fall staple, but are being worn all year-round. More and more designers are creating bootie options that are being made in light weight leathers, and with cutout details, making it easy to wear them regardless of the temperature outside.
The general consensus this fashion week was to wear booties with gorgeous dresses, and it worked!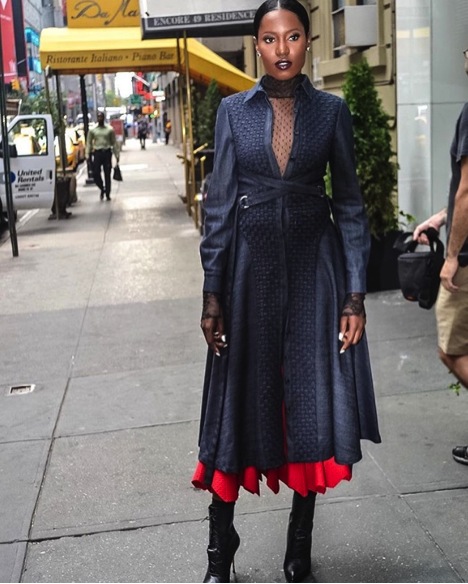 Creative Director Ogo Offodile looks absolutely stunning in this amazing dress by Adeam.
Her booties do an amazing job of complimenting the dress and the overall look of her outfit.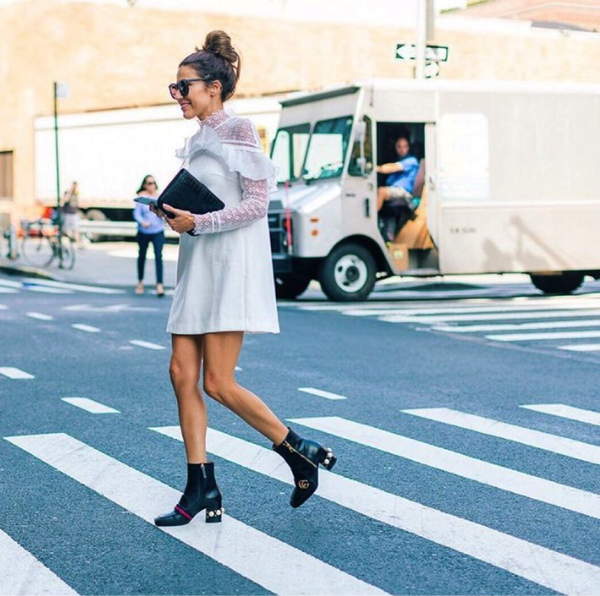 Christine Andrew from Hello Fashion Blog paired her beautiful white dress with an embellished pair of Gucci booties.
She is yet another example of how more, and more style stars are creating unexpected combinations to make the perfect outfit.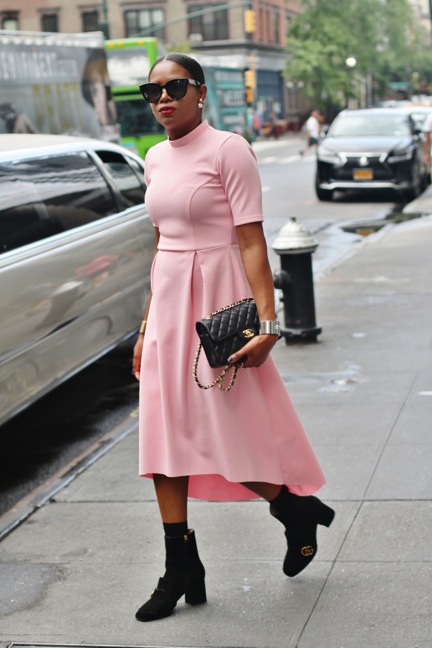 I'm totally on the Gucci high this season, hence I got these booties, which I totally love. I paired my booties with a high-low midi dress in soft pink, creating a ladylike look with a bit of an edge.

Brand Influencer Kyrzayda Rodriguez goes boho-chic in this cool outfit. I love her wedge booties with this dress. The colour, texture and fabric all come together perfectly to create and outfit that works.
There you have it lovelies, my top 3 trends to try from this year's September New York Fashion week. Which trend is your favourite, and which one would you try if any?
Thanks for reading lovelies
Photo Credit: AwedbyMonica.com | Instagram.com/AwedbyMonica | AKeeneSenseOfStyle.com | HelloFashionBlog.com | ShionaTurini.com | MillenNielle.com | NotJessFashion.com