Buy any Product & Win amazing Gift Items in Powerspring Universal Company Bonanza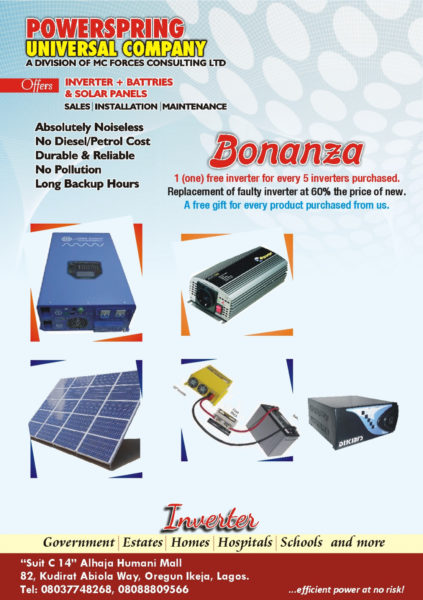 Buy any product from Powerspring Universal Company (solar panels, inverters, inverter batteries with or without installation by them) and instantly win any of several gift items like wristwatches, wall clocks, microwave ovens, DVD Players or blenders.
Offer open while stocks last.
You also stand the chance of getting free products when you buy the following:
Buy 3 inverters and get one inverter free
Buy 5 batteries and get one battery free
Free rack when you purchase 3 batteries
Buy 4 solar panels and get one free
Free 2 years  maintenance of every unit purchased from and installed by them.
2 years warranty on any of their products.
All products are of top quality.
They can change your old or malfunctioning inverter battery at 60% the price of a new battery.
Address: 82 Kudirat Abiola Way, Oregun, Ikeja, Lagos State.
Contact: 08037748268, 08088809566, 09091270007
______________________________________________________________
Sponsored Content