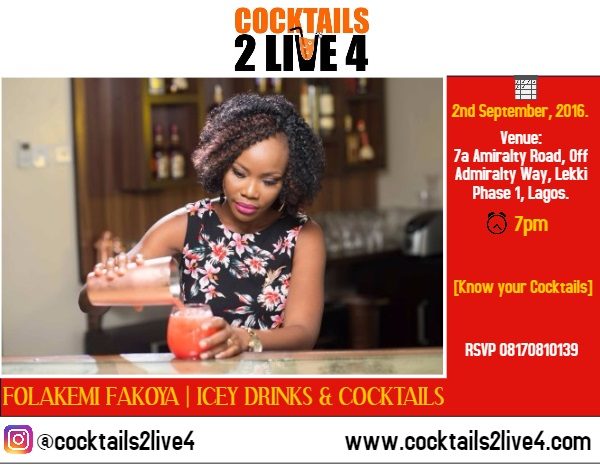 Just like the foods we eat, every cocktail has a history to get to the formula that we know today. Don't let the mumbo jumbo fool you; Join Folakemi Fakoya of Icey Drinks and Cocktails this Friday at Grills In and Out as she debunks some of the prevailing myths about the craft of Cocktails and Mocktails.
Date: Friday, September 2nd, 2016
Time: 7PM
Venue: Grills In and Out, 7a Admiralty Way, Off Admiralty Road, Lekki Phase 1, Lagos.
Cocktails2Live4 aims to educate, enlighten and promote the ever-growing cocktail culture in Nigeria; celebrate and recognize Nigerian bartenders and mixologists who's touch of professionalism have added credible value to the Cocktails Industry.
It promises to be an evening of fun, education, entertainment and networking! You don't want to miss this edition. Secure your spot today, call 08170810139 to pick up your IV.
Cocktails2Live4 is not just an event; it's a movement to spotlight and support the next generation of creative mixologists who are turning their passion into thriving businesses. Support this movement by sharing!
Follow us on:
Instagram: @cocktails2live4
Facebook: http://facebook.com/cocktails2live4
Website: www.cocktails2live4.com , www.grillsinandout.com
_____________________________________________________________
Sponsored Content