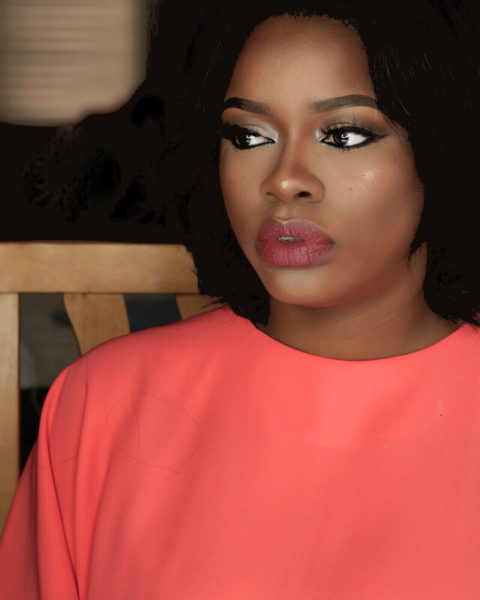 Fashion Business Basics is a 6-part series by fashion entrepreneur with Isoken Ogiemwonyi, which will feature on BellaNaija. You may recall BN featured Isoken and her partner in the BN Making It series, back in 2011. Since then, she has gone on to achieve even greater feats, making her mark firmly in the fashion industry in Nigeria. We hope that aspiring fashion entrepreneurs will benefit from this series. Click here to read the first part, and the second part.
Design. Present. Sell. Deliver.
In the global fashion cycle, this is more or less, how it works. However, in an African market dominated by custom/ made to order design, it isn't this straightforward. It is still as complex (maybe even more so) and just as capital intensive.
So you've figured it all out – who your customer is, what your business model is and how you're going to conquer the fashion industry in Nigeria/Ghana/Senegal.
A large proportion of entrepreneurs, in fashion and otherwise, will tell you financing is their major hindrance.
Money is not your problem.
Before I'm crucified me hear me out …
Your fashion entrepreneurship journey has begun, and regardless of your stage, due to the uniquely front-loaded nature of fashion, an increase in sales and brand growth is directly correlated to higher upfront costs.
Sourcing fabric, sample production, lookbook/presentation costs, showroom costs… and all of this before you've earned a dime.
in the words of MI …'Money slow to enter, money quick to go'
And unfortunately income earned from previous sales are unlikely to be enough to finance even more growth. You're running out of cash fast and bridging that gap becomes imperative.
So what to do? Short answer?
Work arounds. For every cost there is an alternative to spending actual cash. For example, collaborations with an upcoming textile student looking for  way to showcase their work, or a straight up fabric donation. I've been told some companies like VLISCO and Woodin do this, but I can''t speak to the exact structure of these relationships, but there is precedent for it here.
A personal example – for my very first collection/attempt, instead of a gift, I asked my Dad to match my savings from previous custom commissions, in order to buy two industrial straight sewing machines and one industrial overlocker. I had N150,000 saved, and he matched it with an additional N150 000. I asked my mother for permission to use a BQ at my grandmother's place to start my studio. These were my 22nd birthday presents. My mother was so moved that she donated N 150,000 worth of fabric. Voila – I was in business!
Strictly speaking, you have three core sources of available financing for your start up.
Income
Simply put, this is money you earn – and for most designers, especially right at the start, this is probably your best bet (at least before anyone is willing to take a chance on you). This varies from direct orders jobbed and fulfilled, savings from a 9-5 job or cash prizes or awards won. Another very viable option that is often overlooked is consulting, or working with other brands in another capacity. For example Chef Fregz & Knorr Taste Quest or LDA for Malta Guinness #GameOn.
This lucrative practice not only gives you access to a wider audience, but is also usually only open to designers or artisans with strong personal brands who are established or close to being established. (Be careful not to overextend, so your main job doesn't actually suffer). New designers should also think about working with more established brands in order to learn how its done within their industry – theoretical knowledge is often quite different from practical and being in the fire so to speak, helps forge the steel, and obviously you can save from your salary. Two birds, one stone.
Taking deposits from buyers can really help to bootstrap. This applies to individuals as well as retail buyers – cash on delivery or payment terms net 30/60/180 days, depending on what works for your business cycle.
Equity
An equity investor gives you cash to fund your business, however to a lot of people it may feel like having a boss, as they are essentially part-owners – which is in and of itself not  a bad thing. It increases accountability and in some cases, forces you to structure your business properly. However – giving away equity too soon has been the mistake of many a start up, because it forces a valuation on your business when you haven't really gotten a sense of what your earning potential could be.
You will also have to cede some control, share decision making and be prepared to make regular progress reports, even for the most laissez faire of investors. The very best investors also give some expertise or insight. A very insightful article I read a while ago referenced a conversation between garmento Andrew Rosen of Theory and Alice & Olivia's Stacey Bendet:
Rosen to Bendet: 'Hey, you are a $100 million business and your team is working like it's a $50 million business. Don't hire like a $50 million company, hire people that are going to help you be where you want to be in three years, so who are the people we need to be a $250 million company?'
Do not underestimate the role an activist investor can play in your business. Another personal example: my family is invested in my business. Each individual, (but none more active than Smart Money Woman, herself – Arese) often provides perspective (even if we don't always agree) and ideas.
However, raising equity outside of family and friends is very difficult especially at the beginning of your business.
Debt
Debt financing is usually a loan or an overdraft. The current climate doesn't support this particular form of financing and as additional interest outflows can be a burden, unless you're illiquid i.e. asset rich but cash poor, or have VERY strong cash flows, 17-35% interest rates will certainly cripple your business. I'm actually big advocate of debt in the early stages if you can manage your cashflows… but ONLY, if.
Managing cash flow is  key. I have definitely struggled with this, especially in the downturn, but it's important to stay on top of it and do WHATEVER it takes to earn, because this is the main reason businesses die.  The major pro of a loan, however, is that you remain in control and the only interest the bank or financial institution has in your business is your ability to repay the interest and principal.
Factoring against supplier receipts is also a valid means of raising cash – but it isn't very common outside of the more developed markets.
Finally, the most important thing is to THINK around the problems. Getting stuck on the fact that you have no money will ensure that you do not move forward at all. No one said it'd be easy,  just that it'd be worth it.