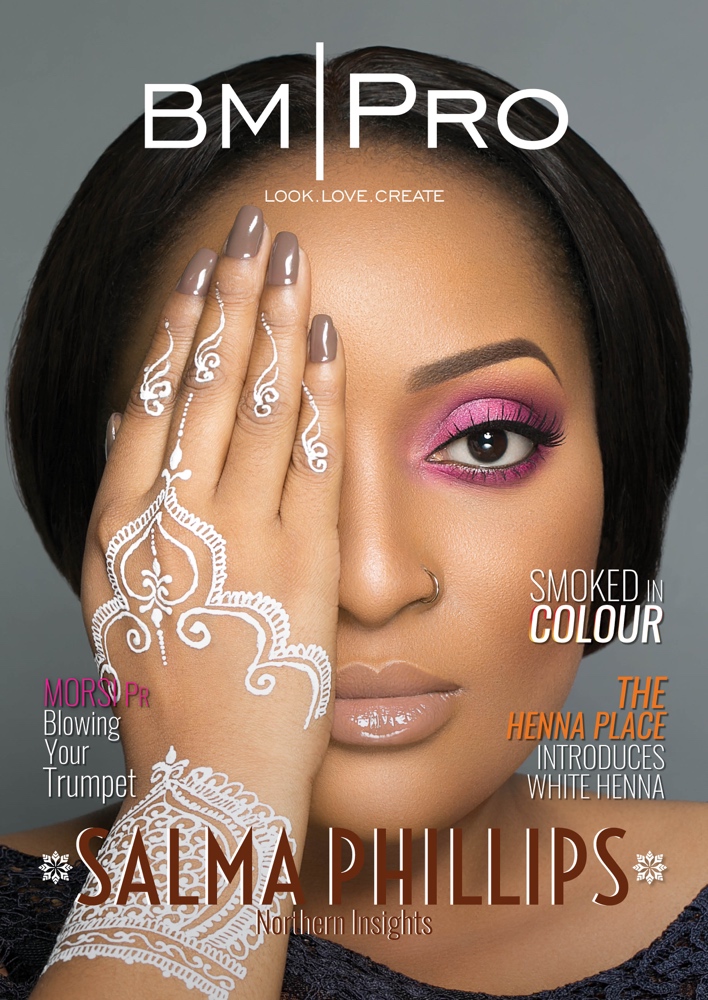 This month's edition of BM|Pro Covers features the stunning TV presenter Salma Phillips. The Northern beauty looks stunning on this September edition with bright pink eyes, white henna on her hand and gorgeous, flawless skin!
Banke Meshida-Lawal had this to say about working with the hot mum!
Salma has such clear and smooth skin, my BM|Pro HD Primer melted easily like butter on it. Same way it's easy to warm up to her especially when she assumes the role of interviewer. You just easily spill your guts and the temptation to hold nothing back is high! She draws out information from people through her role as TV girl. She hosts 2 talk shows, one in Hausa and the other in English Language, yet with a northern address, giving insight into issues faced especially by women and the girl child.

This was a first for me and I applaud her. Digging deep, especially faced with a culture that shrouds things and experiences in mystery cannot be easy, but Salma does it and with such grace. Her show airs on Africa Magic Urban on DSTV Channel 153 and is in its 2nd season. I ask her why her local language and she says it helps her connect with her guests. They share some of their deepest secrets and this in turn should offer relief/closure in some cases.

A problem shared is a problem half solved! I guess some things cannot be translated into English without losing its deep connotation!

My shoot would not have been complete without Henna, a part of the Northern culture. Not in its common form but with a unique flavor. The Henna Place Lagos made my look come to life with the All New White Henna. The henna artist scribbled with such dexterity, it was Amazing!

Well done Salma!
Credits
Photography: August Udoh | @augustudoh.orbit
Makeup: Banke MESHIDA Lawal | @banksbmpro
Graphic Design: Moriam Musa | @morsipr
White Henna: The Henna Place | @thehenneplace