AFRIMA in partnership with AU Empower Students at Felabration 2016 Senior Secondary School Debate
In furtherance of the social responsibility initiative of the All Africa Music Awards, AFRIMA in partnership with the Africa Union, the continental awards project has donated computers, exercise books and other writing materials to participating schools at the recent Felabration 2016 Senior Secondary School debate.
The Senior Secondary School debate was held at the Freedom Park, Broad Street, Lagos on Wednesday, October 5 with the topic: 'Reparation, Yes or No". This forms part of the programme of activities for FELABRATION, the annual festival organised to celebrate the legacy of late music maestro and Afrobeat creator, Fela Anikulapo Kuti.
Highlighting AFRIMA's objectives in partnering Felabration 2016 edition in the schools debate, Country Director, Nigeria/Co Producer, AFRIMA, Kingsley James, said it created another platform for the AFRIMA Foundation to purse her Corporate Social Responsibility (CSR) activities in Lagos State, the 2016 Official Host City for AFRIMA through its Educate-A-Child (Our Voice) initiative. "AFRIMA is committed to reducing illiteracy in Africa via the Educate-A-Child Campaign (our voice) initiative by driving support for investment in education, formal and informal, by African leaders", stated James.
Speaking at the opening of the debate, founder of Felabration and daughter of the late music legend, Yeni Kuti, stressed the need for students to be adequately equipped with the knowledge of history
for the promotion and development of African's rich culture and heritage.
She said, "The topic was chosen to test the knowledge of the students on history. We needed to challenge their knowledge of Africa's history and for students to learn new things about their heritage. We want to
keep Fela's love of culture and learning alive among young people. This debate isn't about relating history but by relating it to their understanding. It is not a competition but a test of knowledge and to
encourage all and no school would be exempted from receiving gifts."
10 Senior Secondary Schools in Lagos State namely: Aunty Ayo Girls Comprehensive Senior Secondary; Community Senior Grammar School, Gberigbe; Epe Senior Grammar School; Cayley College; Lagos City Senior College; Vivian Fowler Memorial College; St Gregory's College; Atunrase Senior High School; Army Children Senior High School, Ikeja; and Dowen College, were represented by their students who turned out in numbers.
After a brilliantly engaging session by the student debaters judged by Kunle Bakare (Publisher, Encomium Magazine);  Princess Abumere (Entertainment Editor, Pulse NG); Kingsley James;
Morayo Afolabi-Brown (TVC broadcaster) and Jumoke Alawode-James  (TVC broadcaster), the first prize was clinched by Dowen College, coming second was Vivian Fowler Memorial College and in third position, Aunty Ayo Girls Comprehensive Senior Secondary.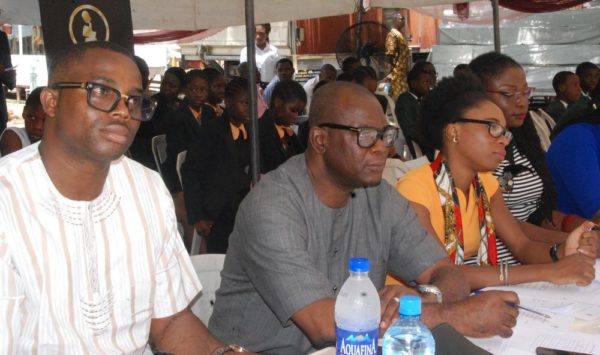 After receiving their winner's prizes and other gifts handed out by Kingsley James, the excited students and schools' management officials present at the event thanked AFRIMA for the generous donation.
AFRIMA's Country Director also urged the Felabration Festival Organising committee to get involved in the AFRIMA 2016 programme of events from November 4-6, 2016 which includes the Africa Music Business Summit on Friday, November 4 and the AFRIMA Music Village, an open concert-style festival featuring nominees and other top billed music stars, also on Friday, November 4th.
In partnership with the AUC and the Official Host City, Lagos State, AFRIMA 2016 grand awards ceremony holds on Sunday, November 6 with thousands of guests expected in Lagos for the various events.
See more photos from the event:
______________________________________________________________________
BellaNaija is a media partner for AFRIMA