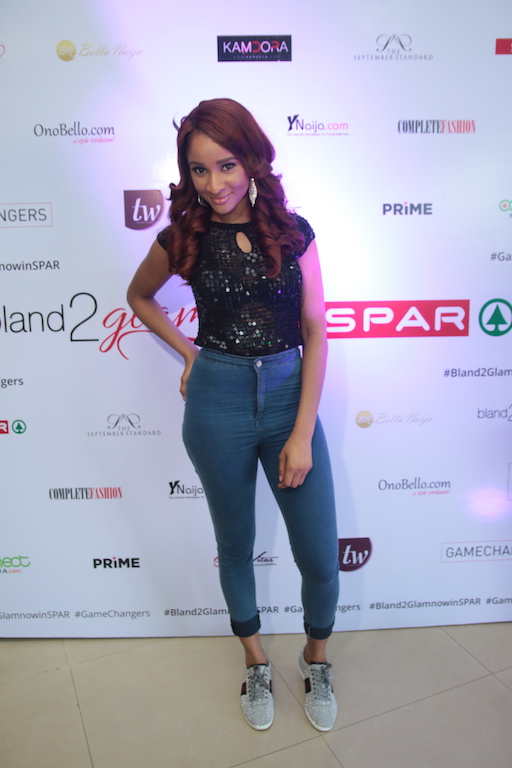 The Bland2Glam X SPAR Game Changers Event took place on Sunday the November 13th 2016 at SPAR Lekki with a room full of optimistic people who came ready to be inspired.
Conceptualized to celebrate Bland2Glam's game changing move as the first Indigenous brand to be admitted into the lifestyle department of SPAR, the event honoured three leading game changers.
Denim and Kicks was the proposed dress code, which provided a very relaxed atmosphere. The event kicked-off with a fun game of musical chairs hosted by Maria Okanrende, with  a N50,000 gift card up for grabs. This got the attendees excited and energetic for the panel discussion that followed.
Founder and Creative Director of Bland2Glam, Seyi Banigbe served as the compere for the panel discussion with Funke Bucknor-Obruthe of Zapphire Events; Oke Maduewesi, Founder & CEO of Zaron Cosmetics; and award- winning actress, Adesua Etomi.
Oke expressed the importance of setting timelines and milestones for any business idea/vision. She noted the importance picking yourself up and not giving up even when all hope seems to be lost. According to her, she didn't let such a circumstance determine her outcome but instead she was in turn inspired to build a business that would not only feed her but empower other members of the society. Oke emphasized the need to get-to-work once a business idea is  conceptualized, saying it took her 3 years of research and planning to birth the Zaron idea.
Funke spoke on how she turned a passion into a thriving business that paved the way for the industry in Nigeria. She emphasised the importance of teamwork for every organization noting how her team members complement each others' strengths and weaknesses. She also shared on the importance of balancing a family as well as prioritizing.
Adesua spoke on the importance of knowing your purpose and being true to yourself regardless of your environment. She also stressed the effectiveness of positive affirmations and maintaining a positive attitude in every situation.
These uplifting stories, business tips, life lessons and funny anecdotes shared, motivated and encouraged everyone as they left in high spirits ready to take on the world!
You can now shop 
Bland2Glam
 pieces in select SPAR stores across Nigeria.To keep up with all the exciting news and events from 
Bland2glam
, follow on: