Curtain Call! Michelle Obama covers Vogue Magazine's December 2016 Issue
Michelle Obama, "the First Lady the world fell in love with," is featured on the cover of Vogue's December 2016 issue to discuss her final days in the White House.
The First Lady of the United States, 52, looks absolutely stunning in the photos, shot by Annie Leibovitz. Michelle is wearing a Carolina Herrera dress and Monique Pean earrings on the cover. She is wearing an Atelier Versace dress in the inside image.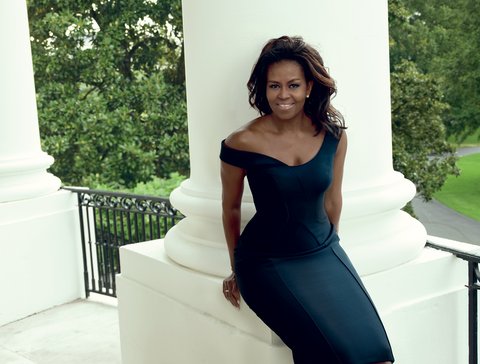 Here is what she shared with the mag:
On her role as First Lady: "Everything we do is by choice. I could have spent eight years doing anything, and at some level, it would have been fine. I could have focused on flowers. I could have focused on décor. I could have focused on entertainment. Because any First Lady, rightfully, gets to define her role. There's no legislative authority; you're not elected. And that's a wonderful gift of freedom."
On life after the White House: "I will take the same approach leaving as I did coming in. I won't know until I'm there. I've never been the former First Lady of the United States before… but I will always be engaged in some way in public service and public life."
On her fashion choices: "It all boils down to comfort level: If I'm going to make you comfortable, than I have to be comfortable first. So my first reaction isn't 'Who made this?' But 'Let's try it on. What does it look like? Oooh, that's cute. Oh, wow. I never thought of wearing something like this. let's put a belt on it. I feel gooood in this.' There are definitely designers that I love, people I love to work with. And who they are as people matters. Are they good people? Do they treat their staff well? Do they treat my staff well? Are they young? Can I give them a boost? But! When all of that is equal…is it cute?!"
For more from Michelle, visit Vogue.com!