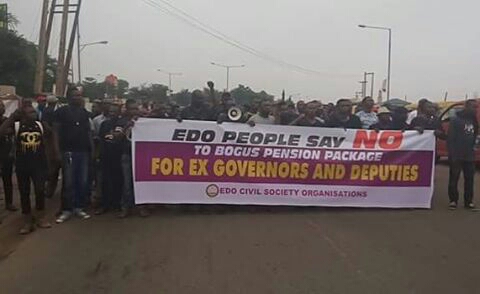 Pro-government and anti-government protesters clashed in Benin on Tuesday over the  alleged plan of the Edo Government to build N300 million retirement homes for former governor Adams Oshiomhole and his deputy.
The pro-government group and members of some Civil Society Organisations (CSOs) fought at Ring Road, Benin, when the latter marched through the streets over the amendment of the law for the pension of the governor.
Edo State House of Assembly last week amended the 2007 Pension Rights of the Governor and Deputy Governor Law to include the provision of a building valued N200 million for a former governor and N100 million for his deputy.
Dr. Justin Okunobor, the Speaker of the assembly, had said that the new provision was justified as there was an existing law on pension benefits for former governors and deputies.
The civil society groups had claimed that the amendment would ensure the provision of a N200 million house for  Oshiomhole, and another N100 million house for his deputy, Dr. Pius Odubu.
The anti-government protesters, under the aegis of Edo Civil Society Organisations, had converged on the museum ground in Benin as early 8 a.m. and marched toward the Anthony Enahoro House of Assembly Complex to announce their rejection of the new pension benefits.
The civil society groups were confronted by those who supported the amendment and prevented them from gaining access to the major entrance of the building.
The challenge resulted in the CSO members running away, while security operatives who had taken position at strategic positions around the assembly premises watched.
Some protesters sustained injuries during the fight which lasted about an hour, while some vehicles and public address systems used by the CSOs were vandalised.
As a result of the fight, passersby scampered to safety.
The spokesperson for the civil society groups, Osazee Edigin, claimed that his members were attacked by thugs allegedly sponsored by the government.
''They mobilsed thugs to attack us and we are trying to revive a guy who fainted, the thugs have taken over Ring Road,'' Edigin said.
However, the Chief Press Secretary to Edo Governor, John Mayaki, said the state government recognised the rights and freedom of citizens to express their opinion on public issues and would not do anything to infringe on their freedom.
Mayaki said there was no iota of truth in the claim of the CSOs as government would not in any way attempt to gag the people's freedom.