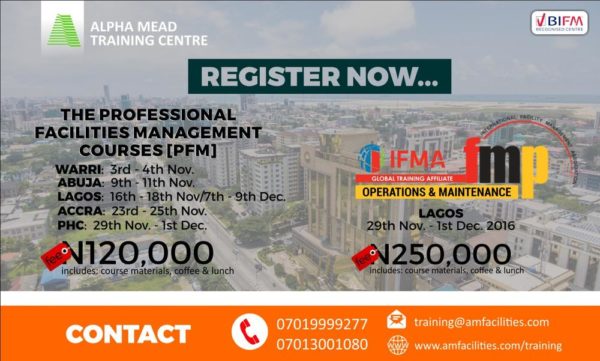 The current economic downturn is no doubt compelling organizations to rethink their operational strategy as the pressure to develop innovative business practices that will enhance capacity, deepen market share and drive revenue without necessarily inflating cost continue to pile up.
In some organizations this could be a herculean task but for innovative firms it is a necessity that is critical to their competitive strength and productivity level giving the current economic reality.
For the Facility Management industry, this creates new opportunities to add value through improved efficiencies, technology and strategic planning but only Professionals with the requisite skill can deliver these values.
In response to this emerging trend, Leading Facility Management firm, Alpha Mead Facilities (AMFacilities) will run a series of Professional Facilities Management (PFM) training across major Nigerian cities and Accra, Ghana this November and an International Facility Management Association (IFMA) accredited training on Operations and Maintenance in Lagos.
The PFM is a certificate course designed for Facilities Managers, Real Estate professionals, and fresh graduates; and will be facilitated by Alpha Mead Facilities seasoned experts who have hand-on experience managing Facilities for the likes of Shell, Nigerian Stock Exchange, Total E&P, FCMB, Chevron, MTN and other big multinationals.
Build your career on a solid foundation and position yourself for a successful future in Facility Management.
Alpha Mead Facilities will also offer an IFMA FMP Credential Program™ course in Operations and Maintenance to help early to mid-career and transitioning facility management professionals gain the knowledge and skills demanded by today's employers and which is one of the module to earn the FMP credential.
Register HERE to improve your skills, learn about latest trends in Facilities Management, and secure a future in one of Nigeria's fast emerging industries.
To register, visit our website: http://amfacilities.com/training or Call 07019999277 | 07013001080, send an email to – [email protected] or tweet at us @AlphaMead
Course fee is N120, 000 (Inclusive of lunch, online study pack and certificate) for the PFM training.
Dates:
Warri: 3rd – 4th November
Abuja: 9th – 11th November
Lagos: 16th – 18th November | 29th November – 1st December | 7th – 9th December
Accra: 23rd – 25th November
Port Harcourt: 29th November – 1st December
_____________________________________________________________________
Sponsored Content