Dreams do come true! Nigerian Author Luvvie meets Oprah Winfrey 5 Years after tweeting her Dreams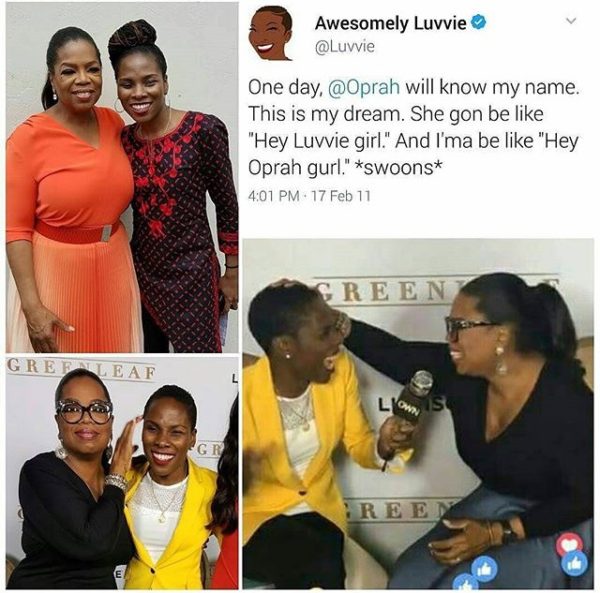 This is so inspiring and a reminder to us that you can achieve whatever you aspire to achieve.
Nigerian-New York based author, Luvvie, tweeted five years ago that her dream was to meet Oprah Winfrey when the media mogul knows her name. Focused on her dream, she was in the same room with Oprah about seven times in the past couple of years but she didn't go up to Oprah to try to introduce herself.
Fast forward to 2016 and Oprah picked Luvvie as one of the people on the Supersoul 100 list, recognized for "elevating humanity". She also got to interview Oprah two months after making the list.
Read her story below:
2016Luvlights – For a long time, I've said that I will meet @Oprah Winfrey when she already knows my name, so even though we've been in the same room together at least 7 times over the years, I never tried to introduce myself. Well, this year, it happened. Oprah handpicked 100 people who "elevate humanity" as part of her first #Supersoul100 list and I was one of them. ??? She did a brunch for us in LA in April and I met her there. It was glorious. And then in June, her team had me back to interview her for OWN on the @OWNTV lot. *holy ghost faint* my locs were gone by then so Oprah grabbed my head during the interview and afterwards! ?
Dreams come true and I've boldly spoken some of mine just to see them unfold right before my eyes. This has been a year of my dreams becoming reality and I'm beyond grateful. God is good. HEY OPRAH, girl! That actually happened. *swoons* ? #LOOKATGAWD #WontHeDoIt