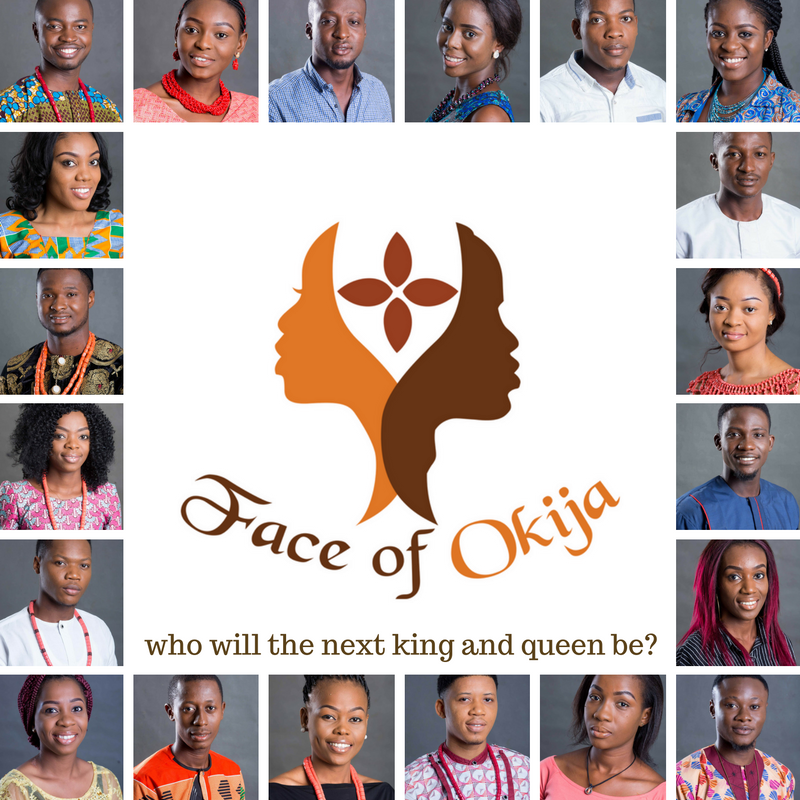 After a rigorous screening process that took place on the 16th of December, the Face of Okija has finally selected 10 males and 10 females for the finals. The finalists are Claire Chinenye Obodozie, Henry Nwadialor, Cynthia Nnowayi, Chukwudi Enukoha, Chinasa Ezeamaka, Chinonso Ahanonu, Chisom Ubachukwu, Honorus Ahanonu, Adaolisa Asomba, Chimezie Madueke, Chiagozie Ngwukaenyi, Nnaemka Agusionu, Onyinyechi Okaforeze, Fredrick Ahize, Ogechi Onuigbo, Emmanuel Ahanonu, Chiamaka Obiakeze, Chika Ogueze, Chidumaga Nsofor & Chisom Okoye.
The competition has now proceeded to the camp stage where the contestants would be trained in various areas; including Igbo culture, language lessons, business training, charity activities with the Obi Jackson foundation and an official visit to the Royal cabinet of Okija amongst other developmental activities. The finale will be taking place in the town of Okija Anambra state to a packed audience of citizens and tourists.
Date: Thursday, December 29th, 2016
Time: 6pm
Venue: The Obi Jackson Boulevard, Okija, Anambra State
This year, the King and Queen will be hired by the Obijackson Foundation and will earn a fixed salary of 1.4million for one year, an official vehicle for the duration of reign, a scholarship grant of one million naira (N1,000,000) and a chance to impact the lives of the indigenes of Okija, Igboland and Nigeria positively through a mix of social welfare programs that they will be required to champion.
Find out more on www.faceofokija.com
Facebook.co'faceofokija
Instagram.com/faceofokija
Twitter.com/faceofokija
_________________________________________________________________
Sponsored Content