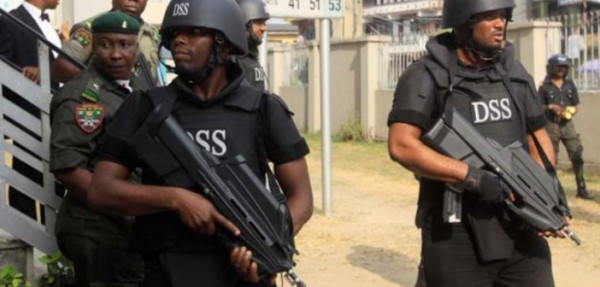 The Department of State Services (DSS), in continuation of its operations across the nation, has captured individuals from different criminal posses in various parts of the nation including suspected Boko Haram terrorists.
Lately, the nation has seen a phenomenal ascent in criminal exercises in all districts of the nation, extending from robbery, kidnapping, banditry, terrorism, among others.
A statement issued in Abuja yesterday by the undercover spokesman of the service, Tony Opiuyo, said the three suspected Boko Haram terrorists: Samaila Muhammad, Sanusi Musa and Hudu Muhammad were captured at Dirbunde town of Takai Local Council of Kano State.
"The trio have perfected plans to carry out series of coordinated attacks with Improvised Explosive Devices (IEDs) in selected States of the North-West zone, to disrupt festive activities during the end of year and the new year of 2017," Opiuyo said.
Additionally in Kano, at Gwaron Dutse, Auwalu Abdullahi Yakasai, a famous fraudster was captured for supposedly swindling Jaiz and Unity Banks of N100 million and N50 million respectively. One Bashir Shuaibu was additionally captured at Tsamiya town in Kano State for acquiring cash from clueless casualties through risk messages. He was captured while during the time spent cheating another casualty.
The statement also said a few other individuals are in the custody of the Service, after they were captured in various parts of the nation, for different criminal offenses.
"The trio of Abubakar, Ismail, Musa and Suleiman Mainasara, on November 29, 2016, at Aduwawa in Benin City, Edo State, prior to their arrest, were members of a kidnap gang that terrorised commuters and residents of communities along the major highways between Edo and Kogi States. Similarly, on November 30, 2016, one Ibrahim Adamu and three of his associates namely Umar Abubakar, Ibrahim Salisu and Abdullahi Abubakar, were arrested at Ibilio village in Edo State. The quartet were part of a larger gang that specialised in the kidnap of people along the Edo-Kogi corridor.

On 20th December, 2016, at Katsina-Ala town in Benue State, another gang of suspected kidnappers comprising one Ernest Benze, Terkura Tyokighir alias Mpoto, and Anun Aondona, identified as members of the Terwase Akwaza kidnap syndicate, were arrested for their complicity in kidnap incidents in the State. It would be recalled that the Terwase gang is known for its notoriety and credited with various dastardly and violent acts in the State," Opiuyo added.
The statement also said a criminal pack suspected to be specialized in robbing occupants of the hotel in Abuja have been captured. They looted a foreigner of his assets and cash in a highbrow hotel.
"However, acting on actionable intelligence, and with the support and cooperation of sister agencies and the hotel management, the Service arrested one Ikechukwu Obadlegwu and Ikechukwu Joseph Eke. While Obadlegwu carried out surveillance on potential targets for the group, Eke is the kingpin and mastermind of the whole operation. Following this operation, the Service has successfully recovered almost all the stolen items."
Likewise, at Ben Kalio Housing Estate, Damaturu, Mohammed Yusuf Daya, a 10-year-old kid was abducted. The kidnappers requested a payoff of N5 million. Nonetheless, at around 19:20 hours that day, the Service saved the casualty at Potiskum town, Potiskum LGA. Meanwhile, the casualty's mom Barakata Daya and her friend, Rukaiya Danladi, have been captured for culpability in the occurrence.
Source: The Guardian