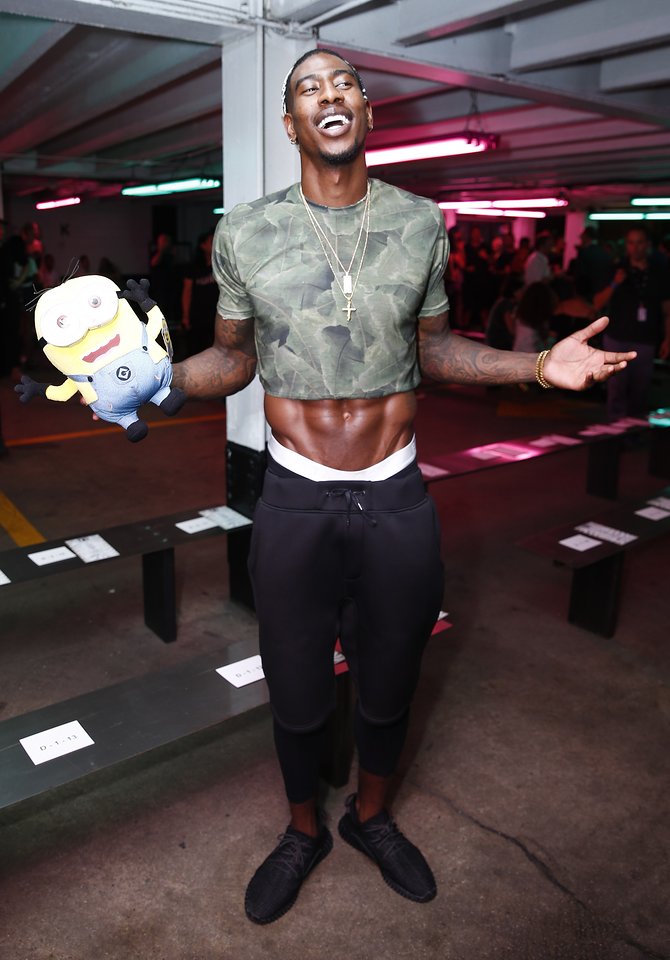 NBA player for the Cleveland Cavaliers, Iman Asante Shumpert spoke to Complex on his style and fashion, after being called "New York Fashion Week's biggest risk-taker" by Vogue for his outfits at NYFW which included a crop top.
"You should dress so that somebody remembers you," says Shumpert. "The first time you meet me, it's gon' make you feel a way. Either you gon' be like, 'Why are you wearing that?' or 'That's raw. I like his energy.' I want you to have a story when you meet me."
Iman who is also Teyana Taylor's husband, told Complex he has always been interested in fashion. Growing up in Oak Park, Illinois, he often only had six or seven outfits.
"I was always growing, so it made no sense for my mom and dad to load me up with a bunch of clothes," he says. "But I hated coming to school and feeling like a girl could be like, 'Iman's aprobably gon' wear this today.' So I would always have to mix and match and find a way to look different. I took a lot of pride in that."
He sat down with Complex to discuss why he loves crop tops, refuses to hire a stylist, almost named a clothing line after Gucci Mane, and won't visit a Trump White House.
On not having a stylist and if he'll ever hire one
No. Never had one. Absolutely not. How can you style me? It's mystyle. Say I wear an outfit that you picked out and it pops up on some fashion blog and they laughin' at me. You're fired! But if I picked it and if y'all don't like it, that's just too bad.
On the most expensive piece he owns
Sneaker-wise, it's the Air Mags. I dropped six bands for those, with no hesitation. I've been waiting my whole life to get those. I also have a $6,000 Phillip Lim coat with pockets that are big enough to fit a sandwich. That's why I got it.
On his Fashion Week outfits and how he put them together
Oh, the crop. That shirt wasn't a crop top. I've been wearing crop tops before that happened. I wore them in Miami a few times. I always liked crop tops after I saw it on Fresh Prince. I saw a couple of guys do it in a bunch of TV shows with the sweats and I always thought it was dope. They would get ready to go to the gym and work out with the crop top on to show their abs. Of course people with no abs are not gonna understand a man with a crop top. You ain't got no abs, I get it. It's cool.
On his favorite part of visiting the White House earlier this month
The best part was Michelle [Obama]. She's the juice. It's like the way people are when they meet Teyana and they're like, "Shump, you cool and all, but Teyana's the shit." [Laughs]
People started boycotting New Balance after the company seemed to voice support for Trump. Kanye West recently said he would've voted for Trump if he had voted. Would you still wear Yeezys?
I understand people's stance on Trump. I can't get caught up in the racial, sexist bullshit he's got going on. That's his personal thing, ya dig? But I just don't think he can make anything shake like that. He not finna start no civil war out here. I do think he's crazy—straight up. I think he did that stuff to get people to think he's willing to shake it up. But did I vote for him? No. The other stuff that comes with him, I can't get with. But now that he's here, I'm not finna drag my feet. I gotta work here, at least until the offseason, if I wanna go get a crib in the Islands.
Will you go to Trump's White House if the Cavs win the championship again this year?
I'm not going to the White House.