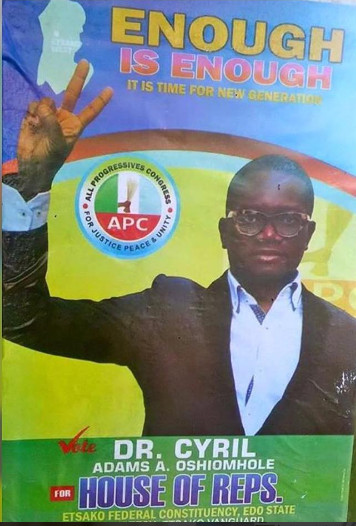 The campaign posters of Dr. Cyril Oshiomhole, the first son of the immediate past Governor of Edo State, Adams Oshiomhole, are now in Benin and major towns in Etsako Federal constituency in Edo.
The posters were seen in strategic locations in Auchi and other major communities in Etsako East, Central and West Local Government Areas.
The colourful posters have also been extended to Benin City, specifically in front of Dennis Osadebe Government House, as well as the state secretariat of the All Progressives Congress (APC).
The posters suggest that the trained medical doctor, has joined the race for the vacant seat of Etsako Federal Constituency.
The posters have inscription such as "Enough is Enough, "It is time for the New Generation".
The seat for the Etsako Federal Constituency was declared vacant after the occupant, Philip Shaibu was elected deputy to Governor Godwin Obaseki.
Oshiomhole's entrance into the race has increased the aspirants to six. The seat was declared vacant by the Speaker of the House of Representative, Yakubu Dogara, in December 2016.