The Veuve Clicquot Masters Polo, a popular and social event of the year, is currently in its seventh incarnation as it celebrates the sport of kings combined with the finest champagne.
Socialites and the crème de la crème of African influencers will descend on South Africa's most prestigious polo estate – Val de Vie Estate – on Saturday 4 March 2017 to witness international polo players compete for the coveted Veuve Clicquot Masters Polo Cup.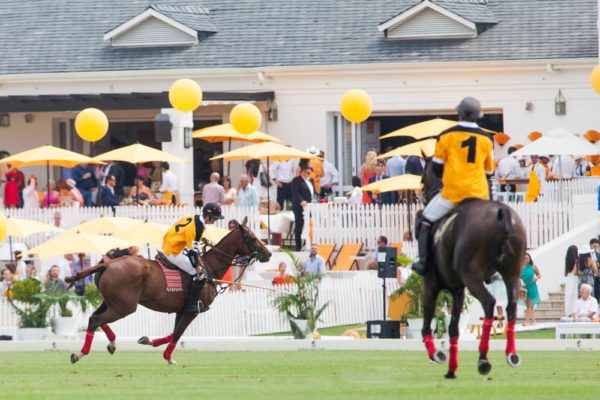 With this year's #ClicquotJourney theme, guests can expect to taste food inspired by some of the iconic cities that the popular Yellow label champagne brand travels to – such as Los Angeles, Tokyo, Paris, London, New York and Cape Town to name a few – all this enjoyed with Veuve Clicquot champagne of course. Val de Vie estate will also be transformed in line with the theme, to ensure guests experience a journey (of the senses) around the world with Veuve Clicquot, without leaving the picturesque Paarl/Franschhoek valley.
"As Madame Clicquot wrote to one of her grandchildren, "The world is in perpetual motion, and we must invent the things of tomorrow." The same maxim holds true today. Passion is at the root of all inspiration and adventure. It's what propels you to get out of the familiar and to discover – to let life surprise you. We are thrilled to take guests on a journey where the world meets Cape Town during Veuve Clicquot's most highly anticipated event in South Africa," adds Moet Hennessy Market Manager, Patrick Madendjian.
"Veuve Clicquot Masters Polo Cape Town remains one of the most sought-after social event tickets in South Africa. The event is ranked as one of the best polo events in the world and for the 2017 edition we aim to exceed expectations, from the quality of the thrilling polo match, to the festivities on the sidelines, the fashion experiences and more," commented VIVIDLUXURY CEO and event co-owner, Anina Malherbe-Lan.
The event continues to attract the attention of international VIPs, African stars and local celebrities along with captains of industry and ministers.
More than 2000 people are expected to attend the 2017 event to see premier polo players including Nicky van der Walt, HRH Prince Malik-Ado Ibrahim of Nigeria and Springbok colours player and national polo team captain Le Roux Hendricks play on the day.
For the 2017 event, there are also a few exciting international celebrity appearances planned, which will be announced in due course. And of course the event's Official Broadcast Partner, E! Entertainment Africa will be there to capture all the glitz and the glam on the red carpet.
Join the journey, and witness "Cape Town meets the World" in March 2017. #ClicquotJourney
Tickets will be available directly from Computicket. For more information about the event, the various ticket options or for press inquiries, visit the website on http://vcmasterspolo.co.za, or contact VIVIDLUXURY on 021 465 2312 or [email protected].