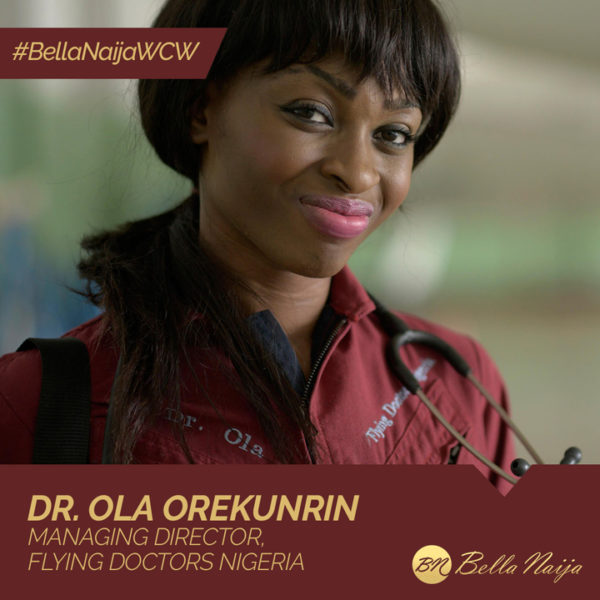 Not many people will decide to do what Dr. Olamide 'Ola' Orekunrin did after tragedy struck in her family.
Her 12-year-old sister, a sickle cell anaemia sufferer, who was on holiday in Nigeria, needed urgent care, but the nearest hospital couldn't offer the needed medical help.
The family started to look for the nearest available air ambulance service to transport her to the nearest hospital with the facility to take care of her, but were shocked to discover that there was none in Nigeria, or the whole of West Africa. The nearest was in South Africa, and they needed an activation time of 12 hours to get ready.
Unfortunately, the girl died before the service got ready.
"It was really a devastating time for me and I started thinking about whether I should be in England talking about healthcare in Africa, or I should be in Africa dealing with healthcare and trying to do something about it," she said. Ola chose the latter.
At this time she was studying to become a medical doctor in the UK.
Ola was born to Nigerian parents and raised in a foster home in the UK. At age 21, Ola graduated from the Hull York Medical School in England, becoming one of the youngest persons to do so. She was then awarded the MEXT Japanese Government Scholarship and moved to Japan to conduct research in the field of regenerative medicine.
She returned to the UK to work at the National Health Service, United Kingdom. Her sister's death broke her heart, so she left her job, sold all her assets and returned to Nigeria to set up her entrepreneurial venture aimed at revolutionising the healthcare system in West Africa. She also began studying evacuation models and air ambulance services in other developing countries before launching her business.
Ola surmounted all the entrepreneurial hurdles of starting up a business in Nigeria, a country where she was relatively new. Today, Flying Doctors Nigeria Ltd. has 20 aircraft, and 47 staff (44 of whom are trained medical doctors).
Flying Doctors Nigeria Ltd. became the first Air Ambulance Service after in West Africa, after it was founded in 201o.
Ola is the recipient of The Future Awards Africa Entrepreneur of the Year (2012) Award.
Ola was named among the World Economic Forum's Young Global Leaders class of 2013. WEF described the group as the best of today's leaders under the age of 40.
She is a 2013 New Voices Fellow at the Aspen Institute and was also named among the five Next Generation Leaders by Time Magazine in 2014.
A TED Fellow, Ola is also on Oprah Magazine SA's 2014 Power List.
Ola was also listed in FORBES Africa 30 Under 30 list (2015).
She was also named in LinkedIn's "Top 10 Healthcare Voices of 2016" list.
Ola is this week's Woman Crush Wednesday!