At the Golden Globes Awards last night, Hollywood legend, Meryl Streep, the recipient the prestigious Cecil B. DeMille Award lashed out at U.S. President-elect, Donald Trump for appearing to mock a disabled New York Times reporter in 2015.
Streep added that Hollywood needs to defend a free press as Trump takes the country's highest office on January 20 2017.
"There was one performance this year that stunned me — it sank its hooks in my heart," Streep said while delivering her acceptance speech. "Not because it was good; there was nothing good about it. But it was effective and it did its job. It made its intended audience laugh, and show their teeth.
"It was that moment when the person asking to sit in the most respected seat in our country imitated a disabled reporter. It kind of broke my heart when I saw it, and I still can't get it out of my head, because it wasn't in a movie. It was real life."
Watch the video below:
At tonight's #GoldenGlobes we honor Hollywood legend Meryl Streep with the prestigious Cecil B. Demille Award. pic.twitter.com/dxpeCDNXY6

— Golden Globe Awards (@goldenglobes) January 9, 2017
Trump, had several times, denied mocking the reporter.
In a series of tweets following the speech, Trump called Streep "over-rated," adding that "she is a Hillary flunky who lost big".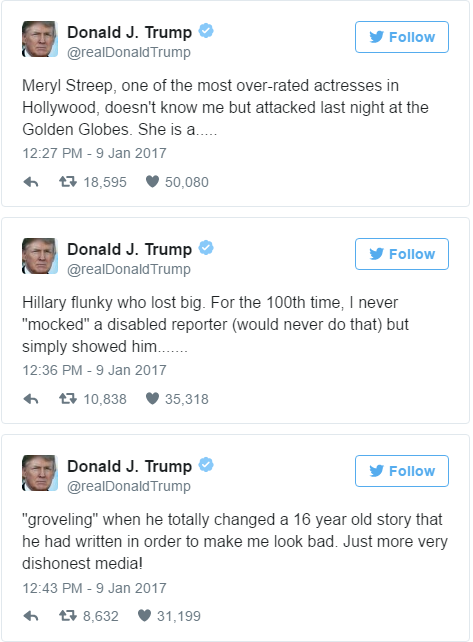 The Golden Globes Awards is organised by the Hollywood Foreign Press Association (HFPA).