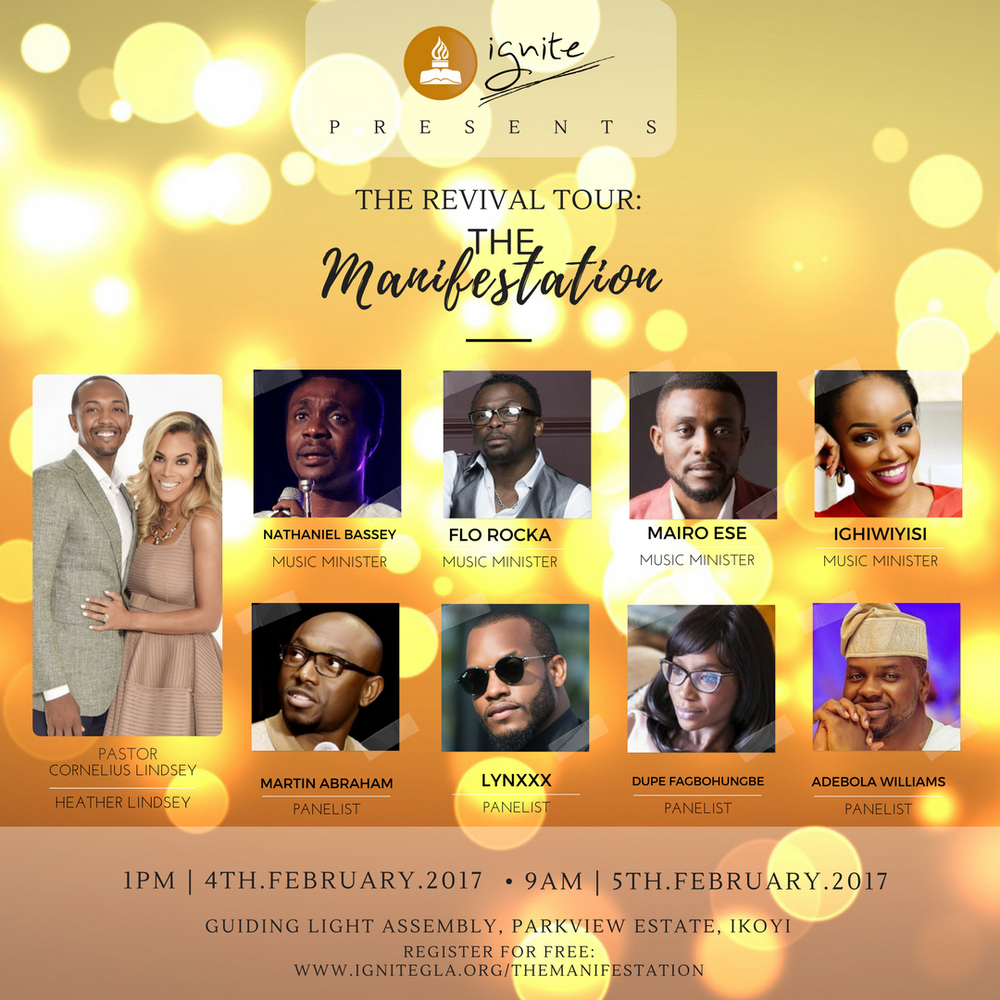 Ignite GLA's youth gathering, 'The Manifestation', happening on the 4th and 5th of February 2017 is almost here! The event is designed to revive the youth to lead them to manifest the light of God in our world.
It promises to be a time of refreshing with great music and powerful testimonies from Nathaniel Bassey, Flo Rocka, Mairo Ese, Ighiwiyisi Jacobs, Lynxxx, Dupe Fagbohungbe, and more!
Now, in order to get you set for the 4th and 5th of February 2017, here's five reasons why you must attend The Manifestation:
If You're Confused
Manifestation is all about purpose, and trying to figure out this whole 'purpose' thing, and life in general really, is just quite confusing sometimes. But thank God, because He always finds ways to make things clearer for us. For you, the Manifestation can be one of those ways. There's a panelist session with Martin Abraham, Lynxx, Dupe Fagbohungbe and Adebola Williams where questions pertaining to a wide range of topics will be discussed. With such a diverse group of speakers, you'll definitely take something from at least one of them.
2.   If You Love God's Presence
There's nothing like a gathering of young people in love with God. The atmosphere is electric, everyone is expectant, and there's just this excitement everywhere. The Word is going to be delivered by Pastors' Cornelius and Heather Lindsey, and we are eager to hear God speak through this amazing couple-of-God!
If You're Discouraged
It's the beginning of the year and you already feel like you're not doing enough. Everyone around you is shining and growing, and you just feel… left alone. I have good news; The Manifestation is for you. God wants to show Himself through you, and you can take a step towards manifesting by attending this gathering.
If You Love to Worship
When there's nothing you love better than lifting your hands in worship unto God. There's going to be moments of pure, intense, intimate worship with anointed ministers of God Nathaniel Bassey, Mairo Ese, Flo Rocka, and Ighiwiyisi Jacobs.
If You're Just Searching for a Good Time
Yes, the Manifestation is for you too. What better place to have some good, wholesome fun than in the presence of God, under a powerful atmosphere, with other vibrant and energetic young people and anointed ministers of God? Oh, and it doesn't matter if 'church' isn't exactly your thing. This kind of fun doesn't leave you with a hangover, only a lasting "Holy Ghost high".
Now the point is, whatever your need is, God is ready to attend to that need uniquely through the Manifestation 2017. We are so expectant of what God is about to do, and we think you should be too!
Remember, it's holding on the 4th and 5th of February, 2017, at the GLA main auditorium. It is free to attend, but registration is required. Simply visit http://www.ignitegla.org/themanifestation/ to register. You don't want to miss this!
Ignite is the youth fellowship of Guiding Light Assembly. We are the young members of the GLA family – young men and women in business, young couples, young entrepreneurs; all young Christians who love Jesus and are trying to figure out how to live the Word in an increasingly complicated world. We meet on the first Saturday of every month to gist with the Holy Spirit, ask a lot of questions and to find out what He has to say about our everyday issues.
For more information, kindly contact us at: info [at] ignitegla [dot] org, or ignitegla [at] gmail [dot] com
Or via social media: Instagram: @ignitegla | Twitter: @ignitegla | Periscope: @ignitegla | Snapchat: @ignitegla | YouTube: ignite Gla | Facebook: Ignite GLA | Blog: www.ignitegla.org