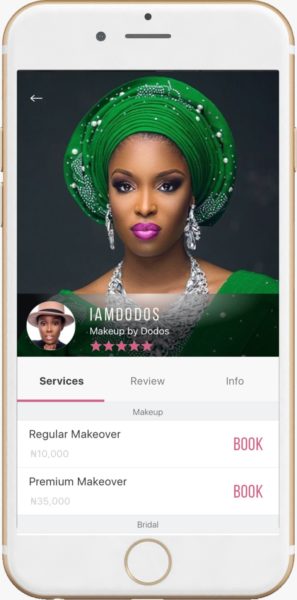 Have you ever struggled to find good quality makeup artists available around you, or at your own schedule?
Or have you struggled to find makeup artists available at different price ranges to suit your budget?
If you've been through any of these in the past, then we are happy to let you know that time is coming to an end very soon!
Tiro is a beauty app launching on the 31st of January that allows anyone to discover, book, and enjoy the best beauty services in Nigeria. You can book a makeup artist to your location with the tap of a button, just like Uber! Visit www.tiro.com.ng to learn more.
Tiro has an unprecedented number of high-end, well-established beauty service providers that offer exclusive offers to customers.
Millions of customers across Nigeria are subscribed to download the app and start booking beauty services right from the launch date. We expect to see a major disruption in the way Nigerians book beauty services for their weddings and other festivities.
Tiro is now requesting high-end beauty service providers across Nigeria, especially makeup artists to submit an application and take advantage of Tiro's large customer base.  Makeup artists can download the app to upload their profiles and link their instagram account as a portfolio. MUAs can also add their services and prices for customers to pay directly via the app. MUAs can apply to become a Tiro Pro by visiting their application page at www.tiro.com.ng/mua
All these services come at no cost for the first 5 bookings a beauty provider generates via the app. After 5 free bookings, Tiro will take only a 15% commission for additional bookings made. Tiro expects that makeup artists will receive at the very minimum, 5 new bookings every week from the platform.  This is a very good extra source of income for any makeup artists in Nigeria today.
To submit an application, follow this link to fill out the Tiro Pro registration form.
To see what Tiro can do for your makeup business see this short video.
And visit www.tiro.com.ng
Follow Tiro on Instagram @tiro_beauty or visit the website www.tiro.com.ng to get the latest updates and amazing offers from your favorite Makeup Artist!
Put the 31st of January on your calendars! The Tiro beauty app will be available to download from Apple App Store and Google Play Store for free.
_________________________________________________________________
Sponsored Content