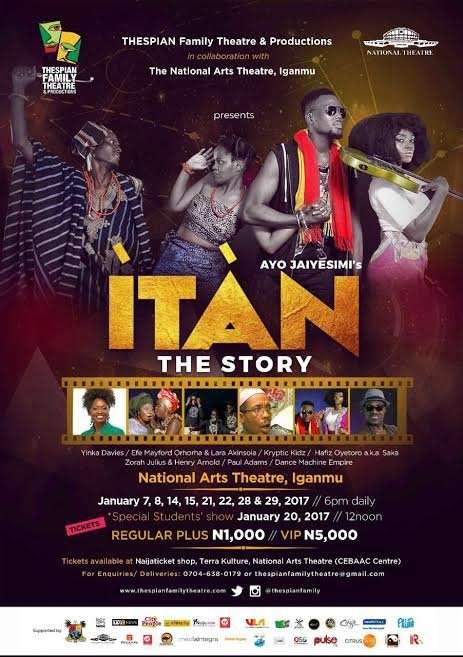 The thrilling stage play 'ÌTÀN The story' produced by THESPIAN Family Theatre  & Productions is back this January.
ÌTÀN is set to be back on stage after hosting the biggest show during Christmas and is now showing in January in Lagos and it promises to be the best show this year. This production features popular stage icons like Hafiz Oyetoro a.k.a 'Saka', Yinka Davies, Efe Mayford- Orhorha, Lara Akinsola, Nissi George, Paul Adams, Kunle Dada, Henry Arnold & more.
ÌTÀN the story is a total theatre production with rich drama, music and a blend of cultural and contemporary dance. The play also brings to the fore, the tension and misunderstanding that often exists between different age-generations.
ÌTÀN, written by Ayo Jaiyesimi founder of THESPIAN Family Theatre & Productions, showcases Àsìkò ('Time' personified) who intervenes in a feud between hotheaded village elder and his newly discovered 'city, roller-coaster' grandson. Both strongly rooted in their beliefs, refuse to shift their grounds in their battle for 'generational' supremacy.  Àsìkò takes them on a journey into the past and the future and they both discover dark secrets that make them come to terms with the fact that they need each other to survive.
ÌTÀN (the story) is proudly supported by National Theatre.
Dates: 7th, 8th, 14th, 15th, 21st, 22nd, 28th & 29th of January, 2017
Time: 6pm Daily
Venue: National Arts Theatre, Iganmu Lagos
Tickets: Regular N1,000, VIP N5,000
Tickets are available at Partner outlets –Naija Ticketshop, Terra Kulture & National Theatre.
Email for ticket booking – [email protected] or call 07046380179
Join the conversation online using #itanstageplay to WIN Free tickets to see the show
Follow @Thespianfamily on Facebook/Twitter & Instagram
_____________________________________________________________________
Sponsored Content