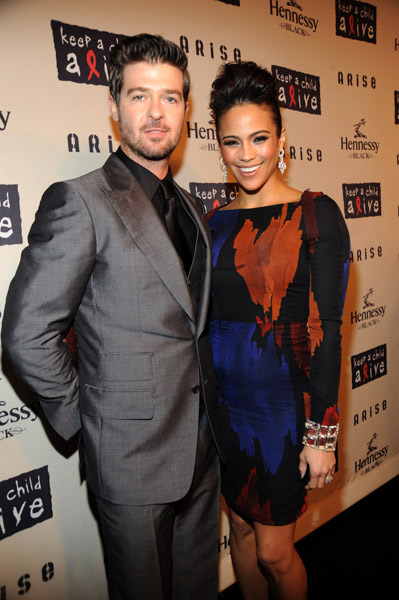 On Thursday, an L.A. judge granted Paula Patton's request for a restraining order against Robin Thicke after the actress accused her ex-husband of domestic violence amid their ongoing custody dispute.
According to court documents obtained by People Magazine, Patton asked the court on Wednesday for a restraining order that would keep Thicke, at least 100 yards away from her, their 6-year-old son Julian and her mother, Joyce Patton.
Throughout Patton's shocking declaration, she accuses her ex of physical and emotional abuse, infidelity and drug and alcohol addiction.
In Patton's 52-page request for a domestic violence restraining order, Patton alleged, "Robin had a temper and could be volatile at times," detailing a number of apparent abusive episodes.
Patton alleged in the documents that Thicke became violent while they were at the Cannes Film Festival that same year, saying, "we began fighting. Robin hit me with a closed fist to my upper body and then pushed me onto the ground."
The pair finalized their divorce in 2015, and per the terms of Patton and Thicke's physical custody agreement, Thicke was granted overnights with Julian every Thursday, Friday and Saturday.
Earlier this month, Patton filed documents in which she said at the time she had "become concerned about [Robin]'s drinking and drug use, as well as the forms of punishment he is using to discipline Julian" over the past year — specifically, spankings that Patton believes were too hard and made Julian "scared" of his dad.
Court documents filed Thursday show Thicke now has supervised visitation with Julian until 7 p.m. at a neutral location, while Paula retains sole legal and physical custody until the next hearing on Feb. 24.