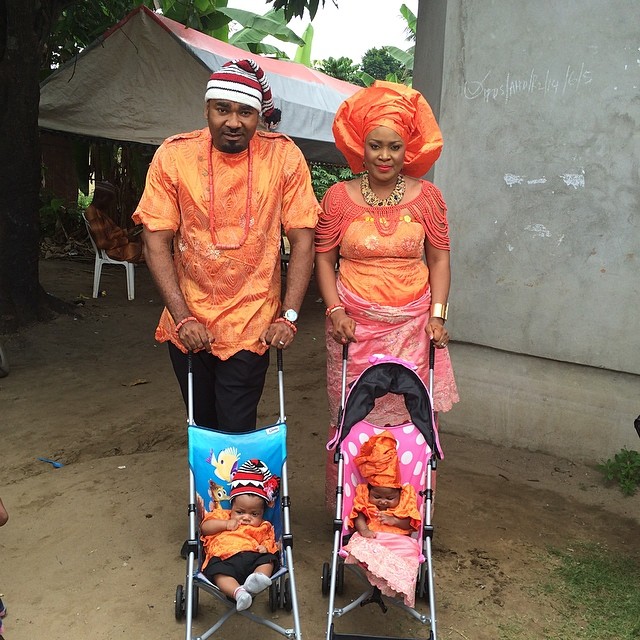 Actor and entrepreneur Prince Eke has opened up about his marriage to singer Muma Gee.
They got married in 2011, and are parents to three children including a set of twins, but Prince says the marriage is now "over" even though they are not legally divorced.
Just last month, in December 2016, he shocked many when he called her out on Instagram for "abandoning" their family for extra-marital affairs.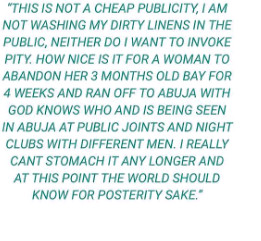 He didn't stop there. He also added this line to his Instagram profile – "a single father of three lovely kids".

He soon deleted the post, but has now opened up about the state of his marriage and being single again.
Here are some excerpts from his interview with Punch, also here
***
What is the nature of your relationship with Muma Gee at the moment?
I am no longer married to Muma Gee, and that is it.
Is that official?
I do not have to tell you if it is official or not; I just want you to have it at the back of your mind that I am no longer married to Muma Gee.
On if he will get back with her if her parents get involved –
Till now, there is no time my mother-in-law has called me to apologise for her daughter's behaviour. I guess they already know her antecedents. This is a woman who gave birth at an old age. I wonder what the person that is deceiving her is giving her or telling her.
On the Abuja incident – 
I was out of the country when she left the children especially the baby that is barely three months old for a show. Which show could she have that lasted for close to a month? It was not till I posted on Instagram that she abandoned her children that she told her mother to come and bring the child to her. Meanwhile, people had been sending me messages on social media that they had seen my wife in a pub. Which married man would be happy about this? There are several other things she has done that I would not like to talk about because I don't like speaking about my family on the pages of the newspaper.
Considering that the Bible frowns at divorce, how do you reconcile being a born-again Christian and divorcing your wife?
The Bible gives a reason a man is justified to leave his wife.
That's infidelity; is that what happened with you and Muma Gee?
I am not saying that is what happened.
But does your reason for leaving her align with what the Bible says?
When it gets to the time I am officially divorced, I can answer this question. I can't answer it now.
What's the biggest misconception people have about you?
People judge you wrongly when they do not even know you. When the issue between Muma Gee and me happened, people said many horrible things about me that are not true. A lot of people think that Muma used to be the breadwinner of the family, but she was not.How would people say that I married her because of her money? I am solely responsible for paying the school fees of the children. Even when I am not in the country, I tell her to pay and I  refund her later. Now that we are no more, I'm still waxing strong; even doing better. Those things do not bother me though.
He refutes that he stifled her career –
Those people that say I tried to stop her from being an entertainer or married her for money have no idea what they are talking about. I have on several occasions helped her in her career the same way she has helped me in mine; that is what married couples do. I gave her some of my equipment to shoot the video for her song, 'Port-Harcourt is Back.' I have also invested in her career.
On custody of the children –
I am not agitating for the custody of my children even though I love them to a fault and would do anything for them. The reason is that the nature of my job does not permit me to stay in one place and even if I say I would marry another woman, I would not want anyone to maltreat my children or treat them like second class citizens in my house.
Some ladies must be eyeing you, and now that you're single, what's your next step?
Some people have been asking if I will get married again. I am still in the healing process. Some people feel that we might still come back together, but I do not believe that. It is one step at a time.
If you are to take the plunge again, considering what you've learnt in this marriage; what kind of woman will you be going for?
Some people say celebrity marriages do not work, but that is not true. Some people who are not stars are worse; it is just that they are not known. It is just unfortunate that I was with someone who was never ready for marriage and did not respect the sanctity of matrimony. Many of those girls pretending to be nice out there are wolves in sheep clothing. It is not just about getting married again; I also have to work on myself. I do not have to completely blame the other party; I also have my faults. I work on myself all the time and try to get better.